Your Medicare Questions Answered
Medicare plays a critical role in retirees' health care starting at age 65.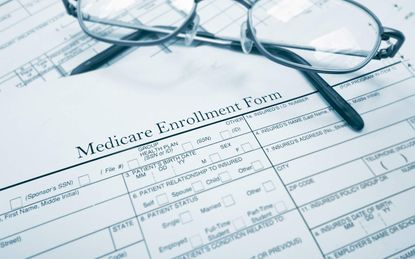 (Image credit: Getty Images)
Medicare plays a critical role in retirees' health care starting at age 65. But signing up for Medicare is just the beginning. You'll need to understand the difference between Part A, Part B and Part D, and make decisions about supplemental Medigap and Medicare Advantage coverage. You'll also need to budget for Medicare premiums and find doctors and medical facilities that accept Medicare.
Confused? We're here to help. Read on to learn the answers to some common Medicare questions, courtesy of the experts at Kiplinger's Retirement Report and Kiplinger's Personal Finance. Whether you're already retired or just starting to plan for retirement, brushing up on your knowledge of Medicare will pay off.
1/7
New Medicare Cards Are Coming
I remember reading that Medicare will start sending out new cards that don't include Social Security numbers. How can I find out when I'll receive my new card? Do I need to do anything to get it?
In an effort to protect against identity theft, Medicare has been preparing to replace everyone's Medicare cards with new ones that include a unique 11-digit Medicare identifier rather than your Social Security number. The agency started sending out the new cards to Medicare beneficiaries in April, with the timing of the delivery of new cards based on your state. The first wave of new cards mailed between April and June is going to people in Delaware, Maryland, Pennsylvania, Virginia, West Virginia, and Washington, D.C. See the rollout schedule (opens in new tab) to get an idea of when you should be receiving your new card. All Medicare replacement cards are expected to be delivered by April 2019. You'll get your new card automatically and don't need to do anything, other than make sure that the Social Security Administration has your current mailing address. You can update your address online (opens in new tab) or by calling the Social Security Administration at 800-772-1213. There is no charge for the new card.
2/7
Health Care Pre-Medicare
My husband will retire when he turns 65 and sign up for Medicare. I am five years younger, work part-time and have no benefits. So, what are my options for health care?
One is to buy coverage through the Affordable Care Act marketplace. Go to Healthcare.gov (opens in new tab) to find a link to your state's marketplace. Despite the political uncertainty surrounding the ACA, it's worth reviewing your options. You can buy coverage outside the marketplaces, but you won't receive any subsidy under the ACA. Another possibility: You may qualify for COBRA, which would let you continue on your husband's former employer's plan for up to 18 months. This is likely to be expensive, because you would have to pay both the employer and employee portion of the premium.
3/7
Finding a Medicare Doc
I'm moving to a new town, and I'm having a hard time finding a doctor who accepts Medicare patients. Are there any good resources to help?
First, know that you're not alone. A report to Congress last year noted that 20% of Medicare beneficiaries seeking a new primary care physician said they had a "big problem" finding one willing to accept Medicare's approved amount as payment-in-full for covered services. Another 15% reported a "small problem." Start by checking the physician compare tool at Medicare.gov (opens in new tab). Enter the new zip code and the type of doctor you're looking for, and specify that you want to see providers who accept the Medicare-approved amount as payment-in-full. The search will produce a list of physicians in the area who accept Medicare.
4/7
0% Munis and Medicare Premium Surcharges
My income is very close to tipping me into the Medicare surcharge that would boost my premiums by nearly $80 a month. Can I protect myself from that hike by moving some of my money to a 0%-coupon municipal bond?
Zero-coupon munis are issued at deep discounts, and rather than paying interest annually, the "original issue discount" (OID) is paid in a lump sum when the bonds mature. But the law requires that you report the accruing interest annually, so it would count in the formula for determining if you must pay the Medicare premium surcharges (opens in new tab). For bonds issued beginning in 2017, in fact, Congress has ordered that the issuer must report tax-free OID on the Form 1099 you—and the IRS—receive.
5/7
New HSA Contributions Once on Medicare
I am about to sign up for Medicare at age 65. Can I still contribute to a health savings account once I enroll?
You can't make new contributions to an HSA after you enroll in Medicare, but you can continue to use any money that was already in the account tax-free for out-of-pocket medical expenses, such as deductibles, co-payments, your share of prescription-drug costs and a portion of long-term-care insurance premiums based on your age (up to $4,160 in 2018 for ages 61 to 70, for example). After turning age 65, you can also use HSA money tax-free to pay premiums for Medicare Part B and Part D and for Medicare Advantage plans.
You can make tax-deductible contributions (or pretax if through an employer) to an HSA in 2018 if you have an eligible health insurance policy with a deductible of at least $1,350 for single coverage or $2,700 for family coverage. You can't make HSA contributions after enrolling in Medicare, but you can make pro-rated contributions in the year you sign up, based on the number of months before your Medicare coverage takes effect.
6/7
Using Wife's HSA to Pay Medicare Premiums
I'm on Medicare, but my wife is in her fifties and is covered by an HSA-eligible health insurance policy. Can she use HSA money tax-free to pay for my Medicare premiums and other HSA-eligible medical expenses?
She can use HSA money tax-free to pay for eligible expenses for herself, her spouse and her dependents, so she can use money in her health account to pay for your out-of-pocket medical expenses, such as vision and dental care, as well as co-payments for medical care or prescription drugs. But HSA money can be used tax-free for premiums for Medicare parts B and D and Medicare Advantage only if the account owner is 65 or older. Because it's her account and she is only in her fifties, she can't do it. After she turns 65, she can use those tax-free dollars for Medicare premiums—her own as well as yours.
7/7
Kiplinger or AARP: Who's Right?
There's a discrepancy between your report in January about Medicare Part B Premiums and what the AARP Bulletin says. You say most beneficiaries will pay the standard premium of $134 a month, while AARP says those receiving Social Security benefits will continue to pay $109, since the law prevents rising premiums from cutting into Social Security benefits. Which is correct?
We are. The "hold harmless" provision AARP refers to prevents premiums for beneficiaries receiving Social Security from rising more than the amount of the year's cost-of-living increase in their benefits. The tiny 0.3% COLA in 2017 held the average premium to $109, even though the premium for new beneficiaries was set at $134. As we reported (opens in new tab), the 2% COLA for 2018 removed hold-harmless protection for most beneficiaries, allowing premiums to rise to $134, or close to it. The government says the average Part B premium this year is $130. Higher-income beneficiaries pay a surcharge. You should have received a statement showing exactly what your premium is.