7 Battered Biotech Stocks to Buy While They Are Down
Sometimes bad news is good news.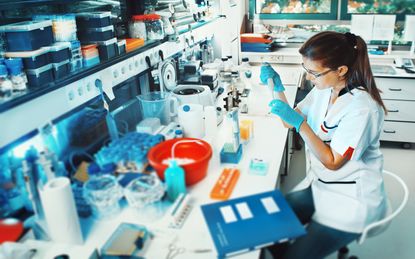 (Image credit: Thinkstock)
Sometimes bad news is good news. A pummeling of biotechnology stocks over the past year means that gutsy investors can get in on a formerly high-flying sector at discounted prices. From its peak in July 2015, following a torrid four-year run, the S&P Biotechnology index lost almost 50% in just seven months.
Even though the sector started its decline in July 2015, its real woes began last fall, as media outlets shined a spotlight on off-the-chart prices that companies such as Valeant Pharmaceuticals (VRX) and Turing Pharmaceuticals (which isn't publicly traded) were charging for their medicines. That led to calls for tighter regulation of drug pricing, which was the final pinprick to the biotech bubble.
The conversation about lowering the price of prescription drugs hasn't gone away, but biotech shares have recovered some. Since hitting bottom in February, the S&P Biotechnology index has rebounded by 33%. Even so, many stocks remain 20% to 30% below their summer 2015 peaks. We sifted through the carnage to find a few good bargains. Our list includes a mix of undervalued companies with modest growth prospects; faster-growing firms with higher valuations; and one speculative play that doesn't have a product on the market yet.
(All prices and returns are through August 11. Price-earnings ratios are based on estimated earnings over the next four quarters.)

Senior Associate Editor, Kiplinger's Personal Finance
Nellie joined Kiplinger in August 2011 after a seven-year stint in Hong Kong. There, she worked for the Wall Street Journal Asia, where as lifestyle editor, she launched and edited Scene Asia, an online guide to food, wine, entertainment and the arts in Asia. Prior to that, she was an editor at Weekend Journal, the Friday lifestyle section of the Wall Street Journal Asia. Kiplinger isn't Nellie's first foray into personal finance: She has also worked at SmartMoney (rising from fact-checker to senior writer), and she was a senior editor at Money.