Holiday Disasters: What Does Homeowners Insurance Cover?
If you've ever watched "National Lampoon's Christmas Vacation," you probably laughed as one disaster after another wreaked havoc on the Griswold family's holiday.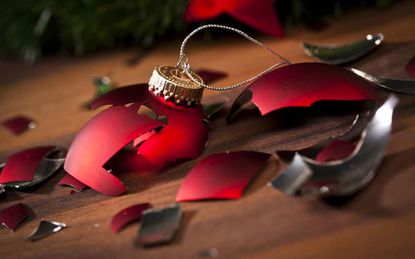 (Image credit: Thinkstock)
If you've ever watched "National Lampoon's Christmas Vacation," you probably laughed as one disaster after another wreaked havoc on the Griswold family's holiday. Unfortunately, mishaps during the holidays are all too common in the real world and are no laughing matter. But if you have the proper insurance coverage, you can minimize the financial damage of most disasters.
Here are several holiday-mishap scenarios that may -- or may not -- be covered by standard homeowners insurance policies.
1/8
You Attempt to Roast Chestnuts...
And accidentally burn down the house -- COVERED.
Claims tied to fireplace-related fires more than double during the holiday season, according to Allstate claims data. The median cost of such a holiday claim is $10,149. Fortunately, standard homeowners policies cover damage due to fire. Make sure, though, that your policy limits are sufficient to cover the full costs of rebuilding your home and replacing all of your belongings at today's prices. If you've had the same policy in place for many years and the limits have change little, even as you've made expensive purchases and renovations, then you might no longer have enough coverage.
Also, create a home inventory of all your possessions that includes the estimated cost of each item to know whether you have enough coverage and to make filing a claim easier. Several insurers offer free inventory apps including the Allstate Digital Locker inventory app.
2/8
Your Outdoor Light Display...
Sets your front yard aflame -- COVERED.
Trees, plants and shrubs are covered under standard homeowners insurance when damaged by fire. However, most policies limit coverage to 5% of your dwelling coverage -- up to about $500 per item, according to the Insurance Information Institute (I.I.I.).
When decorating outside, only use lights and extension cords specified for the outdoors. And don't overload outlets when creating your holiday display. Claims for electrical fires jump 22% during the holidays, according to Allstate, with the median claim totaling $22,683.
3/8
Your Sewer Backs Up...
Because you pour grease from your fried turkey down the drain -- NOT COVERED.
It actually doesn't matter how your sewer backs up. Most homeowners policies do not cover damage caused by sewage backup. You typically have to purchase this coverage separately or as an endorsement to your homeowners policy. When cooking your holiday meals, don't pour grease or dispose of waste in the sink to avoid clogging the drain, which can lead to sewer problems. Sewage-backup claims increase 19% during the holidays, according to Allstate.
TAKE THE QUIZ: Does Insurance Really Cover That?
4/8
A Squirrel Jumps From Your Christmas Tree...
Then your dog chases it and destroys your belongings -- NOT COVERED.
If you've seen the aforementioned "National Lampoon's Christmas Vacation," then surely you remember this scene from the movie. But the fictional Clark Griswold (played by Chevy Chase) would not have been protected by his homeowners insurance for the damage. A standard policy won't cover damage caused by rodents (which is what a squirrel is in the eyes of insurers and many homeowners) or domestic animals such as dogs and cats, according to Allstate. However, it will provide protection if a wild animal -- let's say a reindeer -- gets into your house and causes damage.
5/8
Thieves Snatch the Gifts...
Santa left under the tree -- COVERED.
Most homeowners policies provide coverage for possessions at 50% to 70% of the dwelling's coverage. So if your home is insured for $200,000, you'll have $100,000 to $140,000 worth of coverage for your belongings. However, there are limits on some luxury items (more on those limits later), so be sure to talk to your insurance agent about supplemental coverage for certain expensive gifts.
Allstate found that burglaries increase 6% during the holidays. So don't leave deliveries unattended on your doorstep or gifts under the Christmas tree in plain view. Both offer an invitation to thieves. Keep the shades closed, put your tree in a room that doesn't face the street, or keep gifts hidden until you actually give them.
One final tip: Be careful not to share too much detail about your holiday travel plans on social media. The bad guys might be checking your status updates, too.
6/8
The Fur Coat You Wanted to Give Your Wife...
Disappears from the back seat of your car -- MAYBE.
Whether you're covered depends on the value of the coat and whether you elected to have off-premises coverage for your belongings. Your policy should provide coverage if your belongings are stolen from some place other than your home -- unless you opted not to have off-premises coverage. However, some insurance companies limit off-premises coverage to 10% of the amount of insurance you have for your possessions, according to I.I.I. Standard homeowners policies also typically limit coverage for expensive luxury items such as furs, art, jewelry and silverware to a total of $1,000 to $2,000 unless you buy extra coverage.
Allstate found a 7% increase in thefts from locked vehicles during the holidays. To lower your risk of having items stolen from your car, don't leave purchases in the passenger compartment when it's unattended. If you must, keep them locked in your trunk.
7/8
The Delivery Man Slips...
On your icy walkway and breaks his arm -- COVERED.
Homeowners policies provide liability coverage, which can protect you against lawsuits for bodily injury or property damage. Your policy also should provide no-fault medical coverage to pay the medical bills of someone injured on your property. However, it's typically limited to $1,000 to $5,000. Spend a little more (perhaps $300 a year) for an additional $1 million worth of umbrella liability protection that will kick in when your standard liability coverage runs out.
To reduce your liability risk, keep your walkway clear of ice and snow so that visitors are less likely to slip and injure themselves. Keep your pet confined so that it can't hurt anyone delivering packages to your home.
8/8
Things Get Out of Hand...
At your holiday party and you punch a guest -- NOT COVERED.
Your homeowners liability coverage won't protect you if you intend to hurt somebody. Also be aware that most states have laws that allow social hosts to be held liable if a guest drinks too much, gets in an accident and injures others. Homeowners insurance usually provides some liquor liability coverage, according to I.I.I., but it might not be enough to cover an adverse judgment. Regardless, hosts should ensure that their guests don't consume too much alcohol and encourage the use of designated drivers, taxis and Ubers.