5 High-Speed Rail ProjectsTo Watch
States are getting more than $10 billion from Uncle Sam to jump-start high-speed passenger rail service -- a signature initiative for the Obama administration.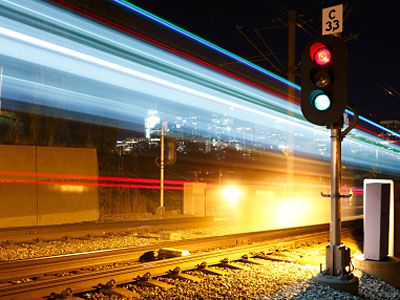 States are getting more than $10 billion from Uncle Sam to jump-start high-speed passenger rail service -- a signature initiative for the Obama administration. And even more money is on the way, despite budget fights in Congress.
So far, about 135 projects have the green light. They include making existing passenger trains faster (running over 100 miles per hour) as well as building infrastructure to accommodate truly high-speed bullet trains operating at 200 miles per hour or more.
While speedier passenger service will help ease the strain on other transportation, it'll also bring an unexpected benefit -- faster shipments of a wide variety of goods from farmers and manufacturers to retail stores and consumers. How?
By improving existing track shared by freight and passenger trains.
We picked four projects to focus on that are either getting the lion's share
of funding or are the first to be physically under way.
The slide show begins with the navigation under the image above.
By Jim Patterson
Associate Editor, The Kiplinger Letter
February 2011
1/5
Vermont: Faster Ride, Still Great Views
Funding: $160 million
Project Status: Under way
Upgrades to the Vermonter section of the New England Central Railroad will be a boon for folks and goods traveling between St. Albans, Vt. and Northfield, Mass. Passenger travel time on this section, which links in with Amtrak's Northeast Corridor to the south and Montreal to the north, should drop by 25 minutes.
New, welded rails will make the route safer and reduce the need for time-consuming track maintenance. Most important, the project will provide grants to reinforce railroad bridges along the route, bringing them up to federal weight-carrying standards
and enabling heavier freight trains (such as ones carrying Vermont's famous
quarry stone) to run the route.
2/5
Chicago - St. Louis: Helping Heartland Farmers
Funding: $1.13 billion
Project Status: Under way
Work that will link Chicago and St. Louis with passenger trains traveling up to 110 miles per hour will also cut delays to existing freight service by about 50%.
Installation of double tracks, additional rail sidings and advanced traffic control systems will be a key improvement for shippers in the region, one of tremendous agricultural output.
3/5
California: High-SpeedFreight, Too?
Funding: $2.3 billion
Project Status: Expected to begin 2012
The Golden State's big chunk of rail funding is aimed at connecting San Francisco, Sacramento, Los Angeles and San Diego by high-speed rail.
But all that funding is sure to have a big impact on California's busy freight traffic as well. Some lines in the state's vast rail system -- the nation's second-largest -- will benefit from double-tracking additions and other physical upgrades designed to better integrate passenger and freight rail. Others should benefit from lower congestion as dedicated high-speed passenger routes come on line toward 2017.
The state is even considering allowing certain types of light, high-value
freight to travel on the new bullet train system, aboard specially designed
fast freight trains.
4/5
The Cascades Line: Onward to Canada
Funding: $633 million
Project Status: Under way
Amtrak's Cascades high-speed project in the Pacific Northwest seeks to speed up passenger and freight service between Portland, Ore., and Seattle, and eventually on to Vancouver, Canada, courtesy of new rail sidings and other track improvements.
The Burlington Northern Santa Fe Railway and other railroads that own most of the corridor partnered with state and federal agencies to simulate how faster passenger trains would affect freight on the Cascades Line and designed the project to benefit both modes of rail service.
5/5