8 Growing Health and Fitness Franchises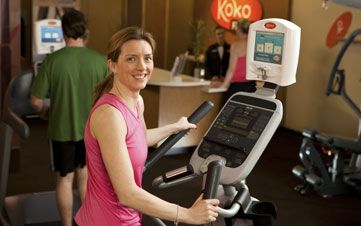 (Image credit: Courtesy TITLE Boxing Club)
America's health and fitness kick -- partially a response to mounting concerns about obesity, bad eating habits, and high health care costs -- is fueling solid growth opportunities for franchises that focus on healthy living and well-being.
Health club memberships will be up again this year after climbing 3% in 2011 and nearly 11% the year before. It's not just gyms. More and more Americans are shelling out for the services of personal trainers, nutritionists, and massage therapists, as well as for fitness apparel and gear, vitamins and more.
New players in the health and fitness field are finding interesting niches alongside established clubs such as Planet Fitness and Jazzercise, for example.
Here are eight promising newcomers flexing their muscles, most on the scene in just the past few years.
1/9
TITLE Boxing Club
Product/service:
Franchises in the U.S.:
Growth in franchises (over the past 12 months):
Net worth requirement:
Royalty:
Franchise fee:
2/9
KoKo FitClub
Product/service:
Franchises in the U.S.:
Growth in franchises (over the past 12 months):
Net worth requirement:
Royalty:
Franchise fee:
3/9
Stroller Strides
Product/service:
Franchises in the U.S.:
Growth in franchises (over the past 12 months):
Net worth requirement:
Royalty:
Franchise fee:
4/9
Snap Fitness
Product/service:
Franchises in the U.S.:
Growth in franchises (over the past 12 months):
Net worth requirement:
Royalty:
Franchise fee:
5/9
Fitness Revolution
Product/service:
Franchises in the U.S.:
Growth in franchises (over the past 12 months):
Net worth requirement:
Royalty:
Franchise fee:
6/9
Fresh Healthy Vending
Product/service:
Franchises in the U.S.:
Growth in franchises (over the past 12 months):
Net worth requirement:
Royalty:
Franchise fee:
7/9
Complete Nutrition
Product/service:
Franchises in the U.S.:
Growth in franchises (over the past 12 months):
Net worth requirement:
Royalty:
Franchise fee:
8/9
Elements Therapeutic Massage
Product/service:
Franchises in the U.S.:
Growth in franchises (over the past 12 months):
Net worth requirement:
Royalty:
Franchise fee:
9/9