7 Ways to Fix the Economy
Ask seven economists how to fix the ailing U.S.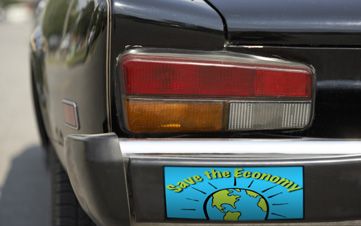 (Image credit: (C) 2006 Trevor Lush)
Ask seven economists how to fix the ailing U.S. economy and you'll get seven different answers. (Ask one congressional "supercommittee" and you'll get no answers, but that's another story.) After posing the daunting question to leading economists, we did indeed get differing plans, which run the gamut from increasing stimulus spending to extending the payroll tax holiday.
While the economists' proposals vary, there's general consensus that the biggest problem facing the U.S. today is unemployment. Even at the current rate of 8.6%, the lowest level since March 2009, the pace of job creation is too sluggish to have a meaningful impact on hiring. Among the ideas for aiding unemployed Americans are work-sharing, government funding of infrastructure projects and the extension of unemployment insurance benefits.
Click through to read each economist's plan in his or her own words.
1/8
Jason Seligman, Ohio State University
Title: Professor of public finance and budgeting
Claim to fame: Coauthored a Federal Reserve Bank study on the response to the financial crisis
Recovery plan in brief: Invest in roads and bridges
In his words: The best thing the government could do now is return to pre-2001 tax policies and use that revenue to invest in public infrastructure. Critical projects such as roads and bridges, which saw some money under the American Recovery and Reinvestment Act, create jobs and serve an obvious community need. We know what the returns will be.
Depending on growth, I'd also suggest moving into more esoteric projects that would have a growth yield in the future -- things we anticipate we'll eventually need. Research-based projects would provide less employment up front, but that spending is more of an investment. You're essentially financing the future.
For the same reason, it makes a lot of sense to invest in education, especially financial education. Programs that help people allocate their household finances will prove particularly beneficial in the future. In general, I think we need to emphasize the present less.
2/8
Heidi Shierholz, Economic Policy Institute
Title: Economist
Claim to fame: Briefs Congress on labor-market issues
Recovery plan in brief: Spend money to make jobs
In her words: The solution is actually really straightforward -- there's nothing sexy or exciting to be done. We need deficit spending to generate jobs. The idea of deficit spending has been so maligned, but with crisis-level unemployment, the situation calls for it.
There are a number of consensus ideas on the smartest way to do that: unemployment insurance extension, fiscal relief to states, an extension of the payroll tax break. One thing they never tried in the February '09 recovery is direct job creation in communities that have been particularly hard hit. Work-sharing also could have kept millions of families from facing the consequences of a layoff.
In the past, there's been a lot of emphasis on the efficiency of different policies. But I think we also need to look at the scale. Something like extending unemployment insurance benefits would generate more than half a million jobs. That's a non-trivial chunk. We should emphasize policies that could actually move the dial.
3/8
Greg Hannsgen, Levy Economics Institute of Bard College
Title: Research scholar
Claim to fame: Studies the impact of fiscal stimulus on financial, commodity, labor and household markets
Recovery plan in brief: Repair the nation's infrastructure
In his words: Employment-oriented fiscal stimulus is the most effective short- and medium-term tool to deal with high unemployment and low growth. Hence, it makes sense for government to hire more workers for infrastructure projects that will bear fruit over a relatively long period. For example, now may be an opportune time to repair bridges and help deal with environmental concerns by improving subway and rail lines.
Also, the states and localities are struggling more than the federal government. A very good case can be made for emphasizing assistance to basic programs and services provided at those levels of government. At the state level, no programs are more important than Medicaid and the Children's Health Insurance Program (CHIP). Examples of key local-government needs include funding to avert layoffs of teachers and emergency responders.
4/8
James Paulsen, Wells Capital Management
Title: Chief investment strategist
Claim to fame: Tracks economic trends in his 25-year-old Wells Capital newsletter
Recovery plan in brief: Let the free market do its thing
In his words: The most important thing the government could do now is to stop doing. Stop changing things! Stop introducing new stimulus policies, both fiscal and monetary. Stop changing/adding/altering regulations. Put the Fed funds rate at 50 basis points, which is a very low rate but no longer connotes "edge of cliff," "out of bullets" or "going the way of Japan." Let the private market work without new uncertainties, and show a bit of confidence in the recovery.
We are growing (3.6% real final demand growth in the third quarter); we are creating jobs (153,000 a month in private job creation this year, compared with only 98,000 a month in 2010); consumers are spending; and businesses are making money.
Major officials should stop using the "D" word (depression) or perhaps even the "C" word (crisis, calamity). Perhaps if our leaders didn't sound so hopeless and scared, more private economic players would also feel -- and act -- more confident about the future.
5/8
Jeff Frankel, National Bureau of Economic Research
Job title: Director of international finance and macroeconomics program
Claim to fame: Headed the White House Council of Economic Advisers under President Clinton
Recovery plan in brief: Bring back the '90s
In his words: Passing the right fiscal policy, if it were politically possible, would be the biggest step to recovery. We need two things simultaneously: enact short-term fiscal stimulus and lock in a long-run return to the fiscal responsibility of the 1990s.
Short-term stimulus could include extensions of the 2009 stimulus and payroll tax holiday, plus some additional stimulus, such as Obama's jobs bill. As for a return to fiscal responsibility, we need to pass legislation that would reduce the rate of growth in discretionary spending and entitlements, as well as increase tax revenues through the removal of loopholes, deductions and "tax expenditures."
I favor eliminating subsidies to agriculture and the fossil fuel industry, cutting expensive weapons systems when the Pentagon does not want them, raising the retirement age for Social Security, discouraging unnecessary hospital infections, and curtailing or eliminating tax distortions. Those who say we can eliminate the deficit primarily by cutting domestic discretionary spending are either lying or arithmetically illiterate. It is literally impossible.
6/8
Mark Zandi, Moody's Analytics
Title: Chief economist
Claim to fame: Wrote the book on the financial crisis -- two of them, in fact.
Recovery plan in brief: Extend the payroll tax holiday
In his words: Extending the current payroll tax holiday through 2012 is the most immediate step policymakers need to take to ensure that the economic recovery continues in 2012. Without quick action by Congress and the administration, everyone's tax bill will increase on January 1. Workers will pay close to $120 billion more in taxes in 2012 than they did in 2011.
In a well-functioning economy, this would not be a problem. But in the currently very fragile economy beset by a range of threats, from the European debt crisis to the foreclosure crisis, this could be too much to bear. Extending the payroll tax holiday for another year won't add to economic growth, but it is key to ensuring that the economy continues to grow.
Of course, this is not a long-term policy response to our significant economic problems. Policymakers need to address our byzantine tax code, immigration policy and, most importantly, our daunting fiscal challenges. But all of these problems will quickly become intractable if the economy backtracks into recession next year.
7/8
John Cochrane, University of Chicago
Title: Professor of finance
Claim to fame: Writes about markets and monetary policy for the Cato Institute and elsewhere
Recovery plan in brief: Sweat the small stuff
In his words: Let's be clear that nothing on the Washington policy agenda has a hope of working. The "jobs" bill, even if it could be enacted, doesn't address the problem. We don't have 9% unemployment because we fired road builders, schoolteachers or state government workers.
Say what you want about the wisdom of raising taxes on the rich, but there's no evidence that doing so will lower unemployment or spur growth. And there's little the Fed can do, either. We don't have 9% unemployment because 0% interest rates and 3% inflation are choking off credit. The patient has clogged arteries, but the doctors are arguing about whether another shot of espresso will perk him up a bit.
People want a Grand Plan, a bold initiative that fixes everything. Alas, there isn't one. Constant meddling is not working and is mostly backfiring. The government should simply fix all the little things we know are broken, such as our ridiculously complex and horribly distorting tax system, and stop looking for an instant cure.
8/8