Why Older Adults' Best Investment Might Just Be A Puppy
Owning a pet can help people age better and keep their minds sharp.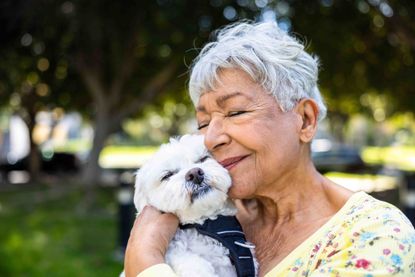 (Image credit: Getty Images)
Having a pet is not only fun for older adults–it can actually benefit your health. There's evidence that people experience aging better when interacting with animals.
"Scientifically documented benefits of the human-animal bond include decreased blood pressure, reduced anxiety, and enhanced feelings of well-being," reports the Human Animal Bond Research Institute (HABRI). "Positive human-animal interaction appears to be related to changes in physiological variables both in humans and animals, particularly dogs."
Darlene Klotz, 71, of Florence, Miss., agrees. She found a new dog, Mollie, an eight-year-old schnauzer mix, a year ago—after she was first turned down by a shelter.
Subscribe to Kiplinger's Personal Finance
Be a smarter, better informed investor.
Save up to 74%
Sign up for Kiplinger's Free E-Newsletters
Profit and prosper with the best of expert advice on investing, taxes, retirement, personal finance and more - straight to your e-mail.
Profit and prosper with the best of expert advice - straight to your e-mail.
"Mollie is spoiled rotten and just perfect for us," says Klotz. She and her husband had lost a larger dog but still have a 16-year-old Maltese, and she wanted a companion for him and for them. Their new dog, Mollie, fills that role, and Nelson, the Maltese, helps look after her.
"I'm not dead yet," Klotz said. "I still want my dogs." And they do help her outlook on life, she says. "She is just perfect for us. We are getting older and we wanted a smaller dog and she is very much loved in our home."
HABRI research shows that a human-animal bond can reduce arterial pressure and cardiorespiratory rates.
Calm and Focus
The presence of a pet can increase your body's production of the so-called love hormone, oxytocin, causing physiological changes that include lowering blood pressure, inhibiting stress hormones and creating a sense of calm and focus, according to the HABRI research.
Oxytocin helps women in childbirth, but the body also produces it when you are excited by a sexual partner or you fall in love, reports Stephanie Watson, executive editor of Harvard Women's Health Watch. "Just the simple act of touch seems to boost oxytocin release."
Other research found that long-term pet ownership may help keep cognitive skills stay sharp as you age, slowing the decline in verbal memory. A study conducted by the University of Florida, the University of Michigan and Virginia Commonwealth University found cognitive scores declining slower in pet owners, particularly those with long-term ownership.
In addition, researchers at the University of Michigan found that pet ownership is associated with positive mental health. Researchers asked 14 pet owners over the age of 65 how they believe pet ownership affects their mental health. Four themes emerged: comfort and safety; social inclusion and participation; purposeful routine and structure; and playing a meaningful role. In other words, pet ownership not only can give seniors companionship but can also reduce loneliness and increase socialization among older adults.
Pet ownership can take seniors' minds off pain, helping them cope better with physical and emotional issues.
"Pets can also reduce feelings of depression and enhance feelings of well being, resulting in overall improved quality of life," says Vicki Stevens, director for program management and communications, companion animals, with the Humane Society of the United States.
Picking a Pet
Which pet to choose depends on the individual, Stevens says. While dogs are mentioned most often, choices also include cats, birds or other pets.
"Some older people are really fit and active and may do best with a fit and active dog. If they are less mobile, they might be better with an older pet or less active pet."
The Humane Society recommends always adopting a cat or dog from a shelter or rescue group or finding a suitable pet through a friend or family member.
"If you adopt from a shelter or rescue, those volunteers or workers will know the pets, interview you, find out about your lifestyle and match you up with a pet that will work best for you," Stevens says.
There Are Challenges
In addition to finding the perfect companion, there are some challenges to consider in taking on a pet. For example, with rented homes, it is not always easy to find a place that accepts certain breeds or larger dogs. There is also an issue for some who may no longer drive. Pets require veterinary care each year, sometimes more often, depending on health issues. If you travel, plan to use a pet-sitting service.
The Humane Society has a program called "Pets and People Together" to inspire those in the community to help seniors with pets. People are encouraged to donate to a pet food pantry, offer to take a senior's dog for a walk once or twice a week or provide rides to the vet's office.
Things to Consider
Susan Kurowski, executive director of Pets for the Elderly, says her organization has a two-fold mission—to provide homes to shelter animals and companionship to people 60 and older.
Pets for the Elderly, headquartered in Cleveland, works with 56 shelters in 32 states across the nation, according to its website, offering discounts to seniors, assisting with the cost of owning a pet, including veterinary visits and helping people keep their pets when they're struggling.
There is no income requirement for getting a senior discount for adopting from a shelter, she says.
They count on shelters to properly counsel seniors looking for a pet. "Our guidance is not to interfere with their standards, but we expect them to use common sense and not place a bounding puppy with a 92-year-old who uses a walker," Kurowski says. "Consider your living situation. If you own a home, do you have a fenced-in yard? If you rent, would your landlord approve of a pet adoption?"
If Your Pet Outlives You
Best Friends Animal Society, a Utah-based national nonprofit that works to save pets from shelter deaths, offers some tips on estate planning for pets, or how to make plans for pets when an owner dies so they don't end up getting dumped at a shelter.
Ask family or friends to act as emergency caregivers, but also make a permanent plan.
Keep the emergency contact information in a wallet or other place it will be easy to find.
Contact a cat or dog sanctuary and make an estate plan.mpty list
The American Society for the Prevention of Cruelty to Animals also recommends considering a pet trust, a legally sanctioned arrangement that provides for the care and maintenance of one or more pets when the owner becomes disabled or dies.
Estate planning can incorporate organizations such as the Blue Bell Foundation for Cats in Laguna Beach, Calif., which asks for $10,000 to take a senior pet for perpetual care after an owner dies.
It is very important to plan ahead, says Susan Hamil, executive director of Blue Bell. "We only do senior cats and have a limited amount of space. People that have the estate plan get first dibs. Others are taken on an as-available basis."
Before getting a pet, have a conversation with yourself about why you want the animal and if you have the ability to care for it, says Susan Kurowski of Pets for the Elderly. "You have to be committed, because it is definitely a commitment."
Note: This item first appeared in Kiplinger's Retirement Report, our popular monthly periodical that covers key concerns of affluent older Americans who are retired or preparing for retirement. Subscribe for retirement advice that's right on the money
Yvette C. Hammett is a lifelong journalist whose career has focused on environmental issues, growth and development, economic development and the everyday lives of people. Hammett worked as a staff reporter for the Tampa Tribune from 2001 through 2016 and has written for numerous publications covering B2B marketing, growth in Central Florida, culture and business in the Tampa Bay area, national environmental issues for Natural Awakenings magazine and
legal news making headlines across the country, writing for The Legal Examiner.