Medicare to Consider Lowering Part B Premiums
Beneficiaries could see a reduced Part B premium after Biogen announced it would slash the price of its expensive, and controversial, new Alzheimer's treatment, Aduhelm.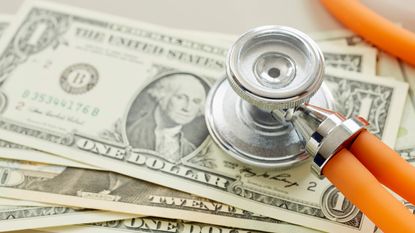 (Image credit: Getty Images)
Seniors could see a cut in their monthly Medicare Part B premiums for 2022 after a controversial new drug's price was slashed.
In November, Medicare set the monthly Part B premium at $170.10 for this year, a more than 14% increase from 2021. The agency said the increase was due in part to Medicare beneficiaries potentially being prescribed Aduhelm, an Alzheimer's treatment manufactured by Biogen that was approved by the Food and Drug Administration last year. Since the drug must be administered by a physician, it is covered under Part B. Initially, the drug would cost $56,000 each year per patient, though Biogen later announced the price would be reduced to $28,200.
Health & Human Services Secretary Xavier Becerra said on Monday in a press release that he had asked Medicare to "reassess the recommendation for the 2022 Medicare Part B premium, given the dramatic price change of the Alzheimer's Drug, Aduhelm."
Subscribe to Kiplinger's Personal Finance
Be a smarter, better informed investor.
Save up to 74%
Sign up for Kiplinger's Free E-Newsletters
Profit and prosper with the best of expert advice on investing, taxes, retirement, personal finance and more - straight to your e-mail.
Profit and prosper with the best of expert advice - straight to your e-mail.
"With the 50% price drop of Aduhelm on January 1, there is a compelling basis for CMS to reexamine the previous recommendation," he added.
The Kaiser Family Foundation estimated in June – before the drug's price was cut – that if just a quarter of the 2 million Medicare beneficiaries who were prescribed an Alzheimer's treatment under Part D in 2017 took Aduhelm, it would cost Medicare $29 billion in one year. Overall, Medicare spent $37 billion on all Part B drugs in 2019, according to KFF.
Besides the hefty price tag, experts have also raised concerns about the effectiveness and potential side effects of Aduhelm, leading Medicare to complete a national coverage determination to decide whether to pay for the treatment. On Tuesday, the agency issued a proposal that it would only cover the treatment for certain patients in clinical trials. Additionally, Medicare would limit coverage to patients who have the protein in their brain that Aduhelm is designed to target and have mild cognitive impairment or mild dementia.
The restrictions outlined in the proposal would likely limit the number of Medicare beneficiaries who can access the drug. The proposal, which can still be changed, is expected to be finalized later this year.
Senior Retirement Editor, Kiplinger.com
Jackie Stewart is the senior retirement editor for Kiplinger.com and the senior editor for Kiplinger's Retirement Report.