Find a Great Place to Retire
Our cities provide plenty of space to spread out without skimping on health care or other amenities.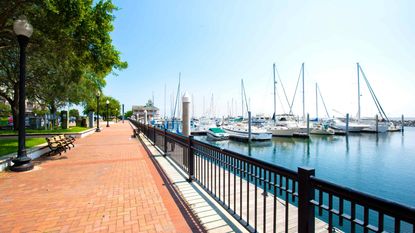 (Image credit: Getty Images)
Choosing a place to spend your retirement years has never been easy, but these days, it's particularly challenging. The coronavirus pandemic has caused some retirees to rethink plans to move to urban or suburban walkable communities. But rural communities, while offering plenty of opportunities for social distancing, may not offer adequate health care—which is a priority for many retirees, particularly while COVID-19 infection rates are still high.
Some of these concerns could dissipate after a vaccine becomes widely available. But in the interim, it's a good idea to re­evaluate plans to move—especially if you are considering relocating to an urban area, says Bert Sperling, founder of Best Places, which ranks cities around the country on a variety of factors. "One of the reasons people are moving to those places is their vibrancy," he says. "If the restaurants are going away, if it's difficult to go to shows and museums, then what is the point?"
That doesn't mean it's too early to start thinking about where you'd like to retire, and, once you feel comfortable traveling, you'll probably want to test-drive some destinations. We've selected seven cities that offer a combination of good health care, low density, a modest cost of living and low to moderate taxes. For example, the cost of living in Pensacola, Fla., is below the national average and there are three top-rated hospitals within an hour's drive or less. The beach is lovely, too.
Your own decision will be based on personal preferences, including the type of climate you favor, nearness to family and even your political views. But as you conduct your search, some factors should be at the top of your list, because they'll continue to play an important role in your retirement lifestyle long after the coronavirus threat has diminished.
Health care. The rapid growth of telehealth means you may be able to consult with specialists outside your community (see Finding Affordable Health Care Now), but there will still be times when you're going to need in-person visits and treatment. For both emergencies and planned surgeries, it's important to have a reputable hospital nearby. Having access to reliable health care is particularly important if you have preexisting medical issues, says Aaron Clarke, a certified financial planner in Ashburn, Va. Our seven cities have at least one hospital within a 50-mile radius that has received a four- or five-star rating from the Centers for Medicare and Medicaid Services. The star ratings are based on numerous factors, including the rate of surgical infections, patient satisfaction and how quickly patients are treated. You can use Medicare's "Hospital Compare" tool, available at Medicare.gov, to research hospitals in any city you're considering as a retirement destination. You can also find general information, such as the names and addresses of all hospitals in a particular area and the types of services they provide.
Consider the cost of health care, too. The average 65-year-old couple will spend $285,000 on out-of-pocket medical expenses over their retirement, according to Fidelity Investments, and those costs could vary depending on where you live. Life flights for emergency surgery could cost you thousands of dollars. Even for non-emergencies, traveling several hours to visit a doctor or hospital will drive up your out-of-pocket costs.
Cost of living. If you live in a high-cost city on one of the coasts, retiring to a part of the country where living costs are lower will make your retirement savings last longer.
All of our seven cities have lower-than-average expenses, based on the Council for Community and Economic Research's cost-of-living index. But it's still important to do your own research to get an idea of what your costs will be. How much will you spend on homeowners insurance, or other types of insurance if you live in a part of the country that's prone to natural disasters? What will you pay for electricity, water and other utilities? Or for personal services, such as housecleaning or lawn care? If you haven't done it already, conduct a thorough inventory of your expenses in retirement, keeping in mind that your spending habits will change as you age (see 10 Moves to Make Sure You Have Enough Money in Retirement). Once you've estimated how much you'll spend on everything from groceries to pet care, you can estimate your own cost of living in a particular city.
Taxes. State taxes can take a big bite out of your savings, which is why states with no income tax, such as Florida and Tennessee, are popular with retirees. But don't focus solely on a state's income tax (or lack of one). High property and sales taxes can eat into your savings, too. All of our cities are located in states that are rated tax-friendly or neutral by the Kiplinger State-by-State Guide to Taxes on Retirees, our annual ranking of all 50 states based on the tax situations they offer retired residents. Our analysis is based on the estimated state and local tax burden for a hypothetical retired couple with a mixture of income from Social Security, an IRA, a private pension, interest and dividends, and capital gains.
In an effort to attract and retain senior residents, several states have taken steps to ease taxes on retirees. But the pandemic-induced economic downturn has wreaked havoc on state budgets, so monitor the fiscal health of any state you're considering as your retirement home. Unlike the federal government, most states are required to balance their budgets. States are hopeful they'll receive federal aid to help close their budget gaps, but recovery could still take years. In the meantime, many states may be forced to raise taxes, cut services or both.
Proximity to family and friends. Until recently, frequent flights and affordable airfares for fliers with flexible schedules made it easy for seniors to hop on a plane for a visit with the grandkids. Now, though, many seniors are reluctant to fly, and the pandemic could compel airlines to make long-term structural changes—such as more space for passengers—that would raise the cost of tickets. Airlines are also expected to reduce the number of flights, at least in the near term, and some may go out of business. "If you're unable to fly for any reason, a one-hour flight becomes a seven- or eight-hour drive," says Brandon Opre, a certified financial planner in Huntersville, N.C.
Internet access. If you live in a big city, you may take fast and reliable internet service for granted. But in large swaths of the U.S., broadband is unreliable or non­existent. BroadbandNow, a consumer website, estimates that 42 million Americans don't have access to broadband service. Even after a vaccine makes it safe to go shopping again, you're going to need the internet for everything from telehealth appointments to video chat meet-ups with the grandkids. In most of our seven cities, an above-average percentage of the population has a broadband subscription, according to data from the U.S. Census Bureau.
Our Methodology
To select our cities, we sifted through data on 212 U.S. metropolitan statistical areas. We sought out places with relatively low population density, low living costs for retirees and high rates of internet connectivity, as well as high median incomes and low poverty rates among residents who are age 65 and older. We also limited our search to states with retiree-friendly or neutral tax situations and to places near high-quality health care facilities.
Sources. Population data, incomes, poverty rates, internet-subscription rates and median home values are provided by the U.S. Census Bureau. Figures for living costs for retirees are based on the Council for Community and Economic Research's Cost of Living Index for Q1 2020. Hospital ratings are from the Centers for Medicare and Medicaid Services.
1/8
Pensacola, Fla.
Population: 52,975
Living costs for retirees: 2% below the national average
Median home value: $165,700
Number of 4- and 5-star hospitals within 50 miles: 3
Nearest airport: Pensacola International Airport
Of course, Florida. The Sunshine State is a quintessential U.S. retirement destination with 4.4 million residents who are age 65 or older—a whopping 20.5% of the state's total population—calling it home, according to the U.S. Census Bureau. The appeal is obvious: warm winters, beautiful beaches and tax advantages. Florida levies no state income tax, leaving Social Security benefits and other retirement income intact. Nor does it charge an estate or inheritance tax. Indeed, Florida consistently ranks among Kiplinger's most tax-friendly states for retirees.
Pensacola offers all those desirable Florida retirement attractions, plus affordability. The median home value is more than $25,000 lower than the $191,600 median in Clearwater, another retiree hotspot on Florida's west coast.
Beyond being budget-friendly, Pensacola has plenty to offer retirees. The Florida panhandle city's sugar-sand beaches provide the perfect setting for rest and relaxation or more active endeavors, from fishing and paddle boarding to snorkeling, scuba diving and even surfing. Downtown, you can stroll the streets and enjoy a growing list of restaurants, shops, museums and art galleries, as well as Historic Pensacola, which includes 30 historic sites and living history exhibitions on nine acres.
Home to Naval Air Station Pensacola (and the iconic Blue Angels flight demonstration squadron), the area also has a strong military presence, which helps drive the local economy. Not surprisingly, more than 35,000 military retirees have chosen to settle in the greater Pensacola area, according to the Florida West Economic Development Alliance.
"I guess I could sum it up by saying there is something for everyone here," says Donna Jordan, a financial planner based in Pensacola who has been an area resident for more than 40 years.
The downside: hurricanes. Florida has been hit by six of the 10 costliest hurricanes in U.S. history, according to the Insurance Information Institute. And being on the Gulf Coast, Pensacola residents must always be prepared for the next one. Financially, that means paying more for homeowners insurance and any extra coverage, including for hurricane and flood damage.
2/8
Huntsville, Ala
Population: 200,574
Living costs for retirees: 7.1% below the national average
Median home value: $176,100
Number of 4- and 5-star hospitals within 50 miles: 1
Nearest airport: Huntsville International Airport
Alabama offers retirees many of the same attractions as Florida: warm weather, beautiful beaches and tax advantages. The state does levy income taxes, but rates are low—ranging from 2% to 5%—and Social Security benefits and defined benefit plan payouts are exempt.
Huntsville is about 400 miles north of Alabama's Gulf Coast beaches, but inland you can still find many ways to enjoy the outdoors. The city has a number of green spaces, such as Big Spring International Park and Fern Bell, and 26 miles of walking and biking trails. You can also head to Ditto Landing on the Tennessee River for fishing, boating, kayaking, canoeing and paddle boarding. Cultural attractions—including a historic downtown, top-quality museums, and a vibrant arts community—are plentiful in town, too.
The area's fiscal health and economic strength also help make it a solid choice as a retirement destination. Rattling off names of several major employers in aptly dubbed Rocket City, Mayor Tommy Battle notes that Blue Origin, Aerojet Rocketdyne, GE Aviation and Redstone Arsenal are all adding thousands more jobs to the area. "We have a growing economy, and I think we'll continue to grow over the next five to 10 years," he says.
The local health care system is another strength. Lincoln Medical Center in Fayetteville, Tenn., is the only four-star hospital within 50 miles of the city center, according to the Centers for Medicare and Medicaid Services. But 11 more four-star-rated hospitals are within a 100-mile radius of the city, and five-star Lakeland Com­munity Hospital is about 83 miles from Huntsville.
And while Huntsville Hospital only holds a two-star rating, it led the way in response to the novel coronavirus outbreak in the U.S. Along with Mayor Battle and other local leaders, hospital representatives held the area's first press conference on February 27, a couple weeks before Madison County, where Huntsville is located, confirmed its first case. In the following weeks, it created testing opportunities, opening a Flu and Fever Clinic, a drive-through testing site at John Hunt Park and a mobile testing unit to reach underserved areas, even checking the local homeless population.
"We got a little bit ahead of the coronavirus and were able to ask our population to stay safe, stay sanitized and stay separated," Battle says.
3/8
Raleigh, N.C.
Population: 474,069
Living costs for retirees: 3.3% below the national average
Median home value: $236,700
Number of 4- and 5-star hospitals within 50 miles: 6
Nearest airport: RDU International Airport
North Carolina State University, Duke University and the University of North Carolina at Chapel Hill may form a triad of bitter sports rivals. But teaming up, they help form a strong economic base for North Carolina's Research Triangle of Raleigh, Durham and Chapel Hill. Moody's Analytics ranked both Raleigh and Durham separately among the top 10 U.S. cities best positioned to recover from the pandemic-induced economic slump.
One positive for the area, especially in light of the coronavirus outbreak, is its relatively low population density. The Triangle holds about 3,000 people per square mile—far less than, say, New York City's pop­ulation of 27,547 people per square mile. Durham-based real estate broker Lisa Ellis notes that COVID-19 has done little to turn away home buyers from the Raleigh-Durham area. "If anything, it furthers their desire to live amongst more green space, open air and room to spread out," she says.
Median home values in all three cities are higher than the national median of $204,900. Among the trio, Durham sports the lowest median home value, at $207,900, while Chapel Hill has the highest median price, at $409,200. And Ellis says that prices are quickly going up, with homes in the area's active adult communities ranging from less than $400,000 to more than $600,000.
And it may be well worth it. On top of the economic stability and ample green space, the area enjoys easy access to quality health care facilities—also boosted by the university presence—as well as an abundance of educational, cultural and recreational opportunities. The Raleigh–Durham area markets "are perfect for retirees who want to downsize to typically one-level living and give up yard maintenance," Ellis says. Among the Triangle's growing number of active adult communities, she recommends checking out Carolina Arbors in Durham, Carolina Preserve in Cary, Fearring­ton Village in Pittsboro (near Chapel Hill) and Regency at Brier Creek Country Club in Raleigh.
4/8
Knoxville, Tenn.
Population: 187,603
Living costs for retirees: 16.3% below the national average
Median home value: $128,800
Number of 4- and 5-star hospitals within 50 miles: 2
Nearest airport: McGhee Tyson Airport
The Volunteer State is another tax-friendly choice for retirees. Like Florida, it charges no income tax, allowing your retirement income to stretch further. And though it currently taxes stock dividends and interest income from bonds and other investments, that tax is being phased out and should be gone by 2022.
Knoxville is among the cheapest metro areas in the U.S., according to CCER. And it boasts the lowest living costs for retired households among our seven cities. Housing costs for retirees are particularly low, at 30.6% below the $204,900 U.S. median (and 40.5% lower than the $216,500 median in Nashville). Median rent in Knoxville is $815, compared with $1,033 in Nashville and $1,023 in the U.S., according to the Census Bureau.
Still, the city is rich in attractions and activities to fill your retirement years. With its proximity to the Great Smoky Mountains and 85 miles of paved greenways in town, Knoxville offers an abundance of outdoor recreation opportunities, including hiking, biking and rock climbing. The many area lakes, streams and other nearby blue spaces, including the Tennessee River running through downtown, provide nice spots for fishing, kayaking, paddle boarding and even white­water rafting. The local music and arts scene is also thriving. And the University of Tennessee helps enhance the cultural attractions and support the economy.
5/8
West Lafayette, Ind.
Population: 50,996
Living costs for retirees: 9.9% below the national average*
Median home value: $217,300
Number of 4- and 5-star hospitals within 50 miles: 7
Nearest airport: Indianapolis International Airport
*Cost of living data is for the metropolitan statistical area that includes Lafayette and West Lafayette.
Home to Purdue University, West Lafayette offers all the amenities retirees typically love in a nice college town: exciting sporting events, excellent health care facilities and a vibrant social and cultural scene. The college even offers its own airport, though it does not currently serve commercial flights—you'll still have to head about 75 miles southeast to Indianapolis International Airport for conventional air service.
The downtown area spans from the edge of Purdue University in West Lafayette across the Wabash River and into Lafayette. There, you can enjoy an array of restaurants, shops, art galleries, museums and theaters. The Wabash Riverfront District—one of three downtown districts—is particularly lively. Attractions include the John Myers Pedestrian Bridge, the outdoor Riehle Plaza and the 20-acre Tapawingo Park, which offers access to ice skating, fishing and the 13-mile Wabash Heritage Trail. The river district also hosts a number of annual festivals, such as the Wabash Riverfest (which includes a 5K run/walk and the voyageur canoe race), the Art on the Wabash festival and Beers Across the Wabash, a local craft-beer tasting event.
Two of the seven four-star hospitals in the area are members of the Indiana University Health system. (The IU School of Medicine has a campus at Purdue.) Both are about 30 miles from West Lafayette's city center—one in Frankfort and the other in Monticello. Within 100 miles of the city, you have even more high-quality health care options: a total of 26 four-star hospitals and six five-star hospitals. St. Vincent Carmel Hospital is the closest five-star choice, about 63 miles away.
6/8
Columbia, Mo.
Population: 123,195
Living costs for retirees: 8.2% below the national average
Median home value: $185,700
Number of 4- and 5-star hospitals within 50 miles: 2
Nearest airport: Columbia Regional Airport
Columbia's three institutions of higher education—the University of Missouri, Columbia College and Stephens College—provide the city with a solid economic base and a steady stream of educational, cultural and social activities for the entire community. Sandwiched between their campuses is the 50-square-block area of downtown Columbia, dubbed The District, where you can enjoy more than 70 bars and restaurants, 110 shops and an array of art galleries, concert venues and theaters.
More fitness-focused retirees may prefer to take advantage of the city's 72 parks on 3,397 acres, 58 miles of trails and 11 indoor recreation facilities. The Parks and Rec department also offers a program for resident who are age 50 and older to participate in classes, tours and other events. Membership costs $25 a year. Or you can upgrade to a $40 membership and get access to book talks, seminars and clubs offered by the University of Missouri's Osher Lifelong Learning Institute.
Mizzou also brings to town MU Health Care's University Hospital. The Centers for Medicare and Medicaid Services gives it only two stars, but it might deserve some bonus points for housing central Missouri's only Acute Care for Elders unit. This approach to care is specifically designed to help older adults maintain their independence even as they cope with illness, hospitalization and recovery. If you prefer a higher-rated facility, five-star Boone Hospital Center is also right in town.
7/8
Oklahoma City, Okla.
Population: 655,057
Living costs for retirees: 12.9% below the national average
Median home value: $153,700
Number of 4- and 5-star hospitals within 50 miles: 7
Nearest airport: Will Rogers World Airport
Oklahoma City dubs itself the Modern Frontier, a place that celebrates both its Native American and Wild West roots and its current big-city status. Honoring its history, the state capital is home to the Oklahoma History Center and the National Cowboy and Western Heritage Museum, as well as the annual Chuck Wagon Festival (a family-friendly two-day event that includes trying chuck wagon food samples, butter-making and Western re-enactors) and Red Earth Events, featuring American Indian arts and culture.
Revitalization efforts over the past several years have helped refresh the city and its seven distinct downtown districts. The Arts District houses the Civic Center Music Hall, Oklahoma City Museum of Art and other cultural attractions. The Bricktown Entertainment District has a variety of restaurants and nightlife venues. And just south of there, the Boathouse District, along the Oklahoma River, offers opportunities for canoeing, kayaking and paddle boarding, as well as more than 13 miles of paved trails for walking, running and biking. It's even home to a U.S. Olympic and Paralympic Training Site for rowing (a bonus benefit, just in case your encore career is Olympic athlete).
One city project—the development of Senior Health and Wellness Centers—specifically aims to serve older residents. Two centers have already opened in different locations of the city, and two more are slated for completion in 2021 and 2022. All will provide social and recreational settings for adults age 50 and older to promote and support a healthy and active lifestyle.
8/8
Take a Test-Drive
Bert Sperling, founder of Best Places, recalls chatting with a real estate agent in southern Oregon who sold the same home on the coast about once every five years. The home is spacious with ocean views, making it appealing to retirees from other parts of the country. But once the new owners move in, they discover that there are only two restaurants in the nearby small town. The nearest airport is three hours away, and it's a three- to four-hour drive to the closest hospital. Consequently, most retirees don't stay for more than a few years. "They say, 'This has been great—now we're going back to civilization,' " Sperling says.
To avoid buyer's remorse, rent an Airbnb for a few weeks and live within the area you're considering, says Lisa Ellis, a real estate agent in Durham, N.C. "Learn the roadways, parks, hospitals, restaurants, theaters and museums. That way, you can get a feel for the vibe without committing to housing right up front."
Keeping your options open is even more important now, when the post-pandemic future is so uncertain. Paul Irving, chairman of the Milken Institute's Center for the Future of Aging, isn't ready to give up on transit-friendly, walkable cities, particularly for seniors. "We're pack animals," he says. "We need human connections."

Online Editor, Kiplinger.com
Rapacon joined Kiplinger in October 2007 as a reporter with Kiplinger's Personal Finance magazine and became an online editor for Kiplinger.com in June 2010. She previously served as editor of the "Starting Out" column, focusing on personal finance advice for people in their twenties and thirties.
Before joining Kiplinger, Rapacon worked as a senior research associate at b2b publishing house Judy Diamond Associates. She holds a B.A. degree in English from the George Washington University.