An Advocate for End-of-Life Care
Without a health care proxy, your written instructions for future medical care may not be carried out if you become incapacitated.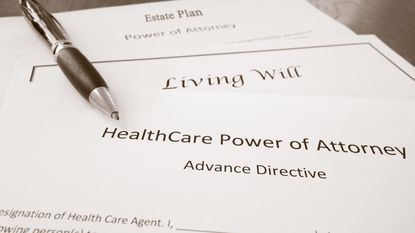 (Image credit: Getty Images)
Imagine you had a stroke and can barely speak. Your doctor suggests an experimental drug that is risky but could be highly effective. Your daughter wants you to try it, despite the risk and cost. Your husband is hesitant but the state gives him higher priority in decision making. If you could communicate, you would say, "yes, absolutely."
It's a scenario no one wants to think about, but having a health care power of attorney (also known as a medical power of attorney, proxy or agent) that designates who will make health care decisions for you when you no longer can is essential. Without a health care proxy, your written instructions for future medical care may not be carried out if you become incapacitated. Like a living will or a do-not-resuscitate order, a health POA is a type of advance directive and one of several forms addressing different medical decisions, including end-of-life care. For example, if you had dementia or were critically ill, a proxy could:
Consent or refuse diagnostic, surgical, or therapeutic procedures.
Approve or deny admittance to a nursing home or other facility.
Endorse post-mortem procedures such as an autopsy or organ donation.
Few Americans complete advance directives, according to Dr. Timothy Quill, a national expert on palliative care and founding director of the University of Rochester Palliative Care School of Medicine Program in New York. He estimates no more than 35% of people with serious illnesses have advance directives.
Subscribe to Kiplinger's Personal Finance
Be a smarter, better informed investor.
Save up to 74%
Sign up for Kiplinger's Free E-Newsletters
Profit and prosper with the best of expert advice on investing, taxes, retirement, personal finance and more - straight to your e-mail.
Profit and prosper with the best of expert advice - straight to your e-mail.
Guardianship or Surrogacy
A health POA is your assurance that if your family can't agree on your care, the decision won't fall to a court-appointed guardian or surrogate. "The big thing they (POAs) protect against is having to have a guardianship where the courts take your rights and give them to someone else," says Ryan Wilson, an elder law attorney in Silver Spring, Md.
Before it gets to that stage, most jurisdictions allow default surrogates to make decisions, and over half of them establish a hierarchy for relatives and friends, according to a New England Journal of Medicine review. Yet not all states have a process for handling challenges to the surrogate's choices, and some only establish decision-making priority for life-sustaining treatment, leaving a void for more routine matters.
As a last resort, a family member or someone else could file a petition to become your guardian. At this juncture, "you lose very important rights," says Catherine McQueen, a principal attorney with Offit Kurman in Bethesda, Md., and it "can make the process longer and more expensive."
If there is a dispute over guardianship, a court may appoint a third-party attorney. How that lawyer will represent your interests will vary. For example, Maryland law requires the guardian to advocate for what the person wants, no matter what, while Virginia law directs them to advocate for what is in the person's best interest, says McQueen, who specializes in these cases.
One positive aspect of guardianship is accountability. The guardian must file a detailed report annually (or more frequently, depending on the judge's order) that lists care decisions and expenditures.
Whom Should You Choose?
For people who have a health proxy, Wilson encourages them to talk with the person about their values and expectations. "It's an uncomfortable position to be in if you haven't had that conversation," he says, one that can lead to guilt for the proxy when forced to make an important decision, such as whether to authorize life-prolonging treatments like a feeding tube.
The American Bar Association offers guidelines for selecting an agent to carry out your wishes in a POA and notes that some states prohibit health care providers and care facility operators from serving as a POA, unless that person is a spouse or close relative.
Wilson offers another caveat to consider: "Some people make it a co-power of attorney, which can cause problems." He suggests picking one person as a primary proxy and another as a secondary if the primary is unavailable or unwilling to serve. McQueen agrees. She sees cases where a parent does not want to choose between children and makes them all proxies. If "one is a problem child and the other two can never get an agreement from the third to make a decision," she says, the siblings are forced to seek guardianship.
While you cannot anticipate every potential scenario, the more you can specify how you would like to be treated, the better. Compassion & Choices, a national nonprofit that advocates letting individuals have more choice over their end-of-life treatment, offers a general values worksheet, as well as a dementia values toolkit, on its website to help you clarify your priorities.
Types of POAs
You will also need to choose one of two types of health POAs. A durable POA takes effect immediately while a springing POA becomes valid only when the person is incapacitated. Which one is better? "It depends on the comfort level with whom the agent is," Wilson says.
A springing POA requires certification by one or two medical professionals, depending on state law, before the agent can make decisions.
"In an emergency," Wilson says, "that process may seem like a long time," but "the extra hoop gives some people peace of mind."