VP Kamala Harris is on the Cusp of a Congressional Milestone: Kiplinger Economic Forecasts
It all hinges on the next tiebreaking vote...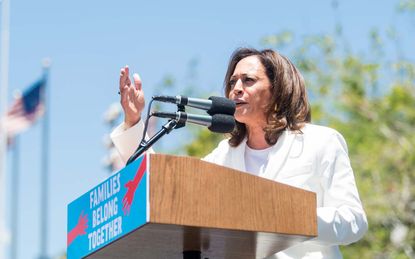 (Image credit: Getty Images)
With a tight majority in Congress, Senate Democrats have leaned on Vice President Harris to push through plenty of legislation. To help you understand what is going on and what we expect to happen in the future, our highly-experienced Kiplinger Letter team will keep you abreast of the latest developments and forecasts (Get a free issue of The Kiplinger Letter or subscribe). You'll get all the latest news first by subscribing, but we will publish many (but not all) of the forecasts a few days afterward online. Here's the latest...
Vice President Kamala Harris (D) is on the cusp of a historic milestone: the most tiebreaking votes in Senate history. Currently, Harris trails 19th-century record-holder John C. Calhoun, who cast 31 tiebreaking votes during his stint as vice president from 1825 to 1832, by a single vote. Ties have been common during Harris's first few years in office, with Democrats holding precariously narrow 50-50 and 51-49 advantages in the chamber.
Most of her tiebreaking votes have advanced President Biden's nominees for executive branch posts or federal judgeships. But Harris has also succeeded at getting major bills, such as last year's Inflation Reduction Act, across the finish line.
Subscribe to Kiplinger's Personal Finance
Be a smarter, better informed investor.
Save up to 74%
Sign up for Kiplinger's Free E-Newsletters
Profit and prosper with the best of expert advice on investing, taxes, retirement, personal finance and more - straight to your e-mail.
Profit and prosper with the best of expert advice - straight to your e-mail.
It's unlikely that Julie Su will receive Harris's record-breaking vote. Biden's nominee to lead the Labor Dept. faces significant opposition from Senate GOPers and lacks the support of three Democrat-aligned holdouts: Joe Manchin (D-WV), Kyrsten Sinema (I-AZ) and Jon Tester (D-MT). Manchin is expected to vote no, while Sinema and Tester remain undecided, for now.
Su's nomination isn't dead quite yet. The White House hopes her role in brokering a recent deal between West Coast dockworkers and shippers will entice undecided Democrats. There's also speculation the administration is trying to woo moderate Lisa Murkowski (R-AK), but it's unclear if she'll bite.
This forecast first appeared in The Kiplinger Letter, which has been running since 1923 and is a collection of concise weekly forecasts on business and economic trends, as well as what to expect from Washington, to help you understand what's coming up to make the most of your investments and your money. Subscribe to The Kiplinger Letter.
Related Content

Associate Editor, The Kiplinger Letter
Sean Lengell covers Congress and government policy for The Kiplinger Letter. Before joining Kiplinger in January 2017 he served as a congressional reporter for eight years with the Washington Examiner and the Washington Times. He previously covered local news for the Tampa (Fla.) Tribune. A native of northern Illinois who spent much of his youth in St. Petersburg, Fla., he holds a bachelor's degree in English from Marquette University.