I'm Following Congress' Example and Skipping My Credit Bill: Crook Note
It would be irresponsible for the Crook family to pay these charges when they so clearly represent a dangerous and unmanageable debt level.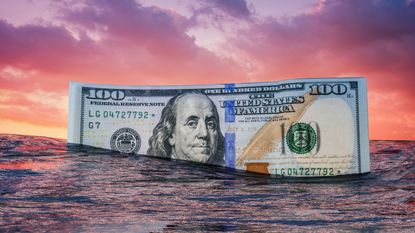 (Image credit: Getty Images)
Memo
To: Visa Credit Card Co.
From: David Crook
Re: Current debt limit about to be breached
I will not be paying you this month.
It's my duty as CFO of the Crook household to inform you that, for the sake of fiscal responsibility, we have imposed on ourselves an upper limit on our overall indebtedness. While our general credit-worthiness remains excellent, with expenses such as our mortgage, our monthly homeowners' association fee, some college loans and, now, your outstanding balance, the Crook family is quickly approaching our debt limit.
Subscribe to Kiplinger's Personal Finance
Be a smarter, better informed investor.
Save up to 74%
Sign up for Kiplinger's Free E-Newsletters
Profit and prosper with the best of expert advice on investing, taxes, retirement, personal finance and more - straight to your e-mail.
Profit and prosper with the best of expert advice - straight to your e-mail.
We are following the example set by the majority in the House of Representatives, who have shown that the simple, best way to rein in excess spending is to simply not pay the bills. You can't draw blood from a parsnip, and in this case, you won't be able to shake quarters from a Crook.
We, therefore, will not be paying you for the charges we incurred on our recent trip to the Caribbean, the "Sweeney Todd'' Broadway show tickets or the dinner tab I picked up when we entertained our old friends at Le Bernardin – all of which we put on our (your) credit card. And it goes without saying, of course, that we won't be paying for our regular Amazon and Instacart grocery charges.
Be aware, however, we do still plan to put our upcoming property tax payment on the card as we are banking airline miles for an anniversary trip next year to Europe. Again, for the miles.
Absent an agreement within the family to increase our debt limit, however, we have no plans at this time to pay Visa when these upcoming charges come due. It would be irresponsible for the Crook family to pay these charges when they so clearly represent a dangerous and unmanageable debt level.
This gross profligacy has got to stop! Our debt is a ticking time bomb that will detonate unless we take serious, responsible action.
As a creditor, you are entitled to know some of the steps we are taking to address this situation:
My wife and I have both agreed to a 20% reduction in our work time and annual incomes. We feel that with additional free, non-work hours we will devote more of our available time to leisure pursuits which will, in turn, create more opportunities for travel, entertaining and evenings with friends.
The benefits to you as we charge more are obvious, as are the benefits to society at large as we create more job opportunities for service workers. We, of course, will make use of these extra credit opportunities to increase our air miles balance.
As our mortgage payment is our top monthly expense, we will be cutting the interest portion going forward — thus transferring money from the usurious and unproductive banking sector to the more productive service and manufacturing sectors of the "real economy."
We will be using those freed-up funds to reinvigorate the landscaping and other exterior infrastructure at the country house. We are also considering the purchase of a Tesla or some other electric automobile–provided, of course, that the government maintains the current tax credit. Again, we anticipate charging as much for these new services and acquisitions as the vendors will accept. For the miles, you understand.
Finally, we have decided that taxes take far too much of our monthly cash flow and will be supporting efforts in Congress and state legislatures to reduce our onerous tax burden. We feel, for example, that since we no longer have a school-age child, we should not be burdened with school taxes. Likewise, as we are financially self-sufficient, the costs of Medicaid and other welfare programs should not be borne by us or people like us.
Fortunately for us, most politicians and political organizations accept contributions paid by credit card. We're anticipating a windfall of air miles.
In conclusion, we are certain that Visa understands and appreciates the extreme sacrifices the Crook family is undertaking to put itself on a sound financial footing – for ourselves, but mainly for our grandchildren and their children.
Related Content
Editor, Kiplinger's Retirement Report
David Crook is an innovative editor and developer of print and online publications on a wide variety of subjects, from real estate to show business, finance to politics. Prior to joining Kiplinger, David invented, launched and edited "The Wall Street Journal Sunday" — the largest- circulation business print publication in U.S. history. David is also the author of The Journal's "Complete Real Estate Investing Guidebook" and "Complete Home Owner's Guidebook."
Prior to the 1999 launch of Sunday Journal, David was on the team that introduced the paper's highly successful Weekend Journal effort, expanding the world's premier business newspaper from five days a week to six. Before joining The Journal in New York in 1995, David was managing editor of a group of suburban Los Angeles newspapers, and, before that, a writer and deputy editor for the Los Angeles Times arts and entertainment department.
Before that, he was reporter and editor in Washington, D.C., for what is today known as Broadcasting and Cable magazine. In 2017, he co-founded DCReport.org, a news website focused on national political matters. David received a Bachelor of Arts with Honors from Tulane University, New Orleans.