What Do Negative Oil Prices Mean?
With oil prices having dipped into negative territory, S&P Global Platts's Vito Turitto joins our hosts Sandy Block and Ryan Ermey to break down exactly what's going on. Also, the cohosts give an update on stimulus checks.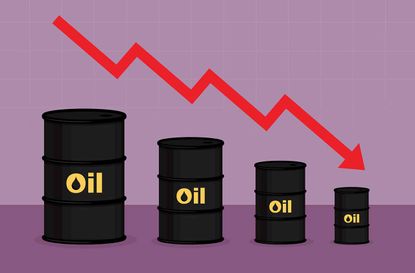 (Image credit: Getty Images)
Ryan Ermey: Earlier this week, U.S. oil prices went negative, with traders paying folks to take barrels off their hands. S&P Global Platts is a go-to analytics firm for energy and commodities. Their lead quantitative analyst Vito Turrito joins the show to make sense of all of this in our main segment. On today's show, Sandy and I give an update on stimulus checks. And, a new edition of Financial Fact or Fiction features unemployment benefits and private student loans. That's all ahead on this episode of Your Money's Worth. Stick around.
Ryan Ermey: Welcome to Your Money's Worth. I'm Kiplinger's associate editor Ryan Ermey, joined from afar by senior editor Sandy Block. Sandy, you're not in your basement anymore?
Sandy Block: No, I'm upstairs. My husband's down in the basement now.
Subscribe to Kiplinger's Personal Finance
Be a smarter, better informed investor.
Save up to 74%
Sign up for Kiplinger's Free E-Newsletters
Profit and prosper with the best of expert advice on investing, taxes, retirement, personal finance and more - straight to your e-mail.
Profit and prosper with the best of expert advice - straight to your e-mail.
Ryan Ermey: You've emerged.
Sandy Block: I've emerged. I'm in the attic now.
Ryan Ermey: Oh.
Sandy Block: It's good to have a change of scenery. When you've been home for a month, sometimes you've got to mix things up.
Ryan Ermey: Maybe I should start moving around my dining room table.
Sandy Block: There you go!
Ryan Ermey: Just so I can get different views.
Sandy Block: You've got to switch it up, that's how you do it.
Ryan Ermey: Right now, I'm looking at my roommate's mom's painting of some man who looks like Prince, but isn't Prince. If I move around, I could have Allen Iverson on one wall. I could be looking at my bar, so maybe I'll start moving around.
Ryan Ermey: Sandy, we talked on a few episodes of this show about the stimulus checks that folks are slated to be receiving as a result of the COVID-19 pandemic. I, myself anyway, am among the multitudes of people who have not received their check.
Sandy Block: Oh, you haven't? Oh, interesting.
Ryan Ermey: No.
Sandy Block: Oh, okay. Well, you've got a lot of company. As you can imagine, nothing ticks people off more than telling them that you're going to mail them a check and then they don't get it.
Sandy Block: What I think has made things even worse is that the IRS actually launched a tool on its website -- a Get My Payment tool -- where people can go and see where their payment is. Millions of people did that, and they got a message that said "Payment status not available." That made them even madder, because you're telling people here's a tool where you can find out where your payment is and then you use it and it says, "Oh, nevermind." There's a lot of confusion about this.
Sandy Block: In all seriousness, as we've said before, the stimulus is $1,200 per person. If you have kids 16 and under, you get $500 a kid. A lot of people really need this money and are wondering why they didn't get it. There are a few reasons and we'll put in the show notes. We've got a lot of good stuff on our website about this. But, I think one of the main reasons, if I had to guess, is this: The stimulus is going to be based on your 2019 return. If you haven't filed a 2019 return, it will be based on your 2018 tax return. But, if you filed your 2019 return and the IRS is processing it, you may get the payment status not available, you're in limbo there. They're not going to use your 2018 return because they have your 2019 return, but they're not done with it yet. I think that's probably a big reason that a lot of people are getting this message.
Sandy Block: A couple of other reasons. There was a big to-do over what to do about people who don't have to file taxes and that includes a lot of Social Security beneficiaries. Other people who may not have a tax return for legitimate reasons, the IRS created a non-filers, enter payment info here tool, but if you've used that to tell the IRS that you're eligible, they may not have processed that yet. Well, two other things. If you receive Social Security benefits, or Veteran's Administration benefits, you will automatically get a payment, but again, it may be in processing. So, you're going to get paid, but you're not going to get paid yet. The final reason is that you made too much money. Again, the stimulus payments are based on your taxable income in either 2018 or 2019. There is a cutoff, it phases out, so it may be that you made too much money to get a check, or a reduced amount.
Sandy Block: I'm sorry. I want to add one more reason, because this would apply to the young people in our audience. You may not get a payment, because you are eligible to be a dependent on someone else's tax return. That's mainly going to apply to 17- and 18-year-old kids, teenagers who are still living at home or college students up to, I think, age 23. If you can be claimed as a dependent on your parents' tax return, even if you're not necessarily being claimed as a dependent, you're probably not going to get a check.
Sandy Block: Again, we've got all these things outlined on our website. I hate to say this, but people might want to just be patient. I think a lot of people are going to be getting checks, but they ramped this up very, very quickly -- and it doesn't surprise me at all that there are glitches. Some people aren't getting the checks as fast as they expect.
Ryan Ermey: Now, one thing I would have to recommend people do, especially if you haven't done it yet, you should go to the IRS' Get My Payment website, because when I went . . . this is because, I think, there's a certain amount of people . . . I filed my 2019 taxes early.
Sandy Block: Oh, so that's not it. Yeah.
Ryan Ermey: In January, and I owed money to the federal government, and was receiving money from the DC government. So, I paid what I owed, and I got my refund, and I'm squared away. But, I filed through a preparer, H&R Block.
Sandy Block: Oh, yeah. Yeah.
Ryan Ermey: A lot of people who filed through preparers, we're hearing that the IRS didn't actually have the proper direct deposit information on file. What happens is they return money to TurboTax or whatever. TurboTax takes out the fee that they change, and then they give you your refund.
Sandy Block: Right.
Ryan Ermey: So, they might not have had your information, so if you go on the 'Get My Payment' tool . . . I'm just doing it now, if I can remember my social security number while I'm talking to you, and I can. Success.
Ryan Ermey: The first time I logged on, they didn't have any of my bank account information, so I had to enter in my bank account number, my routing number, and the amount of money that I owed the IRS, so not my state refund. I didn't have to enter my net refund, because that got kicked back to me as it didn't match our records. I entered in the amount of money that I paid to the IRS, and they said, "Okay great, we have your information now."
Ryan Ermey: Now when I go check, and I check it once a day because . . .
Sandy Block: It's money.
Ryan Ermey: It's no amount of money to sneeze at, I'll tell you that much. It says, "Payment Status: You're Eligible for the Payment. Once we have your payment date, we will update this page. It'll be deposited into the bank account number below. Updates are made no more than once a day."
Ryan Ermey: If you're someone who hasn't gotten paid, you should at least be going to that website to make sure that once they get things up and running that you're at least good to go -- and they have your information.
Sandy Block: Right. That's a really good point, Ryan. As I understand it, this is not everyone who used tax software, I think it's people who had their fees taken out of a refund, or had an advance refund. In which case, I think the tax preparation company's create a dummy bank account, they have a separate account so it's not automatically available to the IRS where to put the money.
Sandy Block: If you just used TurboTax and you didn't have fees taken out of your refund, you didn't have any advance refund, I don't necessarily think this is going to happen. But certainly, the takeaway here is if you used tax prep software, and millions of people do, it's really good to check and see if the IRS has your bank account information.
Sandy Block: That's another problem that some people may have changed the bank account that they used since they had direct deposit. The IRS is using the direct deposit information it has on hand for you. You might have changed since you filed your tax return, if you had direct deposit when you filed your tax return. That's a really good advice, to make sure that the IRS actually has what it needs to send you your money.
Ryan Ermey: Yeah. Look, I did mine through H&R Block Free File, and they still didn't have my information. You need to go to the IRS, make sure that they have everything they need, so that when they finally get their act together, you can get your money.
Sandy Block: That's right.
Ryan Ermey: Coming up, Vito Turrito gives an oil price forecast and tells us what it means for investors and consumers alike. Stick around.
Ryan Ermey: Quick note before we get started with the interview here, folks. Vito is going to mention WTI and Brent a few times in this interview. Those refer to the two main benchmarks for crude oil prices, the West Texas Intermediate, here in the U.S., that's the one that went negative, and Brent Crude, which is a global benchmark. So, if you hear one of those, that's what he's talking about. Now, enjoy the interview.
Ryan Ermey: We are back, and we're here with Vito Turrito. He is the lead quantitative analyst for S&P Global Platts, and we're talking today about what's going on in the oil market. Vito, thank you so much for coming on.
Vito Turrito: Thank you for having me.
Ryan Ermey: U.S. oil prices fell below $0 per barrel this week. When something crazy like this happens in markets, I always ask myself what's real, what's a function of some kind of quirky goings on the in market. So, let's start with what's real. What in the real world triggered this huge selloff in oil prices?
Vito Turrito: The main reason oil prices fell so aggressively is storage. Storage is nearly full across the globe, basically. There is also another reason why we had such violent selling pressure in the market, and that is merely a technicality based on the fact that WTI Futures that fell, and went below zero, was the main contract. When it went below zero, when prices went negative, that was the last day of that contract.
Vito Turrito: Basically, what happened is that since storage is nearly full capacity, no one wanted to buy oil because they wouldn't have a place where to store it.
Ryan Ermey: Right. Well, no planes are flying, no cars are driving, no one's using oil.
Vito Turrito: Absolutely. The demand for products is down, at least at the moment. As you said, planes are not flying, transportation companies are not operating, or they're operating at a minimum capacity, so everything is down. That depressed, basically, oil prices.
Vito Turrito: Obviously, with all this oil that is still being supplied to the market, prices fell, and fell very aggressively.
Sandy Block: Vito, this just really amazes me, because I'm old enough to remember when oil was actually rationed . . . when people had to stand in line to get gas. There was all this talk about peak oil and how we were going to run out. Now, what you're talking about is basically a glut of oil. What are governments and oil companies doing, to try and reduce the glut? Will we see an impact of that?
Vito Turrito: At the moment, some of the companies are, at some point, to be forced to reduce supply, for one reason or for another, because prices are so low that, for many companies, it's becoming uneconomical to produce. That is pure math. If there is not profit, obviously they will have to reduce, necessarily, the production.
Vito Turrito: Government, as we know, they might use different strategies. It obviously will depend from government to government. Some people may decide to import a little bit less, some companies will try to produce a little bit less. Some of the extraction rigs will probably decrease going forward, particularly when it comes to shale oil.
Vito Turrito: But at the moment, this is the situation. The only thing that we know right now is that demand is down because of the coronavirus pandemic. So the massive, widespread lockdown situation that we have right now in the planet is unprecedented. Right now, we have three billion people under lockdown across the globe and this is basically causing a massive drop in demand. Companies, whether they want it or not, probably they will start to reduce the production, first of all, because demand is down. But right now, the problem is that they don't even know where to put oil, where to store it.
Ryan Ermey: Right.
Vito Turrito: They will be forced to do it.
Ryan Ermey: You say we have this humongous glut because we're in this unprecedented lockdown. Eventually, things are going to start getting back to normal, countries' economies are going to start opening back up. When that happens, will oil prices and this volatility that we're seeing, will that normalize, too? Or, will this prolonged lack of demand have lasting effects in the economy, and will we have a worse economic downturn that people are thinking right now?
Vito Turrito: Excellent question. Basically, this is going to be a long answer. I'll try to cut to the chase.
Vito Turrito: Basically, what we have right now is a situation of great uncertainty across the globe, when it comes to commodity markets, but also financial markets, as we all know. The thing, though, is that if we look in the future, S&P Global Platts analytics forecasts a recovery of oil prices, so there might be a light at the end of the tunnel.
Vito Turrito: The problem, the big question here is how long the tunnel's going to be.
Ryan Ermey: Right.
Vito Turrito: That is the main question. If we want to put a timeframe there, the focus as far TI and Brent, for us, is around $35, $36 a barrel, when it comes to WTI, around December 2020. We forecast WTI's going to hit $35 around December. Brent is going to hit $40, $42 per barrel by the end of December.
Vito Turrito: We see, definitely, a recovery in price. However, things are going to get worse before they get better. Now we are in April, and right now, as we speak, we have the Brent Futures, which are trading at $22.27. I'm talking about the June contract, the front month. Whereas WTI Futures are trading at $17.39, okay? However, what we have right now in the market is a massive . . . that means that the market is flooded with oil, there is massive . . . right now, it's not just about the problem with the supply, right now global oil. When I say oil, I mean both TI and Brent, oil is stuck between two different shocks. One happening on the demand side and the other one happening on the supply side.
Vito Turrito: On the supply side, we have a lot more oil than we're capable of storing, and capable of over absorbing as an economy. And, on the other side, we basically have nearly zero demand.
Ryan Ermey: Right.
Vito Turrito: That is a massive problem for oil.
Vito Turrito: However, at the moment what we see is a price that is going to probably stay low for a while. May, probably, is going to be the worst month of the year, with prices averaging . . . we see pricing averaging $9 for WTI and $12 for Brent, when it comes to May. Then, eventually . . . hopefully, May is going to be the worst. Then from June we will see a gradual, slow and painful recovery, until December 2020.
Vito Turrito: Also, because you have to take into account that oil is pretty much a macro economic indicator by itself. Now it's oil, maybe in the future it will be electricity, hydrogen, whatever that is. Back in the day, it used to be coal, or steam, or whatever that was, the main commodity back in the day. Whatever is the main commodity in the specific timeframe doesn't really matter. The thing is that that commodity is going to play a massive role, as far as the global macroeconomic scenario is concerned.
Vito Turrito: The fact that oil prices are so low is a big wake up call for all the rest of the planet when it comes to financial markets, when it comes to the S&P 500, when it comes to the Dow Jones. All those industries have gone up over the last several weeks, because of federal Reserve, because of the European Central Banks, because of the big bailout funds that have been announced by the U.S. government, by Germany, by Italy, by the U.K., by all the other massive commodities. The problem is that despite all this expansive monetary policies, the International Monetary Fund still, to this day, forecasts a global growth which is going to be minus 3%, in 2020.
Ryan Ermey: Right, so a major recession?
Vito Turrito: Absolutely. Despite all this happening, despite all the help, and the monetary and the fiscal stimuli that we are seeing across the globe, advanced economies, according to the International Monetary Fund, are focused to contract by 6%. Advanced economy, obviously we're talking about the . . . of the planet.
Vito Turrito: Our forecasts are a little bit better and hopefully we're going to be right. According to Platts analytics, developing economies are going to drop by 1.3%, whilst emerging economy will probably still manage to grow by 1%, roughly, by the end of the year. However, the global economy, according to our forecasts, will be growing by 0.2% by the end of 2020.
Vito Turrito: Again, it's still a very gloomy environment, gloomy outlook. We will get better but again, as I said before, things will get worse before getting better.
Sandy Block: The last question, Vito, as far as consumers, it sounds like . . . I guess, if you have anywhere to go this is great, because I've been really struck by how low gas price have been when I drive to the store, or something like that. It sounds like we're going to continue to see that for quite some time?
Vito Turrito: Partially. Jet fuel and gasoline have been the petroleum products that have been hit the most by this crisis, for obvious reasons. I mean, we mentioned that before, the transportation is down, airplanes are not flying, cars are not circulating, so everything is going to be down. But, jet fuel demand is forecast to drop by 50% between March and May this year, but should go up by year end. The same thing is going to happen to gasoline. Gasoline demand will probably drop by 20% between March and May.
Sandy Block: Okay.
Vito Turrito: But again, it will recover by the fourth quarter.
Sandy Block: Okay.
Vito Turrito: The same thing's going to happen for gasoline prices. They will probably drop a lot more in May, they will probably stay low in June, but they will tend to recover by year end. Hopefully, also, if we're going to have an increase in gasoline prices, if the . . . lockdown period goes over. Once that is over, probably by December, Christmas period, it's going to be holiday season, so people will start driving again, and will start buying air tickets again. Jet fuel and gasoline prices will recover by year end.
Ryan Ermey: All right. Well Vito, thank you so much. It sounds like the bringer of some gloomy news, prolonged issues in energy markets, but we will be keeping an eye on it. Vito, thank you so much for coming on.
Vito Turrito: Thank you so much for having me.
Ryan Ermey: Can you really get relief on private student loans? Find out in a new Financial Fact or Fiction, next.
Ryan Ermey: We are back. Before we go, a recurring segment of ours, Financial Fact or Fiction. I will be going first.
Ryan Ermey: Sandy, fact or fiction: all Americans have to pay both federal and state income tax on unemployment benefits?
Sandy Block: Well Ryan, I thought that was a fact because I certainly know, and I've warned people before, and I will warn them again, that your unemployment benefits are subject to federal taxes. I've known in the past that people have been on unemployment briefly, gone back to work, and been shocked when they filed their taxes the next year, that those benefits were taxable. Is that not a fact, Ryan?
Ryan Ermey: Well, it is for a lot of people. You're quite right that, federally, unemployment benefits are taxed the same as regular wages, and the majority of states follow the federal government, and fully tax unemployment benefits. However, some states don't tax them at all, either because the state doesn't have an income tax, and some states will only tax part of your benefits.
Ryan Ermey: If you live in . . . I'm going to try to do this in one breath, Sandy. Are you ready? If you live in Alabama, Alaska, California, Florida, Montana, Nevada, New Hampshire, New Jersey, Pennsylvania, South Dakota, Tennessee, Texas, Virginia, Washington state, or Wyoming . . . no sweat, I used to play trumpet . . . you won't pay state income tax on your unemployment benefits. But, as you know, and as I just noted, you will be paying federal tax.
Ryan Ermey: Obviously, quite a lot more people than usual are applying for unemployment benefits right now, and it's really this whole rat's nest to navigate. Our colleague Marc Wojno has an excellent story on Kiplinger.com about applying for unemployment, that we will be putting in the show notes. But, one thing from the story I do want to point out is CareerOneStop.org is really an excellent resource for anyone who needs to file for unemployment. It's just a one-stop shop to check your eligibility, and find the right avenues for filing a claim in your state.
Ryan Ermey: You say, Sandy, that people have been shocked. Is there a way to prepare yourself, if you are one of the people who is receiving unemployment benefits?
Sandy Block: You can actually have taxes withheld from your unemployment benefits. I doubt very many people are going to do that now because that's not bad idea if you think you're only going to be out of work for a little while. But, given the situation we're in, our recession, the great uncertainty about when people are going back to work, I suspect most people are going to want to get their full check. The other thing I suspect is if this drags on as long as we think it will, I don't know that taxes are going to be a huge problem for a lot of people because the lower your income, the lower your taxes.
Sandy Block: I don't want people to freak out about this, but if you are fortunate enough to claim unemployment for just a small period of time, and then you get back to work, and you're making regular money, my advice is put aside some money to pay taxes on those benefits because you will have to do that.
Ryan Ermey: All right, Sandy, what have you got?
Sandy Block: Okay. How's this? You may be able to get relief on private student loans, fact or fiction, Ryan?
Ryan Ermey: Now, I know that there has already been relief or at least a succession of payments on federal student loans. Private, it gets really tricky. We've told people not to refinance a private, so I'm going to say fiction.
Sandy Block: Well, actually it's a fact. This just happened and we're working on a story about this now for our upcoming issue. Private loans were not included in the stimulus package, which did include a lot of relief provisions for federal student loans. But, recently more than a dozen states have reached an agreement with private lenders to offer some relief to these borrowers as well. I would say, it's not as good as what the federal student loan borrowers are getting, but it includes a minimum of 90 days of forbearance on payments. So at least a few months where you won't have to make payments. I suspect, it doesn't say here, that interest will accrue. But, they also will waive late fees, seize debt collection lawsuits for 90 days and other things.
Sandy Block: Now again, oftentimes things are at the discretion of the lender, but our advice is if you have a private loan and you're having trouble making payments on it, contact the lender. Mention that you've heard that there's been an agreement and see what you can work out. I think they will be more amenable now than they have been in the past.
Ryan Ermey: Yeah. Any time you say that something is to the discretion of the lender, it means that you're going to have to advocate for yourself a little bit. But, in this case, absolutely worth it. It's been a huge relief for me, especially since . . . you'll see how the sausage is made here a little bit. Monthly magazine, you get paid once-a-month and having that student loan not just come immediately out of my paycheck has been a huge relief and allowed me to have some extra cashflow, which is nice. As you say, absolutely worth negotiating, if you can.
Ryan Ermey: That'll just about do it for this episode of Your Money's Worth. For show notes, and more great Kiplinger content on the topics we discussed on today's show, visit Kiplinger.com/Links/Podcasts. You can stay connected with us on Twitter, Facebook or by emailing us at podcast@kiplinger.com.
Ryan Ermey: If you like the show, please remember to rate, review and subscribe to Your Money's Worth wherever you get your podcasts. Thanks for listening.
Links and resources mentioned in this episode
Associate Editor, Kiplinger's Personal Finance
Ryan joined Kiplinger in the fall of 2013. He writes and fact-checks stories that appear in Kiplinger's Personal Finance magazine and on Kiplinger.com. He previously interned for the CBS Evening News investigative team and worked as a copy editor and features columnist at the GW Hatchet. He holds a BA in English and creative writing from George Washington University.