Veterans Should Look Out for These Scams
Those ads offering to help with Camp Lejeune claims might not be legit. If you're a veteran, be alert to potential scammers.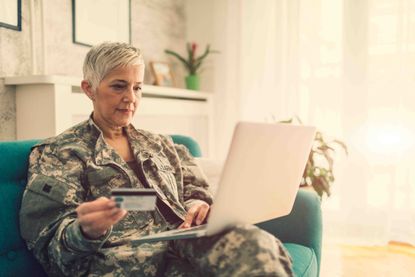 (Image credit: Getty Imges)
If you thought those Camp Lejeune liability ads all over TV are scams, well, the Veterans Administration says some may be. And this is just the latest in a line of scams directed at veterans.
"Dishonest attorneys are messaging veterans with offers of assistance but charge inflated fees," the VA says. The agency is warning about unscrupulous lawyers who are advertising for clients with claims for Camp Lejeune injuries or who want to file claims under the PACT Act.
The VA said that "predatory companies, not recognized by VA" are targeting veterans by offering to help them with their benefits claims. The companies charge "absurd fees" or require veterans to pay them a portion of their benefits. The agency says it will never charge veterans to apply for benefits.
Subscribe to Kiplinger's Personal Finance
Be a smarter, better informed investor.
Save up to 74%
Sign up for Kiplinger's Free E-Newsletters
Profit and prosper with the best of expert advice on investing, taxes, retirement, personal finance and more - straight to your e-mail.
Profit and prosper with the best of expert advice - straight to your e-mail.
Scams against veterans increasing
Across the board, the Federal Trade Commission received over 150,000 fraud complaints from veterans and military retirees last year, according to a statement to Congress from Monica Vaca, deputy director of the FTC's Bureau of Consumer Protection.
"The military community reported monetary harm of over $414 million from fraud, an increase of more than 50% from the previous year," Vaca said in her prepared testimony. She said the top complaint categories for military consumers were: imposter scams; identity theft; credit reporting; online shopping and negative online reviews; banks and lenders; debt collection; bogus investment schemes; scams involving prizes, sweepstakes and lotteries; credit cards; and auto-related problems.
For example, Vaca testified, some companies target military consumers with military discounts or offers to lure servicemembers and veterans into deceptive schemes. The FTC filed suit last year against fast food chain BurgerIM. According to the complaint, the company lured veterans into paying tens of thousands of dollars to purchase franchises that were pitched as "a business in a box" that required little to no business experience, downplaying the complexity of owning and operating a restaurant, and it offered unfounded assurances that if a franchisee was unable to open a restaurant, the company would refund the franchise fee.
Although BurgerIM pocketed tens of millions of dollars in such fees, the complaint says the majority of the people who paid were never able to open restaurants.
Camp Lejeune Act draws scammers
Scammers take advantage of new opportunities. And they've apparently been drawn by the fact that Congress in 2021 passed the Camp Lejeune Justice Act to allow veterans to sue for compensation for harm from exposure to contaminated water at Camp Lejeune in North Carolina between August 1, 1953, and December 31, 1987. The PACT Act, passed by Congress in 2022, expands VA health care and benefits for veterans exposed to burn pits, Agent Orange, and other toxic substances.
The VA says you can file claims directly with the agency, either at one of its regional offices or online on the VA's website. You can also check the credentials of anyone offering claims assistance. Be cautious of anyone claiming to represent the VA. You can call 800-827-1000 to check the authenticity of any message you receive.
The VA accredits representatives of veterans service organizations, attorneys, and claims agents to help veterans pursue their benefits claims before VA. It is against the law for anyone to prepare benefits claims without authorization.
James S. Rice, assistant director of the Office of Servicemember Affairs, at the Consumer Financial Protection Bureau told Congress recently that "unscrupulous" people who contact veterans offering to help them in exchange for high fees or a percentage of their benefits can leave veterans with tens of thousands of dollars in debts, unable to pay their bills.
These scammers, Rice said, "often insist that they are not bound by the laws governing practice before VA because they are merely 'coaches' or 'consultants.'" Sometimes, the scammers will send veterans into debt collection when they can't pay.
The Consumer Financial Protection Bureau advises that if you are making a claim, you should make sure that a VA Form 21-22 or 21-22A, which officially appoints your representative, is on file with VA. This form tells the VA who is helping you with your claim and helps the VA notify you if the person you appoint is not authorized to represent you.
According to the CFPB, there is a one-time exception when a non-accredited individual may be authorized to represent one Veteran on a single benefit claim as long as they're doing it free of charge and have filed a VA Form 21-22a with VA. But the agency says to watch out for those who say they are "coaches" or "consultants" and are not required to submit these forms to the VA.
VA helps veterans avoid fraud
To avoid being targeted by fraud, the VA says, if veterans are contacted regarding claims they don't remember making, they should call the VA at 1-800-827-1000 to confirm the details. Also call that number if unsure about any contact that appears to be from the VA, whether it be through phone, email or text. The VA will never charge veterans for processing a claim or request a processing fee.
The VA says if you receive an email or letter from the agency saying your direct deposit information or your eBenefits account information was updated and you don't remember doing so, you should immediately call the VA number. This could be your first sign that your information has been compromised.
Note: A version of this item first appeared in Kiplinger's Retirement Report, our popular monthly periodical that covers key concerns of affluent older Americans who are retired or preparing for retirement. Subscribe for retirement advice that's right on the money.
Senior Retirement Editor, Kiplinger.com
Elaine Silvestrini has had an extensive career as a newspaper and online journalist, primarily covering legal issues at the Tampa Tribune and the Asbury Park Press in New Jersey. In more recent years, she's written for several marketing, legal and financial websites, including Annuity.org and LegalExaminer.com, and the newsletters Auto Insurance Report and Property Insurance Report.