Travel Demand and Delays to Soar, So Plan Ahead: Kiplinger Economic Forecasts
Confidence in travel is rising but that's leading to higher prices.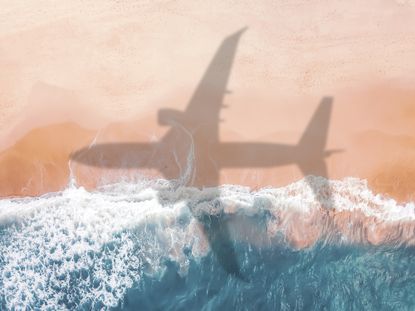 (Image credit: Getty)
The travel industry is a cornerstone of the economy not just because of its size but because its performance has an impact across the supply chain.
Our experienced Kiplinger Letter team will update you on all the important developments (Get a free issue of The Kiplinger Letter or subscribe). You will get updates first by subscribing, but we will publish many (but not all) of the forecasts a few days afterward online. Here's the latest…
If you're planning your summer vacation… Book early. Budget more. Plan on delays.
Subscribe to Kiplinger's Personal Finance
Be a smarter, better informed investor.
Save up to 74%
Sign up for Kiplinger's Free E-Newsletters
Profit and prosper with the best of expert advice on investing, taxes, retirement, personal finance and more - straight to your e-mail.
Profit and prosper with the best of expert advice - straight to your e-mail.
That, in a nutshell, is what the data and experts say. Leisure travel will top pre-pandemic levels this summer, now that virtually everything and everyone are back to normal activities and rules.
Almost everyone is eager to hit the road, the skies, the seas or the rails. 85% of Americans say they're planning a summer vacation this year, according to travel data tracking website The Vacationer.
Some 42% say they plan to travel more than last summer. Air travel is sure to exceed summer 2019's pre-COVID level. In fact, passenger volume may set a new record. The busiest airports in the U.S. are Dallas, Houston, Orlando, plus New York's JFK and other airports on the East Coast that get lots of international flights.
Domestic airfares are likely to rise less than international fares
How much more you'll pay to fly depends on where and when you go.
Domestic airfares will be up modestly. May tickets will average $321, up 7% from April, with a 5% bump in June. Peak ticket prices around July 4 weekend will actually be a bit lower than last year, but still up vs. the pre-COVID average. Then they'll drift lower.
International flight costs are set to soar. Tickets to Europe: 24% higher than their pre-pandemic norm. Flights to Asia: Up a staggering 60% from 2019 levels.
Wherever you fly, factor in delays, especially in Europe, due to transport union strikes.
Outlook for hotels, car hire and cruises
Hotels aren't quite as strained as airlines. But room rates are still elevated. Room costs are running 4.2% higher than a year ago. Among the top destination cities, Chicago is seeing the biggest year-over-year hikes in hotel rates, on the order of 30%.
Practically all hotels report staffing shortages, which raises costs and might result in reduced service, and are encouraging guests to decline room cleanings, for instance.
Rental cars are getting cheaper, though they remain pricey. On average, they'll run about 21% cheaper than last spring and summer. But book early: Cars are still in short supply on agencies' lots. Procrastinate and you may be out of luck.
Cruise ships: Packed to the gills this summer. The industry was devastated by COVID-19, but Americans didn't permanently lose their passion for taking cruises. Bookings should slightly exceed 2019 levels. The era of juicy deals on cruises is over. You'll have better luck if you're traveling by car.
Gas prices still high, as is train demand
Gas prices should behave, though with the national average around $3.50 per gallon, fill-ups are hardly cheap. Still, that's a big pullback from last year's record high, so plenty of folks will drive. Of course, a big supply disruption during the summer could lead to brief price spikes.
For an alternative to driving or flying, you may want to check out Amtrak, which has been adding new routes lately. But it reports that trains are selling out fast, something that hasn't happened in years. One more sign of how busy the season will be...
This forecast first appeared in The Kiplinger Letter. Since 1923, the Letter has helped millions of business executives and investors profit by providing reliable forecasts on business and the economy, as well as what to expect from Washington. Get a free issue of The Kiplinger Letter or subscribe.
Read more

Associate Editor, The Kiplinger Letter
Sean Lengell covers Congress and government policy for The Kiplinger Letter. Before joining Kiplinger in January 2017 he served as a congressional reporter for eight years with the Washington Examiner and the Washington Times. He previously covered local news for the Tampa (Fla.) Tribune. A native of northern Illinois who spent much of his youth in St. Petersburg, Fla., he holds a bachelor's degree in English from Marquette University.