Retirees, Transform Your House Using Smart Home Technology
Going high-tech allows you to control your lights, locks and many appliances with voice activation and can help you age in place. Here's what to consider when deciding on the different options.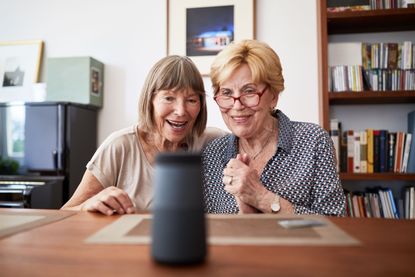 (Image credit: Getty Images)
Hank Norsworthy was tired of having to walk down a dark hallway to get to bed. Diagnosed with multiple sclerosis about 40 years ago, he uses a rollator (a walker with wheels) to get around. After several friends adopted smart home technology to automate certain features, he decided to give it a try.
A few months ago, he bought an Echo Dot as well as some smart lightbulbs and smart plugs to help automate his lighting. With these adjustments, he can now ask Alexa to turn his lights on or off without having to walk down a dark hallway. Norsworthy has been so happy with the results he's considering getting a smart lock for his front door and more smart lights for his garage. "This beats the little motion detector lights I was using before," says Norsworthy, 77, of Jacksonville, Fla.
With no small keypads to squint over or an intimidating selection of buttons to press, more older adults are discovering and adopting easy-to-use, voice-activated smart home technology because it relies on something all of them know how to do: speak. The percentage of adults 50 years and older that own smart home technology nearly doubled in just a year, from 10% in 2019 to 19% in 2020, according to AARP's report "2021 Tech Trends and the 50+."
Subscribe to Kiplinger's Personal Finance
Be a smarter, better informed investor.
Save up to 74%
Sign up for Kiplinger's Free E-Newsletters
Profit and prosper with the best of expert advice on investing, taxes, retirement, personal finance and more - straight to your e-mail.
Profit and prosper with the best of expert advice - straight to your e-mail.
Using the system may be easy, but the real challenge is choosing which one you want from the three tech giants -- Amazon, Google and Apple -- dominating voice activated smart home technology. Because it isn't always interchangeable across platforms, consumers can get locked into buying only one company's products and accessories. So think about which smart home features you want and why before investing in a system. "People need to make technology choices based on their use patterns," says Tom Kamber, founder and executive director of Older Adults Technology Services, which trains people to use technology through its flagship program Senior Planet and is affiliated with AARP.
Deciding on a Smart Home Technology Brand
Those functions will be determined in part by which ecosystem you want to use. There are three main ecosystems or brands: Amazon's Alexa Smart Home, Google's Nest and Apple's HomeKit.
Each company offers smart speakers -- such as Echo for Amazon, Google's Nest Audio and HomePod mini for Apple -- that let you pose questions to a virtual assistant or give it voice commands. To do this, you start the question with what's called a "wake word." For example, for an Amazon device, you could say, "Alexa, what's the temperature outside?" For Google Assistant, you would say, "Hey Google, what's today's date?" The wake word for Apple is "Hey Siri."
Beyond these speakers lies an entire universe of smart home products, including thermostats, doorbells, lighting and locks. Each ancillary product comes with its own app that you can control through your smartphone. You can also control these products through the smart speaker.
Although using voice commands to control smart home technology is not required, many older adults find that feature helpful if they have shaky hands or declining vision, which makes a smartphone app harder to use, says Richard Caro, co-founder of Tech-enhanced Life, which looks at how aging intersects with technology, including smart home products for seniors. "They like it partly because it's a different way to interact with things," Caro says.
Not every ancillary product will work with each ecosystem. Typically, a product will work with Amazon's and Google's technology but not necessarily Apple's. If you want a specific smart doorbell or lighting system, check if it's compatible with the ecosystem you are considering.
If you already own one piece of smart technology, it's best to stick with that ecosystem, says Wade Yarbrough, who teaches seniors how to use the technology through virtual classes at GetSetUp, an online educational community. Otherwise, it's often costly to make the transition later.
With Google, Apple and Amazon all offering comparable products, the ecosystem is mostly a matter of personal preference, experts say. But Amazon does dominate the space. In February 2020, eMarketer estimated that about 68% of U.S. smart speaker owners would have Amazon's Echo this year and about 32% would choose a Google-branded product. Almost 19% would use another brand, including Apple's HomePod. (The numbers exceed 100% because some smart speaker owners use products from more than one company.)
Your smartphone may play a role in your decision, too. Google and Amazon's products work on Android systems or an iPhone, whereas the smartphone app for HomeKit is only compatible with Apple products. "I'm biased toward Amazon because I have been using Alexa smart speakers for years," Yarbrough says. "I think Alexa is a little better than the other two in terms of commands. But it's more what people got started with and got used to. Some people like Siri better, and there is a strong loyalty in the Apple community."
Smart Home Products Retirees Should Consider
Many smart home products have potential to help seniors age in place. For instance, Amazon last year launched its Care Hub, a free service "designed to help aging customers maintain independence and provide assurance and peace of mind to their family members," says Nicolas Maynard, senior manager for Alexa for Everyone at Amazon. By connecting their Alexa accounts, a caregiver can check in on a family member remotely. One feature even includes an alert if the other person's Alexa has not been used by a certain time. Google and Apple did not respond to a request for comment for this story.
Experts recommend smart lighting for older adults because turning lights on and off with your voice or an app can help prevent falls. Philips produces a line of smart lightbulbs, whether it's a single white bulb or a pack of three that change color.
You can also buy smart plugs that work with almost anything, such as lamps or coffee makers, and that let you control the appliance with your voice through a smart speaker. Because they're fairly inexpensive and easy to use, smart plugs are a good way for a beginner to try out smart home technology without making a significant investment.
Experts also like video doorbells, particularly for seniors. These doorbells allow the homeowner to see and speak with a visitor at the door without having to walk over and open it. Here, too, Amazon dominates with Ring, a brand that has captured about 40% of the video doorbell market, according to research from Strategy Analytics. Google accounts for only about a quarter of that same market.
But aging in place isn't the only reason seniors adopt smart home technology. "Older people play too," Kamber says. "They want to see these amazing new things."
Technical Support for Smart Home Technology
Most of these products are fairly easy to install, experts say. There are also plenty of video tutorials online about setting up a smart speaker. Amazon has gone a step further with its "Certified for Humans" stamp of approval on any products it considers easy to set up, though you can always hire someone to do it for you.
Anyone can learn new technology, no matter their age, says Susan Corbett, director of the National Digital Equity Center, which provides technology classes to older adults. For instance, her organization taught an 80-year-old to use videoconferencing to attend board meetings during the pandemic. Now he uses Google Earth to "travel the world from his recliner," she says. "If someone wants to learn, they can."
Otherwise, local libraries, senior centers and organizations such as Senior Planet often offer technology courses. GetSetUp provides classes on a range of topics, including one on the basics of smart home technology and several on using Alexa. Norsworthy, who worked in IT before retiring, says taking a class about Alexa through GetSetUp "supplied the last bit of knowledge" he needed before buying his Echo. His advice for other seniors: "Just go for it."
Senior Retirement Editor, Kiplinger.com
Jackie Stewart is the senior retirement editor for Kiplinger.com and the senior editor for Kiplinger's Retirement Report.