How Patients with Lasting Symptoms of COVID Can Apply for Disability
Those who can no longer work because of COVID-19 may qualify for these benefits but the approval process can be a difficult road.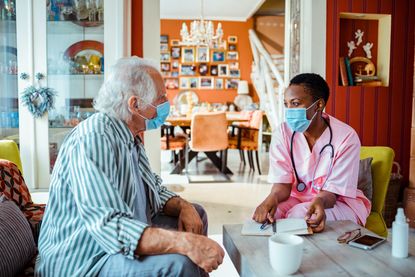 (Image credit: Getty Images)
COVID survivors who are unable to work because of lasting effects from the virus should consider applying for disability benefits, though this can be a difficult road, says Barbara Comerford, founder of the Law Offices of Barbara B. Comerford in Paramus, N.J.
Social Security disability insurance is one option. To qualify for it, generally you must have earned 40 credits during your working years, 20 in the last decade before you became disabled, though younger workers may qualify with fewer credits. In 2021, workers earn one credit for every $1,470 in wages, or a maximum of four credits after $5,880.
You must also meet the definition of disabled. That means you are unable to continue working at your job, you can't switch to a different position because of your condition, and the disability is expected to last for at least a year. Comerford, who has represented clients that have applied for disability because of long COVID, says the Social Security Administration has been more willing to pay out benefits, especially for older workers who are close to full retirement age.
Subscribe to Kiplinger's Personal Finance
Be a smarter, better informed investor.
Save up to 74%
Sign up for Kiplinger's Free E-Newsletters
Profit and prosper with the best of Kiplinger's expert advice on investing, taxes, retirement, personal finance and more - straight to your e-mail.
Profit and prosper with the best of Kiplinger's expert advice - straight to your e-mail.
To determine your disability payment, Social Security uses a formula similar to the one for calculating retirement benefits. It's based on your average monthly income from the age of 21 until you become disabled and factors in up to 35 years of earnings. (The formula for retirement benefits is based on your 35 highest earning years.) Once you reach your full retirement age, your disability benefit changes to a retirement benefit that continues to pay out at the same amount. Taking disability does not reduce your retirement benefit.
If you have long-term disability insurance through an employer or a plan you purchased and can show that you became disabled before a certain age, these policies will pay a percentage of your salary annually until a specified end date, typically your full retirement age for Social Security. In general, once you notify your employer that you will apply for short-term disability benefits, which you may do after taking sick leave for seven days, you can request and submit the forms to the disability insurer. If your claim is approved, you will be paid the benefit for 26 weeks. After that, you will need to apply for long-term disability if you are still unwell.
Getting insurance companies and some self-insured employers to pay out these claims can be difficult -- even more so for COVID-19 patients, Comerford says. Insurers are "being harder on long COVID cases because so much is unknown and a lot of physicians don't know enough about the disease," Comerford says. Finding a doctor experienced in treating COVID patients is important for documenting your condition.
Senior Retirement Editor, Kiplinger.com
Jackie Stewart is the senior retirement editor for Kiplinger.com and the senior editor for Kiplinger's Retirement Report.