How to File Tornado Insurance Claims
The five-state storms caused billions in damages. If you were affected, make sure you document your losses and contact your insurer immediately.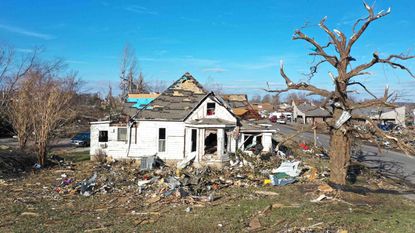 (Image credit: Getty Images)
If you suffered losses during the devastating five-state tornadoes over the weekend, you'll want to file an insurance claim as soon as possible so you can get compensated quickly.
A lot of people will be filing claims, so be prepared to answer any questions your insurer might have and to provide any documentation it may need.
First and foremost, though, be careful. As the Kentucky Department of Insurance warns, "Never try to re-enter your home or attempt any repairs unless it is safe to do so. Watch for broken power lines, shattered glass, splintered wood or sharp protruding objects and mud-slicked walkways. Don't use electrical appliances that have been exposed to water unless they've been checked by a technician."
Subscribe to Kiplinger's Personal Finance
Be a smarter, better informed investor.
Save up to 74%
Sign up for Kiplinger's Free E-Newsletters
Profit and prosper with the best of Kiplinger's expert advice on investing, taxes, retirement, personal finance and more - straight to your e-mail.
Profit and prosper with the best of Kiplinger's expert advice - straight to your e-mail.
As soon as you and your family are secure, you should contact your insurance agent or carrier. "Insurers are acting as the nation's financial first responders in quickly helping their policyholders," said Mark Friedlander, director of corporate communications for the Insurance Information Institute.
"Catastrophe modelers indicate insured losses from the tornado outbreak could rise to $5 billion," Friedlander added. "This includes damage to residential and commercial properties and vehicles. The volume of insured losses could rival last year's Midwest derecho event and rank it among the top five tornado catastrophes in U.S. history."
Insurers have Mobile Units to Process Claims
Many insurance carriers have sent mobile units to the hardest-hit communities and have begun processing claims for homes, apartments, businesses and vehicles lost during the storms.
Several insurers are handling claims virtually in addition to having mobile catastrophe teams, Friedlander said. "The virtual claims process involves policyholder-submitted photos, videos and other documentation submitted to the insurer," he explained. "Some insurers have mobile apps where you can file a claim."
While these quick-response teams are a valuable and crucial service, never forget that you're your own best advocate. Just because an insurer offers a certain amount, that doesn't mean you have to accept it if you don't think it's adequate (although you do have to accept your policy's terms). And even after you do settle your claim, if you incur further expenses related to the storm, you can go back and ask your insurer to reimburse you.
The Insurance Information Institute's Friedlander provided the following tips for filing claims:
When you contact your insurer, ask the following questions: Am I covered? How long do I have to file a claim? How long will it take to process my claim? Will I need to obtain estimates for repairs to structural damage?
Make sure you ask about your Loss of Use/Additional Living Expense Coverage (ALE) coverage. This is typically standard coverage in a homeowners, condo owners or renters policy and covers expenses to allow you to set up in a temporary living location as quickly as possible. Your insurer or agent will help you find temporary quarters and they may even arrange to have the lodging expenses direct-billed to the insurer.
Promptly fill out claim forms. If you establish that you will be making a claim your insurance company will send you the necessary claim forms—by law, these must be sent to you within a specified time period. Return the properly filled out forms as soon as possible in order to avoid delays.
Have the insurance adjuster inspect the damage. Your insurance company will probably arrange for an adjuster to come and inspect your home. An adjuster is a company representative who inspects property damage to determine how much the insurance company should pay for the loss. He or she will interview you and inspect the property.
Prepare for the insurance adjuster's visit. Be prepared to show the adjuster any structural damage and have a list of damaged items ready so you can make the best use of the time.
If your home is salvageable, make temporary repairs. First, photograph or videotape the damage, then take reasonable steps to protect your property from further damage. If possible, avoid throwing out damaged items until the adjuster has visited.
You are going to need to substantiate your loss, so make a list of all destroyed or damaged items, then make a copy of the list for your adjuster. Also supply him or her with available copies of receipts from damaged items. Having a home inventory will speed this part of the claims process if you are able to access it. Same goes for costs for accommodations, temporary repairs and other out-of-pocket expenses.
If you have an electronic inventory, ask the insurer how to send it — you may be able to email it to the insurer right away so that it can start working on the claim. Quick action could put your claim in the queue ahead of people who are still trying to construct a list.
If you don't have an inventory, start piecing one together by memory or by using old photos or receipts that haven't been destroyed.
If you can, get bids from contractors. Meet with contractors to identify structural damage and get estimates for the cost of repairs. But don't make any commitments until you get approval from the insurance company. Work with a contractor you or your neighbors know; beware of rogue contractors who travel to towns that have been hit by disasters, ask for a lot of money upfront, then disappear.
Get Help with Claims Problems
If you have trouble getting your claim paid, find out your insurer's procedure for contesting a claim settlement. Plus, your state insurance department can help you through the claims process and to make sure you're getting everything you're entitled to under your policy; many states set up fast-track appeals processes after a major disaster. See the National Association of Insurance Commissioners' map (opens in new tab) for contacts.
If you still have trouble getting your claim paid after going through the process with your insurer and state insurance department, then it may help to contact a public adjuster to provide a second opinion. (You can find an accredited public adjuster through the National Association of Public Insurance Adjusters (opens in new tab).) These adjusters charge a percentage of your payout (typically 10% to 15% of the amount recovered). Be sure the adjuster is licensed in your state.
If you live in a federal disaster area, you may qualify for some government assistance, such as a Federal Emergency Management Agency (opens in new tab) grant, a Small Business Administration disaster loan (even if you don't own a business) or tax breaks for uninsured casualty losses.
To learn more about the benefits you qualify for and to apply for aid, visit DisasterAssistance.gov (opens in new tab) or a FEMA disaster recovery center.
Contributing Editor, Kiplinger's Personal Finance
As the "Ask Kim" columnist for Kiplinger's Personal Finance, Lankford receives hundreds of personal finance questions from readers every month. She is the author of Rescue Your Financial Life (McGraw-Hill, 2003), The Insurance Maze: How You Can Save Money on Insurance -- and Still Get the Coverage You Need (Kaplan, 2006), Kiplinger's Ask Kim for Money Smart Solutions (Kaplan, 2007) and The Kiplinger/BBB Personal Finance Guide for Military Families. She is frequently featured as a financial expert on television and radio, including NBC's Today Show, CNN, CNBC and National Public Radio.