5 Ways to Maximize Your Charitable Giving
Kiplinger.com contributing editor and NFL linebacker Brandon Copeland explains five steps that can help you amplify your charitable endeavors.
What's up, everybody? This is Brandon Copeland, back again with our second episode of Cope'ing With Money.
2020 has been a crazy year for all of us. One of the things that has come from this year is a new appreciation and definition of the word "essential."
See All of Brandon Copeland's Cope'ing With Money Features on Kiplinger.com.
Subscribe to Kiplinger's Personal Finance
Be a smarter, better informed investor.
Save up to 74%
Sign up for Kiplinger's Free E-Newsletters
Profit and prosper with the best of expert advice on investing, taxes, retirement, personal finance and more - straight to your e-mail.
Profit and prosper with the best of expert advice - straight to your e-mail.
Essential workers have pretty much been the only consistent and reliable thing that 2020 has brought us thus far. They're our medical professionals, our doctors, our nurses, but they're also the custodial staff who go in and put themselves in harm's way to clean up after COVID patients. They're our local transportation operators, the drivers, the engineers. They're also our grocery store employees. They have all stepped up and been essential to us during our time of need.
In December – a month for reflection, but also a month for giving – I thought that this would be an opportune time to share some of the things that we have learned over the course of running our foundation that could have helped us maximize our time and expedite our growth:
First and foremost, fully understand your passion, where you plan to and how you plan to make an impact.
Second, understand that your time will be the most consistent charitable contribution that you will make. If you do not have the time, you might want to cut your losses and find ways to partner with other organizations who are making an impact in the way that you would love to.
Third, when it comes to fundraising, make sure that you're maximizing every donation into your organization. See if a donor has a company match that they're willing to take advantage of.
Next, get comfortable marketing the good efforts that you're able to do in the community. While this is discomfortable for some, when you're able to put good work out there, you are also able to gain more support and, in turn, help more people. On top of that, there are a lot of people who want to help and do good in the world; they are just looking for the vehicle to do so. When you're able to market yourself and show the great things that you're doing, you'll find that a lot of people will reach out wanting and willing to help.
Finally, collaborate, collaborate, collaborate. As we all know, we're able to accomplish much more together. The great thing about doing good is there is no competition in that.
Links and resources mentioned: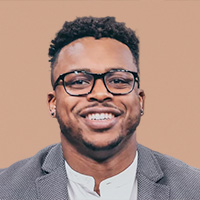 Contributing Editor, Kiplinger.com
Brandon Copeland, an active, eight-year veteran NFL linebacker, has spent the past two years teaching a class he created, and nicknamed "Life 101," at his alma mater, the University of Pennsylvania. Life 101 focuses on life's constant money decisions so that students are better prepared for the financial realities that adulthood brings. Copeland also spends time off of the field consulting and investing in real estate. He is the co-founder of a nonprofit organization, Beyond the Basics Inc., and was the recipient of the 2020 NFLPA Alan Page Community Award, the NFLPA's highest honor given for extraordinary dedication to service, social justice and equality. He is a member of CNBC's Financial Wellness Council and the NFL Players Inc. Advisory Committee. Copeland has interned for UBS and Weiss Multi-Strategy Advisers.