Give Your Budget Some Love
Think of it as a flexible tool to prioritize—and achieve—your goals.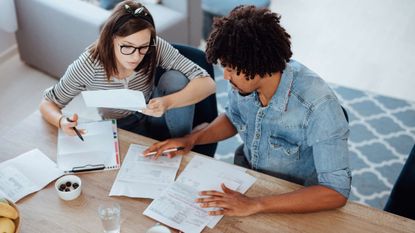 (Image credit: Getty Images )
Now is a great time to hit the reset button on your budget—especially if you've experienced a significant change in your income or expenses.
Of course, that's assuming you already have a budget. If you don't, start by tracking your expenses for two to three months—without judgment—says Ryan Frailich, founder of Deliberate Finances, in New Orleans. Once you're aware of where your money goes, you can set realistic, concrete goals rather than vague ones.
Setting up a budget can be tedious, but it will help you visualize your net worth and spending patterns. Remember, a budget isn't meant to force you into an ascetic lifestyle or create a nonnegotiable blueprint for spending. It's a flexible tool to prioritize your goals and achieve them.
Subscribe to Kiplinger's Personal Finance
Be a smarter, better informed investor.
Save up to 74%
Sign up for Kiplinger's Free E-Newsletters
Profit and prosper with the best of expert advice on investing, taxes, retirement, personal finance and more - straight to your e-mail.
Profit and prosper with the best of expert advice - straight to your e-mail.
First things first. "Whether you make $60,000 or $600,000, you must spend less than you earn," says Lori Atwood, a certified financial planner and founder of Fearless Finance, in Washington, D.C. Then you need to have a rainy-day fund for unexpected expenses, such as a root canal or new brakes. Without that, she says, paying down credit cards makes no sense because you'll get right back on the credit card train. Next, do you have an emergency fund in case of a total loss of income—say, because of divorce, a layoff, or a medical or mental disability?
After you have a rainy-day and emergency fund, work on your overall spending, savings and debt (see Strategies to Tackle Debt). Start gradually, rather than trying to overhaul your money habits all at once, says Pam Capalad, a certified financial planner who owns Brunch & Budget, in New York City. She recommends that her clients choose one category at a time and spend a couple of months paring down their spending in that area. At the same time, think about what you value most and prioritize those things in your budget.
Try to redirect a bigger chunk of your income into a savings account when you get your paycheck (and before you have a chance to spend it). See how crunched you feel the first month before upping that amount. Similarly, if you currently contribute 3% of your paycheck to your 401(k), inch up slowly toward the ideal 15%.
Use an app. A good budgeting tool can help you stay on track. For a basic approach to budgeting, see Kiplinger's budgeting worksheet. Mint (opens in new tab) is a longtime favorite among budgeting apps for its well-rounded suite of tools that let you automatically track income and expenses by linking bank and credit card accounts, set target spending limits in various categories, monitor bill payments, and visualize cash flow and spending patterns with colorful charts. You can also tally your net worth and see your VantageScore credit score.
For a deep dive into the details, check out You Need a Budget (opens in new tab) ($12 a month or $84 a year, after a 34-day free trial), which allows you to enter transactions manually or link your financial accounts for automatic updates. Then, following YNAB's instruction to "give every dollar a job," set a budget for each category, from mortgage payments to auto maintenance to "stuff I forgot to budget for."
Personal Capital (opens in new tab) also has budgeting and tracking tools, and the site shines particularly for investors who want to stay on top of their portfolios. Link your investment accounts to see the asset allocation and performance of your holdings. Use the investment checkup feature to get a recommended target asset allocation based on your goals and an analysis of fees.
Contributing Editor, Kiplinger's Personal Finance
Lisa has spent more than15 years with Kiplinger's Personal Finance and heads up the magazine's annual rankings of the best banks, best rewards credit cards, and financial-services firms with the best customer service. She reports on a variety of other topics, too, from retirement to health care to money concerns for millennials. She has shared her expertise as a guest on the Today Show, CNN, Fox, NPR, Cheddar and many other media outlets around the nation. Lisa graduated from Ball State University and received the school's "Graduate of the Last Decade" award in 2014. A military spouse, she has moved around the U.S. and currently lives in the Philadelphia area with her husband and two sons.