Pandemic Brings New Scams, Too
Billions in stimulus funds create new opportunities for fraud ranging from unemployment benefits to vaccine cards.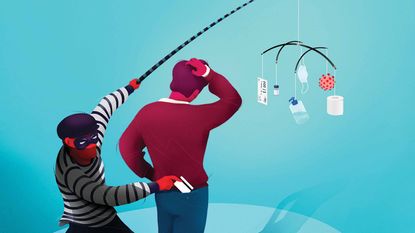 (Image credit: Illustration by Huan Tran)
In good times and bad, scammers are looking for their next mark, and the billions of dollars in gov­ernment benefits delivered during the pandemic created numerous opportunities for fraud. It's not just money that con artists are after; they're also trying to persuade you to share sensitive information they can use to steal your identity. Common targets for fraud:
Unemployment benefits. Unemployment-benefits fraud skyrocketed during the pandemic as millions of people filed for benefits for the first time. The claims overwhelmed the ability of some states to process unemployment-benefits applications, and some states lacked measures to verify that the applications were legitimate, says Pete Eskew, senior vice president, public sector, at ID.me (opens in new tab), an identification-verification software company. In addition, some states removed authentication measures in an effort to speed up the processing of benefits as job losses increased. That made it easier for crooks to file claims using stolen identities. Most victims don't discover that their information has been compromised until they receive a Form 1099-G from their state informing them that they owe taxes on benefits the scammer received in their name.
If you've received a Form 1099-G for benefits you did not receive, report the fraud to the IRS and the state that issued the form. Go to https://www.irs.gov/identity-theft-fraud-scams/identity-theft-and-unemployment-benefits (opens in new tab) for more information.
Subscribe to Kiplinger's Personal Finance
Be a smarter, better informed investor.
Save up to 74%
Sign up for Kiplinger's Free E-Newsletters
Profit and prosper with the best of expert advice on investing, taxes, retirement, personal finance and more - straight to your e-mail.
Profit and prosper with the best of expert advice - straight to your e-mail.
You can protect yourself by creating an account at your state's unemployment website, even if you're not filing for benefits. Once you have created an account, it's much more difficult for a scammer to create one using your information. However, a swindler can still create an account in other states, says Eva Velasquez, president of the Identity Theft Resource Center, so remain on guard and take steps to protect your personal information.
Stimulus checks. Three rounds of economic stimulus checks have also created fertile ground for swindlers. And with the IRS scheduled to start sending out monthly advance payments of the child tax credit in July, there will likely be another round of scams, including "known perpetrator" fraud, which occurs when someone you know misuses your (or your child's) information. For example, an ex-spouse bearing a grudge could use his former spouse's credentials to claim a child, then route payment to himself.
Vaccine passports. As millions of Americans get vaccinated, the next wave of fraud is expected to focus on fake "vaccine passport" sites, as well as counterfeit vaccination cards.
"You might get an e-mail or call saying that it's from your state government and that they need more information, such as your Social Security number, for an alleged vaccine passport," says Lauren Hall, author of advocacy group Consumer Action's Scam Gram newsletter. Don't post a photo of your vaccine card on social media, because scammers will use that information to make counterfeit cards look credible.
FEMA funeral funds. The Federal Emergency Management Agency recently announced a funeral re­imbursement program for families of people who have died from COVID-19. The program will reimburse families for up to $9,000 per funeral, with a maximum of $35,500 per application. (If you lost more than one family member, you can have more than one funeral listed on your application.) Families must provide a death certificate that identifies COVID-19 as the cause of death. Hall expects that scammers will pose as FEMA agents looking to help grieving families, as death certificates and obituaries are easy to find. Don't give out personal information over the phone to someone claiming to be from FEMA or click on a link purportedly from the agency. If you believe you're eligible for funeral assistance, call the COVID-19 Funeral Assistance line at 844-684-6333.
Staff Writer, Kiplinger's Personal Finance
Rivan joined Kiplinger on Leap Day 2016 as a reporter for Kiplinger's Personal Finance magazine. She's now a staff writer for the magazine and helps produce content for Kiplinger.com. A Michigan native, she graduated from the University of Michigan in 2014 and from there freelanced as a local copy editor and proofreader, and served as a research assistant to a local Detroit journalist. Her work has been featured in the Ann Arbor Observer and Sage Business Researcher.