Sponsored
How to Protect Yourself from COVID-related Scams
Sponsored Content From T-Mobile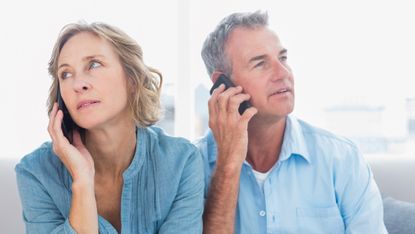 From fake medical test kits to false financial relief, scammers are preying on consumers' growing health and financial fears.
The threat of scam calls is increasing. More than 100 billion robocalls deemed either high-fraud risk or nuisance were made in the last 12 months, according to ongoing call data analysis by Transaction Network Services (TNS). What's more, the Federal Trade Commission (FTC) reports that coronavirus-related scams increased 70% from May to June of this year.
And when it comes to scams, retirement-age victims tend to lose the most money. The FTC also says that people ages 50 to 79 have lost a total of $24.7 million from all COVID-19-related cons so far.
Subscribe to Kiplinger's Personal Finance
Be a smarter, better informed investor.
Save up to 74%
Sign up for Kiplinger's Free E-Newsletters
Profit and prosper with the best of expert advice on investing, taxes, retirement, personal finance and more - straight to your e-mail.
Profit and prosper with the best of expert advice - straight to your e-mail.
How can you help stop phone scammers in their tracks? Know the facts and take action.
Recognize the risk
Today's scam callers may claim to be offering in-demand supplies such as masks, test kits and sanitizers, but they're also focusing these frauds on the 55+ age group. According to the latest FTC audio recordings, illegal scam callers often pretend to be from federal government agencies with "important" pandemic-related messages. For example:
They say they're from Medicare and offer help in obtaining medicine, tests, or equipment, or ask to verify your information for coronavirus "eligibility."
They pretend to be from the Social Security Administration and claim that your Social Security number has been compromised. They then seek to verify or change the number to reinstate your monthly benefit.
They identify themselves as an IRS agent and demand identification and bank account information regarding economic stimulus payments or additional financial relief.
See how T-Mobile is incorporating a series of free anti-scam safeguards for all T-Mobile, Metro by T-Mobile, and Sprint customers in this video.
A similar trick happened to Dale E., 60, from Ohio. Lately, he's been getting calls and texts appearing to originate from the Centers for Disease Control and Prevention (CDC). The scam asks for his health insurance identification, credit card account and Social Security number in order to "verify and reserve" priority eligibility for a COVID-19 vaccine.
"Many of us are staying close to home," he says, "but the scammers are back to work."
The FCC acknowledges that outsmarting scam calls is a difficult problem that requires complicated solutions. And the most complex part about it is identifying and blocking illegal calls in real time while allowing lawful calls from legitimate sources such as school alerts, pharmacy reminders or even COVID-19 contact tracers.
So how can wireless customers level up their security for no additional cost – skipping the monthly fees that carriers like Verizon and AT&T charge for even basic solutions? Meet T-Mobile Scam Shield.
Safeguard your devices
There's no question that some of the biggest pain points in wireless today are scams and unwanted robocalls. And suspect calls have become trickier to spot. Like Dale's experience with the fake CDC call, robocallers are covering their tracks with Caller ID spoofing – hiding their actual number and displaying a legitimate one instead.
It's no wonder, then, that efforts to identify and block scam calls increasingly drive consumer decisions when selecting a mobile carrier. In a recent survey of 5,000 mobile phone users, First Orion found that 84% of people say they'd be more likely to choose a wireless provider that automatically identifies robo and scam calls – and offers multiple options to stop them.
T-Mobile's Scam Shield gives you that choice – and more. If Dale's personal number ever becomes a spam magnet, for example, he can start fresh with a free number change once a year if needed.
Or, if he wants to just keep his primary number private, Scam Shield offers him a free second number called PROXY to use. PROXY calls, voicemails and texts stay separate from your main number. That's a potentially valuable option for Dale, because he wants to set up some consulting work in retirement and needs a reliable number that's uncluttered by unwanted calls. The assurance that it's a real person or business calling "is huge," he says.
What's more, this set of safeguards also includes added peace of mind with Be ID Aware, a free 12-month subscription for identity theft monitoring from McAfee
And whether you're on Essentials Unlimited 55, Magenta Unlimited 55 or Magenta Unlimited 55 Plus, T-Mobile customers who are age 55 and up will always have the full protection of Scam Shield as part of their wireless plan.
Activate Scam Shield on App Store or Google Play – or turn on Scam Block right now by dialing #662#.
Understand the power of protection
Like you, T-Mobile is intent on getting robocall revenge and Scam Shield is its first Un-carrier move since merging with Sprint. Scam Shield is a comprehensive set of anti-scam protections that attack the problem of robocalls and scams from all angles with a series of free safeguards available to T-Mobile, Metro by T-Mobile and Sprint customers.
Here's how T-Mobile delivers multiple layers of industry-leading protection:
Advanced network technology that analyzes call behavior and protects customers with defenses that update around the clock.
Built-in protection that identifies and stop scam calls before they even reach your phone.
Significantly enhanced caller ID, so you'll see a caller's information, even if they're not in your contact list.
Keep your personal number personal with an extra PROXY number you can use when you don't want to share your private phone number.
The ability to change your phone number—for any reason—up to one time per year, for free.
Additional protection with anti-spam text solutions that T-Mobile has had in place since 2014.
The best part? Now that Sprint is a part of T-Mobile, Sprint customers will get free protection to identify and block scam and unwanted robocalls too, in the upgraded Call Screener app, which previously cost them $2.99 per line per month.
With Scam Shield, EVERY T-Mobile customer — T-Mobile, Sprint, Metro by T-Mobile and even T-Mobile LineLink home phone customers — will get free scam ID and blocking.
Say goodbye to scammers for good with the power of T-Mobile's new Scam Shield.
This content was provided by T-Mobile. Kiplinger is not affiliated with and does not endorse the company or products mentioned above.