Finally Visiting Aging Parents after the Pandemic? What to Do If They've Declined
After being apart for so long, it isn't uncommon to see some signs of a mental or physical decline. Take advantage of your happy reunion to help get your parents squared away, whether it's out-of-control bills or home tasks that are getting too much to handle.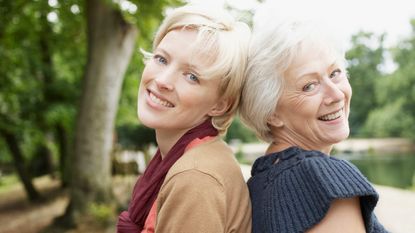 (Image credit: Getty Images)
The to-do list for the long-awaited family visit seems like it should be fairly straightforward. Vaccinations: check. Travel arrangements: check. Planning special meals and activities: check. Hugs and maybe some happy tears: BIG check.
After more than a year of quarantine, many people are looking forward to seeing their parents and older relatives in person and spending quality time catching up. While the hugs and kisses are sure to be welcome, it is also likely that adult children will be seeing changes – both subtle and obvious – in their aging parents due to the emotional and financial toll of the pandemic. That means the to-do list for your reunion trip may need to be slightly longer than you had initially planned, and may very well include some financial, medical and lifestyle issues specific to aging parents. But as with any element of a family visit, planning ahead can help ensure smooth sailing so you have more than enough time to enjoy each other's company.
A Decline Can Be Tough to Spot from Afar
It is often difficult to detect changes to an aging parent's physical or mental state on the telephone or over a video call. It is even harder to evaluate the living conditions for an older person from these methods of contact. One of my clients recently went to visit her 92-year-old mother after a year apart. Her mother had seemed to do well during quarantine, and their daily video calls always took place when the mother was comfortable in her favorite easy chair, with the part of the living room visible looking orderly.
Subscribe to Kiplinger's Personal Finance
Be a smarter, better informed investor.
Save up to 74%
Sign up for Kiplinger's Free E-Newsletters
Profit and prosper with the best of expert advice on investing, taxes, retirement, personal finance and more - straight to your e-mail.
Profit and prosper with the best of expert advice - straight to your e-mail.
When my client arrived for her first in-person visit, however, she found piles of mail, including overdue bills and groceries piled up on the kitchen table, and stacks of unopened merchandise boxes filling all the floor space in the extra bedroom. She never saw any of these areas on the video calls, so she was not aware that her mother was having a hard time understanding her bills, could not reach some of the shelves in her pantry to put away groceries due to new issues with her balance, and that she had accidentally ordered monthly merchandise subscriptions from television commercials that she did not know how to cancel.
Instead of just enjoying their time together, my client spent most of her visit trying to figure out what bills needed to be paid, requesting refunds on those that her mother had paid multiple times and unraveling the merchandise subscription plans. She had to take her mother to the bank so that she could be added as signer on her mother's accounts, have online access to set up automatic bill payment to ensure that bills were paid on time in the future and put restrictions on her mother's debit card.
There are a lot of ways that people can get tripped up by the technology that banks have started implementing, even though much of it is meant to help protect them. Adapting to these changes doesn't need to be complicated, but there are a number of ways to head off having these changes negatively impact your finances through unintended consequences:
Over-the-Phone Card Purchases
Some banks allow you to prohibit the use of credit or debit cards to make purchases over the phone, or from catalogs or television commercials – helping to prevent elderly consumers from being scammed or signing up for difficult-to-cancel services. If a phone purchase is required, the person managing the finances can call the issuing company in advance to approve a one-time charge using a verification process. These arrangements can be especially helpful for when managing finances for people with cognitive difficulties.
'Convenience' Changes
Some of the "convenience" changes that came about as a result of the pandemic may be challenging for aging parents, as well. For example, many financial institutions automatically changed to paperless statements and notifications for all clients during the pandemic, and most now use electronic document signing as the default.
For aging parents who may struggle with understanding new technology or have physical issues that prevent them from using it altogether, these changes may be difficult.
Disabilities and the Need for Physical Statements
Although she is quite mentally sharp, the mother of another of my clients is legally blind. She uses a table-top magnifying device to read hard copies of documents, but the magnifier cannot be attached to a computer screen and distorts the display on mobile devices – so paperless statements and electronic signatures are not an option for her.
My client's mother did not know why she suddenly stopped getting her credit card statement in the mail, was not able to go online to access her account to change back to paper statements, and the customer service telephone number on the back of her credit card was too small for her to read – all of which was very frustrating to her and left her with little control over her finances.
If you are managing the finances for an aging parent, you may need to set up online access yourself so that you can help your parent change account preferences or review their credit card, bank or financial account statements.
Planning for Care Down the Line
Even if you arrive for your visit and all appears well, it is important to be observant of smaller physical and cognitive changes that could require some assistance in the future, and help your parent budget accordingly. If you note your mother, a lifetime avid gardener, is having trouble with the physical elements required to maintain her garden, you may consider hiring a landscaping service to handle the bigger projects, such as trimming, mowing and weeding, so your mother can do the less strenuous tasks, such as planting flowers or vegetables, while still enjoying her hobby. If you see that your father has become unsteady on his feet, you may want to discuss hiring a handyman to install railings or a ramp for stairs in the future.
Asking your parent for contact information for providers they are comfortable with in advance will allow you to be prepared when the need arises, instead of scrambling to find help after something happens. It also ensures your parent retains agency over their day-to-day life while easing any uncertainty they may have about a stranger assisting them in their home.
No one wants their family reunion to be just about getting tasks done or creating tension in relationships, especially if aging parents feel that they are being nagged or coddled by their adult children. Being prepared in advance with some ideas of what you want to make sure is still being handled well by your parents and where they might need some support with financial, physical and lifestyle tasks will allow you create balance between solving problems and enjoying each other's company once again.
Disclaimer
The CDFA® mark is the property of The Institute for Divorce Financial Analysts, which reserve sole rights to its use, and is used by permission.
Disclaimer
Certified Financial Planner Board of Standards, Inc. (CFP Board) owns the CFP® certification mark, the CERTIFIED FINANCIAL PLANNER™ certification mark, and the CFP® certification mark (with plaque design) logo in the United States, which it authorizes use of by individuals who successfully complete CFP Board's initial and ongoing certification requirements.
Disclaimer
Mercer Advisors Inc. is the parent company of Mercer Global Advisors Inc. and is not involved with investment services. Mercer Global Advisors Inc. ("Mercer Advisors") is registered as an investment adviser with the SEC. Content, research, tools and stock or option symbols are for educational and illustrative purposes only and do not imply a recommendation or solicitation to buy or sell a particular security or to engage in any particular investment strategy. Past performance may not be indicative of future results. All expressions of opinion reflect the judgment of the author as of the date of publication and are subject to change. Some of the research and ratings shown in this presentation come from third parties that are not affiliated with Mercer Advisors. The information is believed to be accurate, but is not guaranteed or warranted by Mercer Advisors.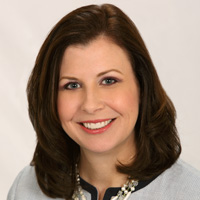 Managing Director of Client Experience, Mercer Advisors
Kara Duckworth is the Managing Director of Client Experience at Mercer Advisors and also leads the company's InvestHERs program, focused on providing financial planning to serve the specific needs of women. She is a CERTIFIED FINANCIAL PLANNER and Certified Divorce Financial Analyst®. She is a frequent public speaker on financial planning topics and has been quoted in numerous industry publications.