Kids Moving Back Home? Time to Write Up a Lease
The good news is, you don't have to worry about empty nest syndrome. The bad news? Your kids could walk all over you. So have a talk, and put your expectations in writing.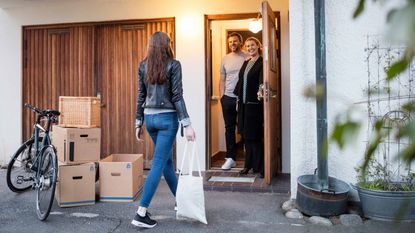 (Image credit: Getty Images)
In the midst of this COVID crisis, one fallout is that today's Millennials and adult Gen Zers may not be able to make ends meet, and they may be moving back home with Mom and Dad or even with Grandma and Grandpa. According to Zillow, as the pandemic struck, there were 32 million adult children who moved back into their parents' or grandparents' homes as of April. It was the highest number on record. More than 80% of those who recently moved back in with their elders are from Gen Z, those who are currently up to about 25 years old.
In many cases some of these young adults are part of the gig economy, which suffered great layoffs during the pandemic. While this move-back-home trend is almost entirely due to the pandemic, another factor is this generation's vast student debt burden. In addition, even though technically we are pulling out of the new recession and jobs are more plentiful, your Gen Z child may not be able to find a decent-paying job right off the bat.
I am an Executive In Residence at Columbia Graduate School of Business, and I have seen the floor drop out with our new graduating class. Pre-COVID, the nation basically had full employment. We were enjoying a 3.5% unemployment rate, matching the lowest level in more than 50 years. Most of our grads had been hired and frankly, had great, high-paying jobs. But, when unemployment started growing to about 15%, the last ones hired were getting fired, or deferred, at a faster rate than existing workers. Pew Research Center reports that as of March, Gen Zers were hit the hardest. "Half of the oldest Gen Zers (ages 18-23) reported that they or someone in their household had lost a job or taken a cut in pay because of the outbreak. This was significantly higher than the shares of Millennials (40%), Gen Xers (36%) and Baby Boomers (25%) who said the same."
Subscribe to Kiplinger's Personal Finance
Be a smarter, better informed investor.
Save up to 74%
Sign up for Kiplinger's Free E-Newsletters
Profit and prosper with the best of expert advice on investing, taxes, retirement, personal finance and more - straight to your e-mail.
Profit and prosper with the best of expert advice - straight to your e-mail.
Heigh-Ho; It's Off to Home We Go
If your grown offspring (temporarily) fails at the American Dream and must choose between going from friend to friend or living in your home, we are parents and grandparents first, and the door is always open. In today's world, it's better to just think of our young adults as free-range kids.
There is hardly anyone I know who could say no to a child who needed to move back home. You are their rock. As Kobe Bryant said: "My parents are my backbone. Still are. They're the only group that will support you if you score zero or you score 40."
That is the major issue, but you still need to address specific guidelines to ensure that this boomerang situation will be more workable. You can't assume that things will pick up the way they were when your child went to college and returned on vacations and summers to work. Everything has changed. Your child has changed, you have changed, and the world has changed.
Just Say No to Hotel Mom and Dad
Avoid the situation where you become "Hotel Mom and Dad," replete with room service and gas in the car. Instead, I recommend that you have a conversation about house rules and responsibilities. I'm not being harsh; it is your house. Misunderstandings can take place, and those can lead to tough times for all.
Expectations also need to be explicitly discussed and memorialized. When I say, "memorialized," I mean written down in a lease. You do not have to have a lease drawn up by a lawyer; you are a family held together by love and trust. But this has to be taken seriously.
Why Draw Up a Lease Between Parent and Adult Children?
The point is to lay out the rules that you all agree upon so that you lessen any friction or unpleasantness later on. An agreement establishes your offspring as an adult, with certain freedoms and responsibilities.
Your child may welcome an agreement that lays out what their obligations are because it reduces feelings of dependence and helplessness. Even if your youngster cannot share the full financial burden of running a household, they can help with physical chores that could have great value to you.
Here are some guidelines on what should be addressed in this lease. Most of the points are financial and have no right or wrong answers. The process is to facilitate open and frank conversation. If there are personal issues, you know what they are. Add them, as well. Things like a time limit on how long the child stays under a parent's roof and who pays for what will differ significantly from family to family.
How to Set Up A Lease with Your Adult Child
The lease discussion should start before your child moves back into your home (or, if he or she is already there, at the point when they decide to put off leaving). It is much harder to break old habits after your child has established residency. Don't wait for the first blowup.
Remember, in this case, you are the landlord, and the child is the tenant. While you want to relate to your offspring as an adult, you do have certain prerogatives that your child does not.
Below is a brief list of questions that you, as a landlord, need to ask yourself and your partner to establish what you feel is fair to request of your child. Once you're both on the same page, talk the issues over with your child. These questions focus on the trouble areas that generally come up in a household.
Worksheet for Parents Who Become Landlords
Should your adult child pay rent? Yes__ No __
How much rent should your child pay? $ ___ if employed; $ ___ if unemployed
Should the lease be for a specific time period? Yes __ No __
How do you divide utilities? Go bill by bill and be specific.
What household chores are the responsibility of your child? Be specific and include outdoor and indoor duties.
Is your child allowed to use your car? Who pays for gas, maintenance and insurance?
Is your child allowed to have pets? Who takes care of them and pays for those expenses?
May your child eat your groceries, or do they have to shop for their own? Who makes the food list? Who buys the food?
Who prepares the meals, and what is the schedule?
Does your child need assistance in setting up a workable budget, taking all obligations, such as student loan debt, car expenses, health insurance, etc., into account?
The above questions do not constitute a quiz; there are no right or wrong answers. It is a conversation starter to help you and your child to frame an open discussion around this new living situation. You all will decide what goes into the "lease," including, if you want to put it in writing (which I recommend). Every family can address additional subjects, such as smokers versus nonsmokers, entertaining guests (when and where), party privileges, etc.
Finally, Write It All Down
The next step is to write out the lease with the mutual decisions you all feel are fair and appropriate. As always, both parties should be willing to negotiating. For instance, perhaps your offspring would be willing to take on the responsibility of car maintenance for the privilege of parking their vehicle in the garage.
Note: The lease discussion might serve as a great conversation starter for a young adult who is planning to move in with a roommate when they leave the nest. They will have similar questions and need to work these out before moving in together.
The message is that we love our kids and will always be there for them. This lease is just going to help you anticipate some friction that could arise. Remember the words of Frederica Ehimen, a Gen Z blogger: "Parenting is the biggest sacrifice one can make; it's putting your life on hold to fulfill the promise of your children's tomorrows."
This article was written by and presents the views of our contributing adviser, not the Kiplinger editorial staff. You can check adviser records with the SEC or with FINRA.
President & CEO, Children's Financial Network Inc.
Neale Godfrey is a New York Times #1 best-selling author of 27 books, which empower families (and their kids and grandkids) to take charge of their financial lives. Godfrey started her journey with The Chase Manhattan Bank, joining as one of the first female executives, and later became president of The First Women's Bank and founder of The First Children's Bank. Neale pioneered the topic of "kids and money," which took off after her 13 appearances on "The Oprah Winfrey Show." www.nealegodfrey.com (opens in new tab)