11 Smart Ways Recent Grads Can Use Their Monetary Gifts (According to Financial Experts)
Implementing even just one of these strategies can help recent grads start off adulthood on the right foot and set them up for a successful financial future.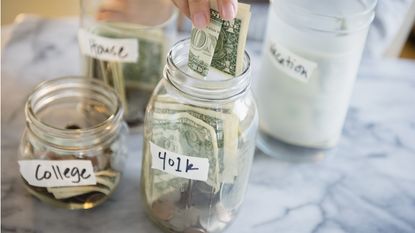 (Image credit: Getty)
When high school or college graduation day comes, you're likely relishing the moment, caught up in the excitement of reaching a major milestone and starting a new chapter in your life — you may not be thinking about how to invest your money for the future. However, after the celebration is over and you're ready to take your next step, it's wise to consider what you'll do with any monetary gifts you received and how those gifts can help jump-start this next phase of life.
While your money can be well-spent in a number of ways, the financial experts of Kiplinger Advisor Collective recommend the following 11 approaches. Implementing even just one of these strategies can help you start off adulthood on the right foot and set you up for a successful financial future.
Adopt a balanced approach
Subscribe to Kiplinger's Personal Finance
Be a smarter, better informed investor.
Save up to 74%
Sign up for Kiplinger's Free E-Newsletters
Profit and prosper with the best of expert advice on investing, taxes, retirement, personal finance and more - straight to your e-mail.
Profit and prosper with the best of expert advice - straight to your e-mail.
"My daughter is in the class of 2023, so my advice would be that it's important to adopt a balanced approach — both short and long term. Allocate your funds so you can enjoy experiences today with your family and friends. At the same time, establish cash reserves and start a Roth IRA to build wealth for your future." — Marguerita Cheng, Blue Ocean Global Wealth
Start building an emergency fund
"High school and college graduates may not have savings to fall back on as they enter the "real world." Use your monetary gifts to build an emergency fund in a high-yield savings account that you don't use unless an unexpected expense comes up. If you had a school year or summer job where you earned income, you can then start investing some of that income along with your monetary graduation gifts into a Roth IRA. There are contribution limits, but it grows tax-free for life. College grads can also use the monetary gifts to start paying down any student loan debt." — Dan DeGolier, Ascent CFO Solutions, LLC
Invest in your human capital
"I'd ask a ton of questions before making any investment recommendation because there's so much nuance that black-and-white answers will always fall short. Do you have six months of emergency money? Do you have student loans or other debts? Do you need more education or certifications? Do you have a job lined up already? Cash is the number one tool that, if used appropriately and invested in your human capital (i.e. your ability to earn), will reap more than any mutual fund or exchange-traded fund (ETF). Unless you have spare cash on the side or no defined long-term professional goals, I'm 100% recommending you invest in your human capital." — Dennis McNamara, wHealth Advisors
Save as much as you can
"True financial wealth is built when your savings is actively creating more money without you needing to work for it. The only way your savings will grow to the point that it "outearns" you is for you to start saving as much and as often as you can now." — Chris Alman, Equip Financial Partners
Get involved in real estate
"Invest in real estate by picking up a rental property. Home prices will continue going up and, when you own a rental property, your tenants will pay off the property costs and your mortgage. This will allow you to build equity and start accumulating wealth." — Andrea Woroch, Woroch Media Inc. / Andrea Woroch
---
Kiplinger Advisor Collective is the premier criteria-based professional organization for personal finance advisors, managers, and executives. Learn more >
---
Follow the 80/20 rule
"Students will benefit from starting their positive budgeting, saving and investing habits as early as possible. For example, students can start with a simple "80/20 rule" by investing 80% of their monetary gifts and enjoying 20% rather than spending 100% of the money on instant gratification. This small difference in your habits will accelerate you toward your financial goals and start you on a path of practicing the positive financial habits that will be absent among 90% of your peers." — Marcus Garrett, The Marcus Garrett, LLC
Leverage time wisely
"Strike a balance between long-term needs and short-term wants. Challenge yourself to set aside as much as possible in long-term investments that will grow your capital. Your biggest asset is time in the market. Leverage this asset wisely." — Jackie Porter, Team Jackie Porter
Open a Roth IRA
"The best way to utilize your monetary gifts is to open a Roth IRA, select a few companies you like and purchase stocks in those companies via your Roth IRA. Doing this will allow these funds to grow tax-free! Your future self will thank you." — Dominique Broadway, Finances Demystified, LLC
Save for a down payment on a home
"Paying off debt is priority number one. However, the more you can save for a down payment on a home, the sooner you can get into a place where you are exchanging apartment rent, which is making someone else wealthy, for a mortgage payment, which is the same but is building your personal real estate wealth." — John Bodrozic, HomeZada
Invest in your professional self
"One of the best ways to use gift money after graduation is to invest in yourself professionally. With a tight labor market, increased competition for jobs, the acceleration of AI and more, it's not enough to just have a degree or to check certain boxes academically. Employers gravitate toward new hires with marketable, usable skills. So, invest in special classes, boot camps, certificates or programs to learn or upgrade job skills. You can also invest in a membership or mastermind group or attend conferences to network. Making an investment in any of these areas can help recent graduates quickly land a new position, get promoted and cultivate valuable career contacts." — Lynnette Khalfani-Cox, TheMoneyCoach.net LLC
Enrich your perspective and potential
"Seek perspective-enriching experiences on a budget early in life. They may be a better investment than an index fund if you can be intentional about them. If you haven't lived in another country and learned to speak another language, can you do it now? A second idea is to start a small side venture, whether it's a business hustle or one that builds connection and community (such as a podcast). Both of these ideas, combined with the runway ahead of you in your life and career, can result in transformational leaps toward fulfilling your potential." — Robert Ribciuc, EBITDA Catalyst
Disclaimer
The information provided here is not investment, tax or financial advice. You should consult with a licensed professional for advice concerning your specific situation.
Kiplinger Advisor Collective is the premier criteria-based professional organization for personal finance advisors, managers, and executives.