UPS and UAW Labor Disputes Rage Over Wage Fights: Kiplinger Economic Forecasts
As labor disputes continue, UPS has narrowly averted a Teamsters strike and United Auto Workers are at a standstill in negotiations.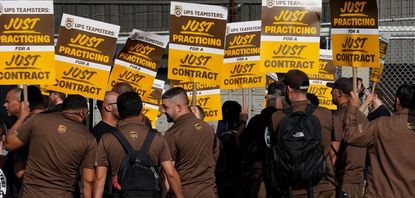 (Image credit: TIMOTHY A. CLARY/AFP via Getty Images)
As negotiations between major unions and employers stall, a potential strike could have far-reaching consequences. To help you understand what is going on and what we expect to happen in the future, our highly-experienced Kiplinger Letter team will keep you abreast of the latest developments and forecasts (Get a free issue of The Kiplinger Letter or subscribe). You'll get all the latest news first by subscribing, but we will publish many (but not all) of the forecasts a few days afterward online. Here's the latest...
Keep an eye on these labor disputes with big potential ramifications.
First, union United Auto Workers (UAW) is taking a more aggressive approach to contract negotiations with the Big Three automakers under President Shawn Fain than in previous years. Talks began earlier this month with the goal of reaching a deal before the current one with Ford, GM and Chrysler parent Stellantis expires in September.
Subscribe to Kiplinger's Personal Finance
Be a smarter, better informed investor.
Save up to 74%
Sign up for Kiplinger's Free E-Newsletters
Profit and prosper with the best of expert advice on investing, taxes, retirement, personal finance and more - straight to your e-mail.
Profit and prosper with the best of expert advice - straight to your e-mail.
Among the union's demands: increasing wages, ending tiered structures for wages and benefits and reinstating annual cost-of-living adjustments for workers. More important is how the union aims to achieve them.
Under Fain, UAW, which represents 150,000 hourly workers at the Big Three automakers, has refused to name a single automaker on which to initially focus negotiations. Instead, the union has hinted at taking on Ford, GM and Stellantis simultaneously. UAW also says it's not afraid of a prolonged fight, with $825 million in its strike fund.
During the last round of bargaining in 2019, a breakdown in talks between automakers and the union resulted in a 40-day strike against GM. The automaker claims the strike cost it $3.6 billion that year.
Meanwhile, the Teamsters and UPS averted a possible strike, for now, when they reached a tentative agreement on July 25. Union members need to vote to approve the new contract. Failure to ratify the tentative agreement, which addresses disputes about wages and benefits for part-time employees, could mean another strike threat looms.
If a strike were to occur, you could expect parcel shipping rates to jump by 10%, as capacity is strained at FedEx and other parcel delivery companies. LTL, or less than truckload, companies should also benefit. They carry smaller freight than traditional truckload companies. Also poised to profit: Intermodal rail, a shift that is already happening as shippers schedule alternatives to UPS.
Absent a strike, shipping rates will continue at their current low level.
This forecast first appeared in The Kiplinger Letter, which has been running since 1923 and is a collection of concise weekly forecasts on business and economic trends, as well as what to expect from Washington, to help you understand what's coming up to make the most of your investments and your money. Subscribe to The Kiplinger Letter.
Related Content

Staff Economist, The Kiplinger Letter
David is both staff economist and reporter for The Kiplinger Letter, overseeing Kiplinger forecasts for the U.S. and world economies. Previously, he was senior principal economist in the Center for Forecasting and Modeling at IHS/GlobalInsight, and an economist in the Chief Economist's Office of the U.S. Department of Commerce. David has co-written weekly reports on economic conditions since 1992, and has forecasted GDP and its components since 1995, beating the Blue Chip Indicators forecasts two-thirds of the time. David is a Certified Business Economist as recognized by the National Association for Business Economics. He has two master's degrees and is ABD in economics from the University of North Carolina at Chapel Hill.