Certainty Is a Blessing
The uncertainty leading up to the election was disquieting for an anxious nation, and it put our staff in limbo, too.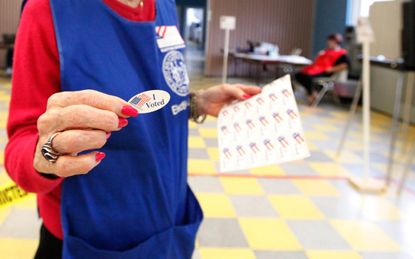 (Image credit: Getty Images)
No matter where you are on the political spectrum, I hope you were able to feel relief to see our democracy play out as intended, peacefully, during the election and the days following. As we went to press, a couple of states were considering recounts, and President Trump was contesting some states' results in the courts. But like other media outlets and the majority of Americans, Kiplinger has accepted the likelihood of a Biden-Harris administration come January 20.
The uncertainty leading up to Election Day and beyond was disquieting for an anxious nation, and it put our staff in limbo, too. Once the call for the election was made on November 7, the magazine still had a week before press time to consider what a Biden presidency means for the markets and your money.
Executive editor Anne Smith wrote the cover story, Where to Invest in 2021, which doubles as a look ahead for the economy (Anne now has 10 January outlooks under her belt). She reported frustration in the days following the election because her sources did not want to talk until the results were known. On the money side of our coverage, senior editor Sandy Block and contributing editor Lisa Gerstner were standing by to cover what could happen to your taxes, health care and Social Security in 2021 and beyond (see What the New President Means for Your Money). We scaled back that coverage when it became clear that the Senate may stay under Republican control—and President-Elect Biden and the Democrats could be blocked from enacting large parts of their agenda.
Subscribe to Kiplinger's Personal Finance
Be a smarter, better informed investor.
Save up to 74%
Sign up for Kiplinger's Free E-Newsletters
Profit and prosper with the best of expert advice on investing, taxes, retirement, personal finance and more - straight to your e-mail.
Profit and prosper with the best of expert advice - straight to your e-mail.
But the magazine staff's jitters didn't come close to the apprehension felt by the staff of our sister publication, The Kiplinger Letter. The Letter forecasts the results of the presidential election every four years. In nearly 100 years of publication, the staff has gotten it wrong only twice—in 2016 and in 1948, when we picked Dewey over Truman. Letter editor Jim Patterson and his staff had been working on their election forecast for months, talking to experts and even sending staffers to a few battleground states to check the pulse of the voters there.
In the October 23 issue, they predicted a Biden win. "I think the toughest thing about predicting this election was deciding how much to trust the polls," Jim explains. "After 2016, we didn't have high confidence in them, so it was important that we sent our political reporters to many of the battleground states. That really helped us ultimately decide which states Biden was likely to win and which ones Trump had a good shot at."
After the election, stocks surged. It was that certainty thing again. A Biden win, the expectation that the Senate will block a corporate tax hike, and a report from Pfizer (working with BioNTech) that its vaccine is more than 90% effective have fed Wall Street optimism. (See our take on what to expect for your investments.)
And the question is… Alex Trebek died on November 8, at age 80, and the nation mourned the passing of this unlikely American icon. Trebek hosted Jeopardy for 36 years, providing a rare dose of continuity and celebration of knowledge in a world increasingly barraged with fluff and suspect facts.
Kiplinger has a couple of Jeopardy connections. An "answer" on the September 30, 2020, broadcast referred to a Kiplinger's article on timeshares. Plus, our former writer Ryan Ermey was a contestant on the show in March 2019. The episode Ryan appeared in was filmed shortly before Trebek announced that he had cancer.
Because Ryan had met Trebek, I asked him for a reflection. "People asked me afterward if I had any inkling that he was sick at the time, and the truth is I had no idea," Ryan says. "To me, he was the man in the TV come to life—well dressed, funny and a consummate professional. I'm glad I got the chance to meet him and will miss his presence in my life terribly." As will we all.
Editor, Kiplinger's Personal Finance
Mark became editor of Kiplinger's Personal Finance magazine in July 2017. Prior to becoming editor, he was the Money and Living sections editor and, before that, the automotive writer. He has also been editor of Kiplinger.com as well as the magazine's managing editor, assistant managing editor and chief copy editor. Mark has also served as president of the Washington Automotive Press Association. In 1990 he was nominated for a National Magazine Award. Mark earned a B.A. from University of Virginia and an M.A. in Writing from Johns Hopkins University. Mark lives in Washington, D.C., with his wife, and they spend as much time as possible in their Glen Arbor, Mich., vacation home.