SEC Sues 2 Major Crypto Exchanges, Attempts to Regulate the Industry: Kiplinger Economic Forecasts
Financial regulators, like the SEC, want to crack down on the growing crypto industry with a set of checks and balances.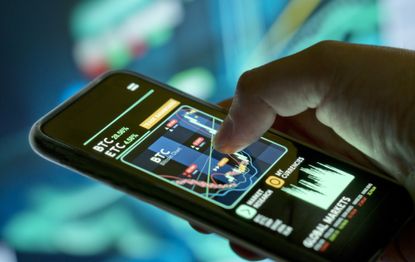 (Image credit: Getty Images)
As the crypto industry continues to grow, financial regulators are struggling to keep up. To help you understand what is going on and what we expect to happen in the future, our highly-experienced Kiplinger Letter team will keep you abreast of the latest developments and forecasts (Get a free issue of The Kiplinger Letter or subscribe). You'll get all the latest news first by subscribing, but we will publish many (but not all) of the forecasts a few days afterward online. Here's the latest...
Financial regulators are cracking down on the crypto industry. The collapse of FTX has alerted regulators to the dangers of letting the industry grow without any checks and balances. Recently, the Securities and Exchange Comm. (SEC) sued Coinbase, the largest U.S. crypto exchange, for operating as a broker-dealer, exchange and clearing agency without registering with Uncle Sam. The SEC also sued Binance, the largest global crypto exchange, for mishandling the funds of customers, misleading investors and regulators, and breaking securities rules.
Officials are still figuring out how to regulate cryptocurrencies. One issue under discussion is how to classify different cryptocurrencies. While bitcoin is considered a commodity by all regulatory agencies, the SEC views the tokens of other major blockchains as securities. The agency recently designated 19 tokens as securities as part of the lawsuit against crypto exchanges Coinbase and Binance, imposing steeper regulatory requirements on both token issuers and exchanges.
Subscribe to Kiplinger's Personal Finance
Be a smarter, better informed investor.
Save up to 74%
Sign up for Kiplinger's Free E-Newsletters
Profit and prosper with the best of expert advice on investing, taxes, retirement, personal finance and more - straight to your e-mail.
Profit and prosper with the best of expert advice - straight to your e-mail.
Crypto is increasingly becoming a partisan issue in Congress. Not long ago, Democrats and Republicans were able to find some common ground on how to regulate the industry. But in recent months, disagreement among lawmakers has stalled work on legislation. Republicans increasingly support the industry and are more likely to back measures favored by crypto firms. At the same time, Democrats want to tighten the leash to assist the Biden administration in its crackdown. As a result, don't expect any major crypto moves from Congress.
This forecast first appeared in The Kiplinger Letter, which has been running since 1923 and is a collection of concise weekly forecasts on business and economic trends, as well as what to expect from Washington, to help you understand what's coming up to make the most of your investments and your money. Subscribe to The Kiplinger Letter.

Rodrigo Sermeño covers the financial services, housing, small business, and cryptocurrency industries for The Kiplinger Letter. Before joining Kiplinger in 2014, he worked for several think tanks and non-profit organizations in Washington, D.C., including the New America Foundation, the Streit Council, and the Arca Foundation. Rodrigo graduated from George Mason University with a bachelor's degree in international affairs. He also holds a master's in public policy from George Mason University's Schar School of Policy and Government.