Keep Data Safe in the Cloud
Internet-based services to back up and store files and photos are inexpensive.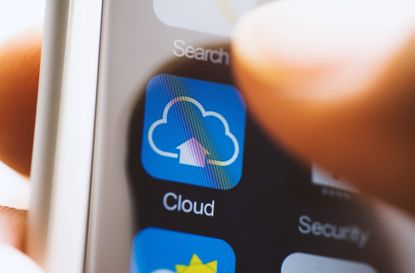 (Image credit: TARIK KIZILKAYA)
You probably got the memo ages ago that you need to back up your computer's files religiously. Otherwise, they could disappear into the void should your computer's hard drive implode or your machine fall victim to hackers. Today, much of what you do on your computer, tablet and smartphone—from accessing e-mail to streaming music and movies—relies on the cloud. Experts still recommend regularly backing up files on an external hard drive and disconnecting it from your computer when you're done. But you should also use an internet-based service to save, sync or back up your files.
In recent years, space in the cloud has gotten cheaper, and many cloud storage providers have expanded their menus to offer a wider variety of plans and features. Keeping your documents and other files in the cloud will lighten the load on your computer's hard drive and allow you to access your files from anywhere.
Most cloud services offer a limited amount of storage free, then charge monthly or annual fees for additional space. For example, Amazon Drive (opens in new tab) for Prime members, Apple's iCloud (opens in new tab) and Microsoft's OneDrive (opens in new tab) provide 5 gigabytes of free storage; Box (opens in new tab) offers 10GB, and Dropbox (opens in new tab) provides 2GB. One terabyte of data storage—enough to hold tens of thousands of digital images, plus files and documents—typically costs $100 to $120 a year. That's plenty of memory if you're sharing the space or using it to store movies or lots of photos.
Subscribe to Kiplinger's Personal Finance
Be a smarter, better informed investor.
Save up to 74%
Sign up for Kiplinger's Free E-Newsletters
Profit and prosper with the best of expert advice on investing, taxes, retirement, personal finance and more - straight to your e-mail.
Profit and prosper with the best of expert advice - straight to your e-mail.
Picking a storage plan. With so many companies offering cloud storage, you'll find no shortage of options that offer ample space for your files, music, home videos and pictures. The service that's right for you will depend on the types of files you store, how much space you need and whether you plan to edit or access the files regularly or share them with others.
Before signing up for a larger, paid storage plan, use a service's tools to upload and view a handful of files to make sure you find the process straightforward and convenient. Consider keeping documents with sensitive information on your computer's hard drive or encrypting the files before uploading them to the cloud.
It's hard to beat Google's offerings, including 15GB of free storage if you have a Google account. Need more space? Upgrade to a paid storage plan and share your storage space with up to five family members. A 2TB storage plan costs $100 a year. And regardless of how much storage space you have, Google provides a robust workbench of tools that allow you to edit documents, spreadsheets and other files on the go and share them with others. Or, if photos from your smartphone are gobbling up space, stash the images in Google Photos (opens in new tab). You'll have unlimited storage space for the images if you allow Google to compress photos to a resolution of 16 megapixels and videos to 1080p (enough to store most cell-phone photos without compromising image quality).
Other solid options include Dropbox and iCloud. Dropbox's meager 2GB of free storage won't hold many files, but the company's Plus plan ($99 a year) includes 1TB of space and makes sharing files between devices a breeze. Apple devotees are best served by iCloud. The service works with both Apple and Windows devices, but iCloud is already baked into Apple devices and is an easy way to back up your smartphone. You'll get 5GB of free storage, and a 2TB storage plan—which can be shared with up to five family members—costs $10 a month.
For broader protection against hard drive failure, a stolen device or a ransomware attack, opt for a cloud backup service such as Backblaze (opens in new tab) ($50 a year for a single device and unlimited space). Unlike cloud syncing services, which are designed to hold only files or folders that you've linked or uploaded, cloud backup services copy most, if not all, of the files on your computer. And many encrypt your files before sending them to the server.
Associate Editor, Kiplinger's Personal Finance
Pitsker joined Kiplinger in the summer of 2012. Previously, she interned at the Post-Standard newspaper in Syracuse, N.Y., and with Chronogram magazine in Kingston, N.Y. She holds a BS in magazine journalism from Syracuse University's S.I. Newhouse School of Public Communications.