The Pitfalls and Profits of Collecting Cars, Wine, Art
Four successful collectors tell us about the joys and difficulties—and the potential for financial gain.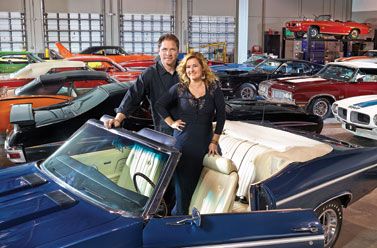 (Image credit: © Jeffery Salter 2014)
Many collectibles have seen run-ups in value that might make you think you're missing out on a sure bet. For example, over the past ten years collectible cars have appreciated more than 450%, and fine art is up nearly 200%, according to the Knight Frank Luxury Investment Index, which tracks baskets of selected collectibles. Meanwhile, Standard & Poor's 500-stock index has returned 111%.
Ray Arondoski collects hard-to-find antique furniture. Jeffrey Salter/Redux
Art deco detective
The art deco antique furniture that Ray Arondoski collects wouldn't look out of place in The Maltese Falcon or The Big Sleep. So it makes sense that Arondoski's collecting style resembles that of a film noir detective. He's a sleuth with a lot of patience, a keen eye for quality and a love of the chase.
Subscribe to Kiplinger's Personal Finance
Be a smarter, better informed investor.
Save up to 74%
Sign up for Kiplinger's Free E-Newsletters
Profit and prosper with the best of expert advice on investing, taxes, retirement, personal finance and more - straight to your e-mail.
Profit and prosper with the best of expert advice - straight to your e-mail.
Arondoski, of Grosse Pointe Park, Mich., whose day job is restoring cars produced before World War II, focuses on hard-to-find furniture made about the same time: the late 1920s and mid 1930s. He sometimes spends hours flipping through old magazines, taking note of the furniture in the ads. Next, Arondoski scours the Web for pieces he has identified to see whether they're hard to find. If so, he knows that they're worth scooping up.
For example, Arondoski discovered a Walter von Nessen lamp made between 1928 and 1932 on eBay for $850. He suspected that it was an original because he'd seen its picture in a magazine, but the designer's signature was on the inside tier of the base, meaning he'd have to take it apart to verify its authenticity. His hunch paid off. When the lamp arrived, Arondoski removed the outer layer and uncovered the original markings. "It takes a keen eye and a certain level of risk," says Arondoski. He has held on to the lamp and estimates that it's valued somewhere between $25,000 and $35,000.
How to get started. Anybody can list a hand-me-down desk as an "antique" on Craigs­list or eBay, but truly valuable items are tough to find. Successful collectors avoid the bottom of the barrel, focusing on the high-end and the rare. "You should buy the best that you can afford," says Neil Ingber, an antiques dealer in Connecticut. If a must-have item is pricey, dealers will typically work with you to pay for it in installments.
To develop a sense of what's high-end and what's overpriced, you need to get to know the furniture market. "Nothing beats hands-on experience," says Dan Farrell, an independent appraiser and art adviser for Antiques Roadshow. Head to garage sales, flea markets and auctions to scope out the offerings. Ask antiques dealers questions about their products so that you can build knowledge before building your collection. Arondoski's collecting "started as decorating my home and escalated," he says.
You can sell antiques through a direct private sale, auction house or dealer. Expect middlemen to take a cut of the selling price, starting somewhere in the 20% range—though auctioneers and dealers charge a lower percentage for more valuable items, says Farrell. Auction houses also charge a buyer's premium of about 20% to 25% of the selling price.
What's hot. Styles of antiques go in and out of fashion, with fluctuating prices to match. Certain standbys, such as glass-shaded Tiffany lamps, have maintained their value. Mid-century modern, as well as the style that Arondoski collects, is big. Other periods, such as 18th-century and Victorian-era furniture, have fallen out of favor. "The very top end, the very expensive pieces, are doing just fine, even appreciating in value," says Farrell. Demand for lower-end antiques "is dying on the vine," he says.
[page break]
The local art scene
If you picture art collectors as globe-trotting one-percenters throwing millions at recently discovered Picasso gems, then Mike Lightsey has some news for you. "Everyone can afford original art," says Lightsey, the president of the Mississippi Federal Credit Union, in Madison, Miss., who has collected paintings for 40 years. "It comes at all price points."
Lightsey's introduction to art collecting was nothing fancy. He took a painting course with a local artist whose work he admired. Lightsey purchased a painting from his teacher for a few hundred dollars, and it is still among his favorites. Today it is worth a couple of thousand dollars.
For Lightsey, collecting has been an investment in his art community and his living space, not a supplement to his retirement account. He displays his finds, some of which cost as little as $5, on the walls of his home.
How to get started. You can start small, spending just a few hundred dollars on original artwork, as you develop relationships with galleries and an eye for quality. For good-value art, check out photographs and prints, which tend to be cheaper because they're produced in multiples.
Or head to a graduate student art show or studio open house. "That's where you'll discover the next generation of artists who will be in galleries and museums one day," says Ginger Shulick Porcella, director of Big Deal Arts, which offers advice to collectors and artists. Revisit works that intrigue you to see whether they still captivate you after repeated viewings.
Talk to gallery workers and research promising artists by reading show reviews and clicking through their Web sites. Ask yourself whether a young artist has staying power and whether he or she is serious about art as a career. "Buying art is like buying a stock," says Alan Bamberger, author of The Art of Buying Art. "You want to read the company's annual statement before you buy any shares."
Hone your search by collecting work that represents a specific theme, technique or geographical location. Lightsey collects landscapes and scenes depicting the region where he lives.
It's generally frowned upon for buyers to haggle with a gallery or an artist. But ask about a collector's discount, which is typically about 10%. Many collectors pay in three- to six-month installments.
What's hot. The works of blue-chip artists, such as Pablo Picasso and Andy Warhol, typically hold their value. Their most famous works are out of reach for most buyers, but their etchings, lithographs or drawings are usually more affordable. For example, Picasso ceramics recently sold for several thousand dollars at auction.
Among genres, collages and found objects are big this year, says Porcella. But only time will tell which works run up in value. The goal is to appreciate your collection enough to mount it on your walls or display it on your shelves for the long haul.
[page break]
Liquid assets
Mike Benvenuti started his wine collection 20 years ago, using a bonus he received from work. He went to a local wine merchant in Orange County, Cal., with a friend who had a 10,000-bottle collection. As Benvenuti pushed the cart, his friend loaded three mixed cases of 1989 to 1993 Bordeaux and a case of 1991 Dominus, a Bordeaux blend from Napa Valley.
Benvenuti now has a 2,000-bottle collection that fills a room customized for wine storage in his Newport Coast, Cal., home. Benvenuti, the chief operating officer for a chain of beauty schools, has bottles that have appreciated tenfold, but he doesn't trade his wine for profit. He sells parts of his collection when he runs out of space or his tastes change. For example, he started collecting Bordeaux and California cabernet sauvignon, but he now prefers Burgundy and pinot noir. His axiom: "Buy what you like and share it with friends."
How to get started. You have to strike a balance between enjoying your collection and drinking it (the average drinking age for investment-grade wines is ten to 15 years). Consider buying two cases at a time—one to drink, the other to sell down the road. A full case carries a premium, as does one in its original wooden box from the vineyard.
Peter Meltzer, auction correspondent for Wine Spectator and author of Keys to the Cellar: Strategies and Secrets of Wine Collecting, recommends establishing a relationship with a wine merchant who can help assemble mixed cases to both cultivate your tastes and see which wines you want to acquire by the case. You can also buy at auction; Sotheby's and Bonhams have wine specialists and run auctions January through June and September through December. Wines sold at auction tend to be the finest or rarest vintages.
Look for well-known vintages and high scores from wine critics. For scoring, Robert Parker has been the go-to expert for more than 30 years. Scores above 95 are considered investment grade, but you'll see the biggest appreciation among wines
that achieve a perfect 100. The vintage matters less in California, where the climate is fairly steady year to year, than it does in France, where temp­erature swings can make some years perfect for growing and other years terrible.
If you store your collection at home, you'll need a temperature- and humidity-controlled cellar, with a backup system in case of a power outage. Major metro areas and other big cities offer wine-storage facilities, where you'll pay $20 to $40 per year, per case—and they'll help you catalog your collection so you'll know what you have and when it will be ready to drink.
What's hot. For wines proven to appreciate over time, look to France first. Rating systems for the vineyards in the Bordeaux and Burgundy regions let you know what is historically best—the "first growth" Bordeaux vineyards include Chateau Latour and Chateau Margaux; the most collectible "Grand Cru" Burgundy vineyard is Domaine de la Romanée-Conti.
Among the best recent vintages for Bordeaux are 1982, 1990, 2000, 2005 and 2009. There is a price premium for wines at, or approaching, their drinking age. For example, a bottle of 1990 J.L. Chave Hermitage, from the Rhône region of France, cost $50 when it was new and now sells for about $600.
Although Napa Valley doesn't have the long history of French wines, limited-production runs coupled with long waiting lists of buyers have made wines from Screaming Eagle and Harlan Estate in demand. Benvenuti drank all of his 1993 Harlan but sold his 1994, purchased for $110 a bottle, for $750 a bottle.
[page break]
Caveats for collectors
The thrill of the chase and the joy of bringing a newfound treasure home can overshadow the more mundane—and expensive—aspects of collecting.
Commission. It's common practice to use a merchant, broker or auction house to buy or sell (though cars are usually bought and sold directly). If you buy through a broker or at auction, you may pay less than you would from a merchant who charges retail prices—but then fees come into play. Auction houses charge a buyer's premium of about 20% of the winning bid (10% for cars). You typically sell to a broker (at wholesale) or at auction, where seller's fees are on a sliding scale depending on the value of the item and how much work has to be done to prepare it for sale.
Paperwork. Documentation on a piece's provenance (where it has been and how it has been stored, if it was owned previously by anyone famous, and whether it has been published, exhibited or sold at a major auction) helps determine its worth and whether it's the real deal. Save receipts, certificates of authenticity, images of the piece and records of how it was cared for. This will help if you need to make an insurance claim, you decide to sell, or you leave part of your collection to your heirs.
Insurance. Consult your insurance agent about the coverage limits for your collectibles—you'll likely need to purchase a rider to cover their value. A typical homeowners policy covers $2,500 or less for select valuable items, and that doesn't include breakage—a concern for collectors of antiques, sculpture or wine.
A rider may add perks, such as a zero deductible, coverage for breakage and mysterious disappearance, and reimbursement for claims at replacement cost rather than at actual cash value. Riders aren't terribly expensive; to cover a wine collection with a Chubb policy, for example, you'll pay 42 cents per $100 of value. Insuring a classic car costs about one-third of the cost to insure a new vehicle—$600 to $700 a year for a $100,000 car.
You may need an appraisal if the item wasn't purchased recently. Jim Fiske, U.S. marketing manager for Chubb, recommends updating values every three to five years—or every year if your collection is in a hot market in which values are appreciating rapidly.
Taxes. Expect Uncle Sam to take a bite out of any profits from the sale of your collectibles. If you hold them for a year or less, your gain is taxed at regular income tax rates. For items held more than a year, you'll be taxed at a maximum of 28%. As with other investments, you can offset gains with losses.

Associate Editor, Kiplinger's Personal Finance
Anderson has been with Kiplinger since January 2004, when she joined the staff as a reporter. Since then, she's covered the gamut of personal finance issues—from mortgages and credit to spending wisely—and she heads up Kiplinger's annual automotive rankings. She holds a BA in journalism and mass communication from the University of North Carolina at Chapel Hill. She was the 2012 president of the Washington Automotive Press Association and serves on its board of directors. In 2014, she was selected for the North American Car and Truck Of the Year jury. The awards, presented at the Detroit Auto Show, have come to be regarded as the most prestigious of their kind in the U.S. because they involve no commercial tie-ins. The jury is composed of nationally recognized journalists from across the U.S. and Canada, who are selected on the basis of audience reach, experience, expertise, product knowledge, and reputation in the automotive community.