Smart Personal Finance Moves If You're Leaving the Military
Plan a smooth return to civilian life with this checklist.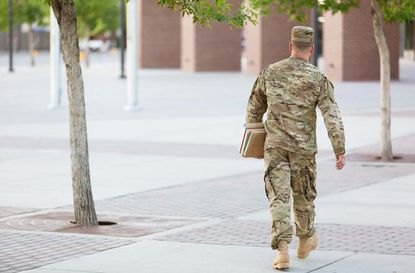 (Image credit: ©2013 Mie Ahmt)
When you decide to leave the military, you'll face a series of financial challenges. One of the most significant? Because valuable benefits and tax breaks you receive on active duty will disappear, you may need to earn more as a civilian just to match the buying power of your military pay and benefits.
"You need to see what you're losing and how it will affect you financially," says Josh Andrews, advice director for Military Life with USAA. "Earning $70,000 in the military is not the same as it is in civilian life."
In addition, if you're retiring from the military after 20 years or more, you'll need to make important decisions about your pension that can affect your benefits for the rest of your life.
Subscribe to Kiplinger's Personal Finance
Be a smarter, better informed investor.
Save up to 74%
Sign up for Kiplinger's Free E-Newsletters
Profit and prosper with the best of expert advice on investing, taxes, retirement, personal finance and more - straight to your e-mail.
Profit and prosper with the best of expert advice - straight to your e-mail.
Here are some steps to take that will ease the transition:
Prepare for a Bigger Tax Bite
If you qualify for military retirement pay, find out how your state taxes military pensions. Some exempt the payouts from state income taxes; others do not. You'll also want to consider the overall tax picture (and cost of living) when deciding where to retire. "So many times [servicemembers] want to retire to a state that doesn't tax military pensions, but they don't look at the other taxes," says Patrick Beagle, a CFP in Springfield, Va. and retired Marines helicopter pilot.
Compare tax rates for income taxes, military pensions, Social Security, sales and property taxes for each state at Kiplinger's retiree tax map.
Plan for Your Thrift Savings Plan
Decide whether to keep your money in the TSP after you leave or roll it into an IRA. You'll have more investing choices with an IRA but may have higher fees. If you roll TSP money into another plan, keep track of any contributions you made with tax-free combat pay, so you aren't taxed on that portion of the withdrawals.
Replace Your Life Insurance
You'll lose the low-cost Servicemembers Group Life Insurance when you leave the military. But you will have up to 120 days to convert your policy to Veterans' Group Life Insurance with no medical exam, which can be a good deal if you have health issues.
Still, the premiums are higher than SGLI and the price rises with age. So if you're healthy, you may find a much better deal on your own and be able to lock in a fixed rate for 20 or 30 years. Shop for coverage well before your VGLI eligibility expires.
Prepare for Higher Healthcare Costs
One of the biggest financial benefits of the military is premium-free healthcare for you and your family while you are on active duty. If you retire from the military, you can get low-cost Tricare coverage. But if you leave before 20 years and don't qualify for Tricare, you'll need to budget extra money for health insurance premiums, deductibles and co-payments, even if you have good coverage through a new job.
Also check the Department of Veterans Affairs Web page to determine if you are eligible for VA health care.
Put Aside More Cash for Emergencies and Transition Expenses
Josh Andrews, USAA's advice director for Military Life, recommends setting aside six to nine months' of living expenses as a "transition fund." This will cover your expenses if it takes a while to find a new job or if you have extra expenses related to a move.
Take Advantage of Transition and Education Resources
You should also make the most of resources available through the military community service office to help with your transition and job search. The Department of Labor's Veterans' Employment and Training Service program is packed with resources to help veterans find jobs, and Veterans.gov can help you find job search, training and other resources in every state. The Small Business Administration's Veteran-Owned Businesses page includes information to help veterans start businesses.
Make Key Decisions About Your Military Pension
The "survivor benefit plan," or SBP, lets your beneficiary continue to receive up to 55% of the amount of coverage you elect for his or her lifetime (after you die), adjusted for inflation. For your spouse to receive this benefit, you'll generally pay 6.5% of the portion of the monthly pension payout you want your spouse to receive, which is deducted pretax from your retirement pay (it can cost more to make your children your beneficiaries, depending on their age). For more information about the costs and eligible beneficiaries, see the Defense Finance and Accounting Service's Survivor Benefit Plan page.
Note: If you're comparing this benefit to the cost to buying life insurance for your beneficiary, make sure you compare it to a permanent policy—a term policy might expire before you die, leaving your beneficiary with nothing. The SBP almost always comes out ahead.
"The majority of people should take the survivor plan," says Andrews of USAA. "It's an important benefit for financial security, and it makes sure that your spouse will always be covered."
TAKE OUR QUIZ: Are You Saving Enough for Retirement?
Contributing Editor, Kiplinger's Personal Finance
As the "Ask Kim" columnist for Kiplinger's Personal Finance, Lankford receives hundreds of personal finance questions from readers every month. She is the author of Rescue Your Financial Life (McGraw-Hill, 2003), The Insurance Maze: How You Can Save Money on Insurance -- and Still Get the Coverage You Need (Kaplan, 2006), Kiplinger's Ask Kim for Money Smart Solutions (Kaplan, 2007) and The Kiplinger/BBB Personal Finance Guide for Military Families. She is frequently featured as a financial expert on television and radio, including NBC's Today Show, CNN, CNBC and National Public Radio.