How to Calculate Your Net Worth
Run an inventory of your assets and liabilities to find out how much you're worth.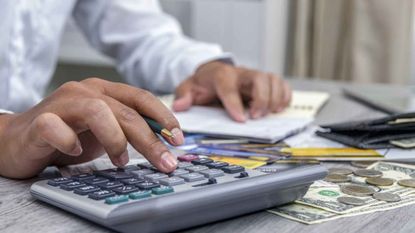 (Image credit: Getty Images)
Your net worth is a measure of your financial stability, and knowing your net worth gives you a handle on how healthy you are economically. The way to determine your net worth is simply adding up what you own – your assets, such as account balances and real estate – and subtracting what you owe – your liabilities like your mortgage and credit card debt.
Creating a detailed net worth statement gives you a good idea of where you can do better moving forward. It's advisable to do this once a year. Our net worth calculator will get you going.
And just in case you need additional help, here are details on how to work your way through the process:
Subscribe to Kiplinger's Personal Finance
Be a smarter, better informed investor.
Save up to 74%
Sign up for Kiplinger's Free E-Newsletters
Profit and prosper with the best of Kiplinger's expert advice on investing, taxes, retirement, personal finance and more - straight to your e-mail.
Profit and prosper with the best of Kiplinger's expert advice - straight to your e-mail.
1. Add up assets.
Start with Cash: what you have on hand, what's in your checking accounts and what's in your savings accounts. Include any savings bonds and certificates of deposit along with money you've squirreled away under the mattress (that's a bad idea, by the way.)
For Retirement Savings, the value of your 401(k), IRA or other defined-contribution plan will be available in your latest statement or online. If you have a pension and or profit-sharing plans, valuing these can be tricky. A program that will provide you with retirement income is surely an important asset, but it's difficult (although by no means impossible) to put a current dollar value on income you're supposed to receive in the future. This will require a spreadsheet, knowing what your pension promises you at retirement age, and then an understanding of the concept of "current present value (opens in new tab)."
For Other Investments/Brokerage Accounts, you can draw from your most recent statements for stocks, bonds, mutual funds and other negotiable instruments.
A business you own could be a potentially significant asset, but it may be illiquid or have significant debt. Furthermore, you will know best how to value it for your personal circumstances.
Do you have Life Insurance or Annuities as investments? Your premium payments on a whole-life insurance policy add to your net worth by increasing the policy's cash value (the amount you'd get if you cashed it in). Your insurance agent or a table in the policy can tell you the current cash value. Ditto for the surrender value of any annuities you own.
Your Primary Residence is likely to be your biggest asset, so it's especially important that the value you assign to it be accurate. Don't list what it cost you or just take a wild guess at its present value. You can use calculators from Zillow or Redfin to get a ballpark estimate of what your home would sell for (consider averaging results, which can vary). But still, check around to find out what similar homes in your area are fetching, or ask a real estate agent for an estimate of your current market value. Same goes for a rental or vacation property you might own.
While valuing other tangible Property can be difficult, cars are fairly straightforward. Consult a car-price guide, such as Kelley Blue Book or Edmunds.com or CarGurus. Their results will vary, so average them. For help in putting a value on a boat, motorcycle or other vehicle, start with Nada Guides. Kelly Blue Book also has values for motorcycles and personal watercraft, but not for other boats. The more unusual it is, the harder you'll need to research. If you own a rare or classic automobile (or other vehicle) you'll probably have specialty insurance for it, which should provide guidance for valuation.
Ballpark figures will do for the value of Household Furnishings, Appliances and other personal belongings. It's best to be conservative in your estimates. One way to do that is to guesstimate that what's inside your home is worth about 20% to 30% of the value of the home itself. Or make your own item-by-item estimate, then slash it by 50%. Use estimated market value (not purchase price) of Antiques, Jewelry, and Collections. InsureU offers a handy checklist to help you track your home inventory. Your home insurer might offer similar tools on its website or mobile app, too.
You can also try to drill down on the value of some of your more expensive and prized possessions by searching eBay (opens in new tab) for similar items and noting the prices for which they sold. This is different, of course, than the asking prices, which don't necessarily reflect value.
WorthPoint is a subscription service that provides values for antiques, art and collectibles. It offers a free trial period. You can also use a Google reverse image search service like CamFind to look online for information about sales of similar items.
2. Look at your liabilities.
Filling out this portion of the form may be painful, but it shouldn't be difficult. Most liabilities are obvious, and whoever you owe probably reminds you of the debt on a regular basis.
Start with Bills Due. Next, list the sum of the balances due on your Credit Cards. Check your most recent statement to see how much remains outstanding on your Mortgage, if you have one. Speaking of homes, if you've borrowed against its value, list how much you have outstanding on a home equity loan. Auto Loans and Student Loans have their own lines, and there's an extra entry for Other Loans/Debts (a family member, maybe?). List every debt you can think of because whatever you owe is a liability that diminishes your net worth.
3. Behold the bottom line.
Your Net Worth will display the balance: Assets minus liabilities.
Maybe it's not what you'd like it to be. It's even possible that it's a negative number, especially if you're young and just took out a big mortgage on a house and a big loan on a car. But don't worry, because you've just taken the first step toward starting or revising a budget that can show you ways to beef up your assets and trim your liabilities.
Senior Retirement Editor, Kiplinger.com
Elaine Silvestrini has had an extensive career as a newspaper and online journalist, primarily covering legal issues at the Tampa Tribune and the Asbury Park Press in New Jersey. In more recent years, she's written for several marketing, legal and financial websites, including Annuity.org and LegalExaminer.com, and the newsletters Auto Insurance Report and Property Insurance Report.