Give Story – Not Stuff – for the Holidays
Your financial plan is about more than making money and getting stuff. It's built around your values, goals and relationships. Shouldn't your gift-giving be the same way?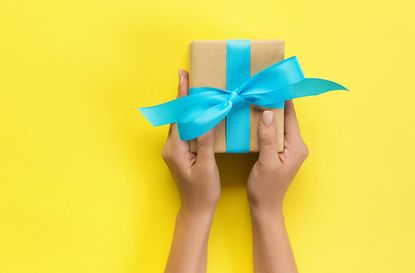 (Image credit: Sosiukin (Sosiukin (Photographer) - [None])
We have a 12-gauge shotgun in the basement … somewhere. When my husband was 12, his father gave it to him as a Christmas gift. He didn't expect it, hadn't asked for it, but money was tight. According to the story my husband has told for decades, that gun was all his father had to give.
The item itself isn't something we use. We don't hunt, we don't go shooting, but that shotgun is the only gift my husband has kept from his childhood — the only gift worth holding onto for the last 30-plus years.
What was your favorite gift from childhood? Odds are that it wasn't the latest trinket in a department store window. The puppy you always wanted, the doll you knew was just a little too expensive, the keys to your first used car — these are the presents you remember. Like my husband's gun, these gifts are part of a story.
Subscribe to Kiplinger's Personal Finance
Be a smarter, better informed investor.
Save up to 74%
Sign up for Kiplinger's Free E-Newsletters
Profit and prosper with the best of Kiplinger's expert advice on investing, taxes, retirement, personal finance and more - straight to your e-mail.
Profit and prosper with the best of Kiplinger's expert advice - straight to your e-mail.
Benefits Over Features
Any first-year marketing student will tell you to focus on the benefit when you're writing, not the features. As Harvard professor Theodore Levitt put it: "People don't want to buy a quarter-inch drill. They want a quarter-inch hole!" People — whether they are kids at the holidays or potential customers — want the item or gift to fit into their story.
With holiday spending projected to top the $1 trillion (opens in new tab) mark this year, we can see the rush for the latest stuff in full fury. But before we strap on our crash helmets to brave the holiday shopping hordes, can we think of the lasting impact a gift may have? Are we making a connection or just giving stuff?
Values-Based Gift-Giving
Let's put gift-giving aside for a minute. As a financial adviser, I often talk with clients about values-based investing and financial planning. Sure, when they arrive their first question might be about investment returns (how much and how often?), but as our relationship deepens, so does the conversation. The financial journey, especially when looked at over decades instead of just a few market years, is more three-dimensional than just making money.
Here is where your values and goals come into play. When you're no longer at the surface level of making and protecting money, it becomes a question of your life: which relationships, causes and long-term goals mean the most to you? Maybe you want to fund your best friend's dream business or make sure your grandkids' education is paid in full. Whatever your goals, my job as an adviser is to help you shape that plan realistically over time.
So, coming back to the question of the day: Shouldn't your gift-giving follow this same plan? Shouldn't the gifts you give express who you are and pass on your story?
Give an Experience
The majority of millennials, about 72% (opens in new tab), say they'd rather spend their dollars on experiences than on more stuff. It shouldn't just be a quality item, it should be a quality story. Entrepreneurs like those at Airbnb have responded with their "Experiences" offerings (opens in new tab). When you can have a tea party with sheep in rural Scotland or see Kiss perform a concert for Great White sharks from a glass-bottom boat, why would you settle for a new pair of shoes?
In recent years, the experience economy has grown four times as fast (opens in new tab) as the goods economy, and millennials would much rather have a gift they can Snapchat and Instagram. The term "experience economy" itself was first used in an article 20 years ago describing the change in an agrarian economy (where moms made a cake out of cheap ingredients) to a goods economy (where they bought premix), to a service economy (in which they bought the cake), finally to:
Now, in the time-starved 1990s, parents neither make the birthday cake nor even throw the party. Instead, they spend $100 or more to "outsource" the entire event to Chuck E. Cheese's, the Discovery Zone, the Mining Company, or some other business that stages a memorable event for the kids — and often throws in the cake for free. Welcome to the emerging experience economy.
This prediction has held, almost 25 years later, and can offer creative ways to align your gift-giving with the values that drive your financial plan and other decisions. Could you turn that new pair of skis into an unforgettable trip to Vail? Or maybe a bottle of the good stuff into a Napa Valley winery tour? You are creating connections and memories, which for most of us are higher on the value scale than products that go from under the tree to the back of the closet.
Investing in Memories
Gifts, like money itself, are emotional and touch on relationships, life journey and tradition. Doing something together &mash; or at least experiencing it by proxy through phones and social media — will give you a more meaningful connection and therefore be a better investment.
You're intentional with your money already, watching investments carefully and protecting your legacy. Shouldn't you also be intentional with the money you spend on gifts? Creating an environment in which your family's story can continue and deepen will bring about those holiday memories that make life worth the trip.
Senior Vice President, Financial Planning, Carson Group
Erin Wood is the Senior Vice President of Financial Planning at Carson Group (opens in new tab), where she develops strategies to help families achieve their financial goals. She holds Certified Financial Planner, Chartered Retirement Planning Counselor and Certified Financial Behavior Specialist designations.