Retirement Travel: See the World with the Grandkids
Multigenerational trips help create strong family bonds and leave a legacy of special memories.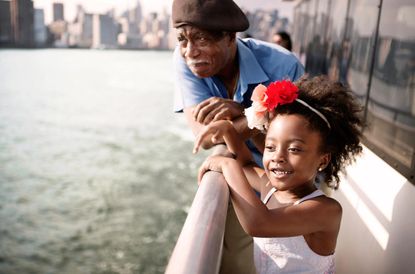 (Image credit: (C)cavan images ((C)cavan images (Photographer) - [None])
Jennifer Girvin, 69, of Santa Rosa, Cal., loves to travel, which she often did with her late husband. Although she still takes trips with her friends, these days her travel companions are likely to be much younger—namely her grandchildren. Last summer, she took Dahlia, now 16, to Costa Rica for two weeks. "We zip-lined, we hiked to a waterfall, we went snorkeling, and Dahlia took surfing lessons in the ocean. Who wouldn't love that?" says Girvin. She's planning two trips this summer: one to Florida with a 10-year-old grandson and another to the Grand Canyon region with a 13-year-old grandson.
For a growing number of grandparents, multigenerational travel—especially trips solely with grandchildren—are a singular way to see the world, create strong family bonds and leave a legacy of special memories.
Most packaged multigenerational trips are offered during the summer, with a limited number during winter and spring breaks. There is a wide selection of destinations to choose from, at various price points, from customized tours arranged by travel companies to prepackaged group trips from large tour operators, such as Road Scholar or Tauck Bridges.
Subscribe to Kiplinger's Personal Finance
Be a smarter, better informed investor.
Save up to 74%
Sign up for Kiplinger's Free E-Newsletters
Profit and prosper with the best of expert advice on investing, taxes, retirement, personal finance and more - straight to your e-mail.
Profit and prosper with the best of expert advice - straight to your e-mail.
"Children are not going to remember that their grandparents gave them an iPad, but they will remember a trip to Paris for the rest of their lives," says JoAnn Bell, vice president of programming for Road Scholar, an educational travel company that offers 208 programs geared to grandparents. That segment of the market has been growing steadily and will likely increase 15% in 2019, says Bell. About 75% of grandparent trips are domestic; 25% are international.
One of the most popular is "Kids in Paris: The City of Light With Your Grandchild." The nine-day trip costs $3,199 per adult and $2,699 per child, plus airfare, and it's aimed at grandchildren ages 10 to 13 and also available for those ages 14 to 17. It includes a visit to Monet's gardens in Giverny, a grandparent-grandchild portrait session with an artist in Montmartre, and a French chocolate-making demonstration, as well as the standard Louvre and Eiffel Tower outings.
Tauck, another large tour operator, has a division called Tauck Bridges for intergenerational trips. Grandparent-grandchild trips constitute about 40% of Bridges bookings, says Julia O'Brien, director of brand management. Tauck will offer in 2019 and 2020 the "Blue Danube: Family Riverboat Adventure." This eight-day excursion starts in Vilshofen, Germany, and ends in Budapest, Hungary. Highlights include overlooking the skyline of Vienna on a giant ferris wheel, bicycling along the Danube River and visiting Devin Castle in Slovakia. The trip costs $4,390 per person plus airfare.
"We're seeing more and more grandparent-grandchild trips," says Dan Austin, president of Austin Adventures, an adventure travel tour operator based in Billings, Mont. Grandparent-grandchild trips represent 10% to 15% of annual bookings, a figure that's tripled over the past five years. The company offers custom guided trips for about a week that typically cost $4,000 per person plus airfare, and it offers scheduled departure trips that run about $3,000 a person plus airfare.
Popular destinations include Yellowstone National Park, Alaska and Costa Rica. For example, Austin Adventures' six-day Yellowstone itinerary, which starts at $2,900 per person plus airfare, includes horseback riding through Paradise Valley guided by a cowboy, rafting, and zip-lining over the Gallatin River.
Which Route to Go
Grandparents will need to decide whether to go it alone or choose a tour that's prepackaged or customized. With a guided tour, Tauck's O'Brien says, "we handle all the details for you, with everything paid for in advance, so you can immerse yourself in the destination and be in the moment with your family."
Prepackaged tours also offer the opportunity for grandparents and grandkids to spend some time with peers their own age, which can be a relief. Road Scholar takes the extra step of narrowing the age range for its trips, such as ages 9 to 11, or ages 12 to 15, so activities can be geared to specific ages. "Children socialize better within the same age group," says Bell.
Although customized trips often cost more, they can accommodate the scheduling needs of busy families, and all activities are geared to the specific interests of the travelers. "If there are no other people around, it's easier to enjoy a powerful shared experience," says Robin Weber Pollak, president of tour operator Journeys International.
Barbara Gelderloos, 72, of Dublin, Ohio, took her oldest grandson, Ryan, 18, on a customized two-week trip to China last summer. "It was just the two of us, a guide and a driver," she says. Ryan, who studied Chinese for four years in high school, chose the destination and did most of the trip-planning research. "It was a huge amount of pleasure to see Ryan plan and interact with the tour guides and other people we met. He's an adventurous eater and will try anything, including noodles that were cooked with chicken blood. I didn't eat it myself, but I enjoyed watching him," she says.
Highlights of their trip included exploring Beijing's Forbidden City, seeing a performance of "The Legend of Kung Fu" and touring a panda breeding facility. Along the way, the pair had many interesting discussions. "We talk freely about everything," says Gelderloos. Her advice to other grandparents pondering a trip with the grandkids: "If you can afford it, then do it."
If you decide a multigenerational trip is in your future, consider these useful tips:
Involve the grandchild in choosing the destination. Let the grandchild pick where you go or offer a few choices from places you like.
Start small. "The younger the child, the shorter the distance and the amount of days away," says Bell, who says a domestic trip of five days is a good place to start.
Clear the trip with the parents before you invite the grandchildren, and address any safety concerns. "Some parents are really nervous about their kid contracting food poisoning or malaria," Pollak says.
Discuss any food allergies or medical issues in advance with the tour provider, and if necessary, bring plenty of energy bars and other snacks.
Make peace with your grandchild's smartphone. Pollak suggests thinking of the smartphone as a tool to take photos and do extra research about the destination.
Relax and enjoy. "My grandchildren behave well and listen to me so I don't have to watch over them every minute," say Girvin. "But I've observed some grandparents who are fearful and over-watch the grandkids," which can spoil everybody's vacation.