Follow QCD Rules to Make Your IRA Qualified Charitable Distributions Count
Retirees can get a tax break for donating up to $100,000 to a charity directly from a traditional IRA.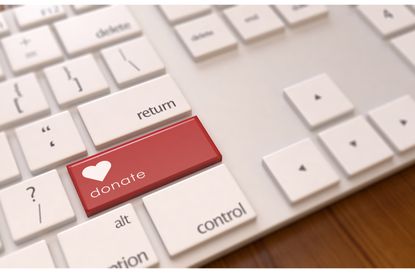 (Image credit: This content is subject to copyright.)
With tax reform likely to lead more taxpayers to use the standard deduction instead of itemizing, the move known as the qualified charitable distribution takes on a new sheen. A QCD allows taxpayers claiming the standard deduction to get a tax break for giving to charity. But if you plan to make use of the tax move, you'll need to check with your IRA custodian on its rules for how to fulfill the QCD.
The QCD lets you transfer money from your traditional IRA directly to a charity without the money being added to your adjusted gross income. You can donate up to $100,000 annually, but you must be 70½ or older to be eligible. A bonus: The money can count toward your required minimum distribution if the QCD is made before satisfying your RMD for the year.
The QCD can't be distributed to you first and then donated; instead, the money must be transferred directly to the charity, and if a check is issued, it must be made payable to the charity. If you have check-writing privileges on your traditional IRA, you may be able to write out the check to charity yourself.
Subscribe to Kiplinger's Personal Finance
Be a smarter, better informed investor.
Save up to 74%
Sign up for Kiplinger's Free E-Newsletters
Profit and prosper with the best of expert advice on investing, taxes, retirement, personal finance and more - straight to your e-mail.
Profit and prosper with the best of expert advice - straight to your e-mail.
But be aware that some brokerages may require you to use their IRA distribution form or comply with other requirements, says Michael Kitces, director of wealth management for the Pinnacle Advisory Group, in Columbia, Md. "Many IRA custodians don't allow check writing directly against IRAs," he says. "It creates additional complexities for them, and sometimes complaints, when people accidentally write a check from the 'wrong' account, because you can't necessarily put the money back after a mistake."
Fidelity is one firm that does allow you to write your donation check directly to the charity, but with a few caveats. You should confirm that you aren't automatically having tax withheld, because the distribution isn't taxable, according to Maura Cassidy, vice president of retirement products for Fidelity. And you'll have to ensure the charity cashes the check before year-end if you want the QCD to also satisfy your IRA RMD.
Also consider getting a receipt from the charity for tax reporting purposes, Cassidy notes. The charity must be a 501(c)(3) organization. Private foundations and donor-advised funds don't qualify for the QCD.
Although Vanguard offers check writing, the firm requests that you either fill out a form or call to make the transfer for the donation to count as a QCD, says spokesperson Emily Farrell. Vanguard makes the check out to the charity and sends it to you to forward.
T. Rowe Price clients must use a form from the firm to do a QCD, and the form requires a notary if the requested distribution amount is $10,000 or more. T. Rowe Price then sends the check directly to the charitable organization on behalf of the client, says spokesperson Tatum Sheets.
At Charles Schwab, a QCD needs to be paid directly from the financial institution to the charity at the client's request. You'll need a distribution form from the brokerage specified for a QCD.
Regardless of how you do the QCD, a Form 1099-R will be issued to report the distribution. It's up to you, not your brokerage, to properly report that it was a nontaxable QCD, Kitces says.
Associate Editor, Kiplinger's Retirement Report
Mary Kane is a financial writer and editor who has specialized in covering fringe financial services, such as payday loans and prepaid debit cards. She has written or edited for Reuters, the Washington Post, BillMoyers.com, MSNBC, Scripps Media Center, and more. She also was an Alicia Patterson Fellow, focusing on consumer finance and financial literacy, and a national correspondent for Newhouse Newspapers in Washington, DC. She covered the subprime mortgage crisis for the pathbreaking online site The Washington Independent, and later served as its editor. She is a two-time winner of the Excellence in Financial Journalism Awards sponsored by the New York State Society of Certified Public Accountants. She also is an adjunct professor at Johns Hopkins University, where she teaches a course on journalism and publishing in the digital age. She came to Kiplinger in March 2017.