Income Flows From Energy Partnerships
Although oil and gas prices have declined, master limited partnerships' generous distributions remain a powerful draw.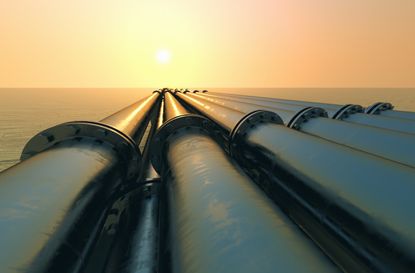 (Image credit: Getty Images/iStockphoto)
Yield-hungry investors in recent years flocked to master limited partnerships seeking steady income. Now they're feeling the ground shake beneath their feet.
That shaking isn't an oil gusher -- it's MLPs plummeting amid a sharp decline in oil and natural gas prices. But for investors willing to pick through the MLP rubble, says Mark Litzerman, co-head of real asset strategy at Wells Fargo Investment Institute, "there are some very good long-term opportunities here."
MLPs are publicly traded partnerships focused largely on the transportation, storage, exploration and production of oil, natural gas and other natural resources. In a low-yield era, they've become a favorite of income investors because they generally distribute most of their income to investors.
Subscribe to Kiplinger's Personal Finance
Be a smarter, better informed investor.
Save up to 74%
Sign up for Kiplinger's Free E-Newsletters
Profit and prosper with the best of expert advice on investing, taxes, retirement, personal finance and more - straight to your e-mail.
Profit and prosper with the best of expert advice - straight to your e-mail.
Because many MLPs operate pipelines and earn fees based on the volume of oil and gas they transport, many investors assumed the partnerships wouldn't be hit too hard by a decline in energy prices. But the oil-price plunge upended that theory. West Texas Intermediate crude oil fell from a mid-2014 peak of more than $100 per barrel to less than $40. Spooked by this collapse, many MLP investors dumped shares. The Alerian MLP Index dropped nearly 40%, on a total return basis, from January through early December 2015.
Despite the industry's troubles, MLPs' generous distributions remain a powerful draw for income investors. The Alerian MLP Index yields about 9.3%. And a number of MLPs are well positioned to boost cash distributions in 2016. Among these is Magellan Midstream Partners (symbol MMP (opens in new tab), recent price $60, yield 4.9%), which is engaged primarily in transporting and storing refined petroleum products and crude oil. This is a relatively stable, fee-based business, helping to insulate Magellan from commodity price swings. Distributable cash flow -- the cash available for payouts to unit-holders -- was enough to cover 135% of expected cash distributions in 2015, Magellan said in early November. And the partnership is committed to boosting cash distributions by at least 10% in 2016. "I'm very confident these distributions are safe, and they'll continue to grow," says Josh Peters, director of equity-income strategy at Morningstar.
MLPs With Cash Flow
Peters also likes Spectra Energy Partners (SEP (opens in new tab), $38, 6.4%), which is focused primarily on the storage and transportation of natural gas and crude oil. The business generates steady fees supported by long-term contracts. The partnership has boosted cash distributions for 32 consecutive quarters, and it expects annual cash distributions to rise roughly 8% this year and next.
Another relatively conservative MLP is Enterprise Products Partners (EPD (opens in new tab), $23, 6.7%), whose pipelines transport natural gas, natural gas liquids, crude oil and other products. Management retains a significant chunk of its distributable cash flow so that it doesn't have to load up on debt or issue new equity in order to reinvest in capital projects. Even so, Enterprise has raised its distribution rate for 45 consecutive quarters.
One downside of an MLP is its tax complexity. If you invest directly in MLPs, you'll receive a K-1 partnership tax form instead of the simpler 1099. You'll generally owe taxes on your distributions only when you sell.
You won't have to decipher a K-1 if you invest in MLP-focused funds, which offer broader diversification than a direct MLP investment. Still, they have their own pitfalls. The Alerian MLP exchange-traded fund, for example, is structured as a corporation and therefore must pay corporate taxes. That wrinkle has caused the fund to underperform its benchmark index by 3.25 percentage points annually from its inception through September 30, 2015, according to Morningstar.
By holding any index-tracking product, "you're buying the bad with the good," Litzerman says. "You need to accept the incremental volatility that would go with that."
Senior Editor, Kiplinger's Retirement Report
Laise covers retirement issues ranging from income investing and pension plans to long-term care and estate planning. She joined Kiplinger in 2011 from the Wall Street Journal, where as a staff reporter she covered mutual funds, retirement plans and other personal finance topics. Laise was previously a senior writer at SmartMoney magazine. She started her journalism career at Bloomberg Personal Finance magazine and holds a BA in English from Columbia University.