5 Bold Questions to Ask Yourself to Shape Your Retirement
Number 1: What do you want to be when you grow up again?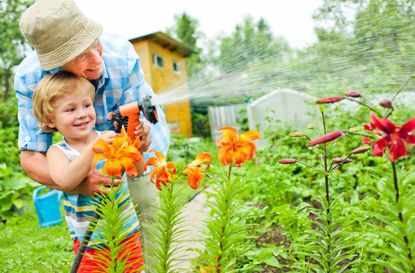 (Image credit: Maria Pavlova)
When talking with clients, I want to help them realize that the old ways of thinking about retirement may no longer be relevant. Studies show that those retiring in their mid-60s today can expect to live to an average age of 85. For my clients in their 40s and 50s, thanks to the ongoing miracles of modern medicine, I tell them to expect to live to 100 or even more. In this way, looking at another 25 to 35 years of life in "retirement" can require a big shift in expectations, goals and quality-of-life decisions, as well as putting pressure on financial advisers to make their nest eggs last that much longer.
Few would choose to sit and watch sitcom reruns all day long. Even gardening for 30 years might lose its allure with time. With proper planning and financial foresight, this "new retirement" can afford many rewarding and meaningful ways to retire. In addition to the common goals of travel, relaxing and spending time with grandkids, I encourage my clients to think outside the box a little and dream bigger, beyond what they may have thought possible.
In order to encourage people to push beyond their limits when dreaming about retirement, I ask a few questions to help spark their creativity.
Subscribe to Kiplinger's Personal Finance
Be a smarter, better informed investor.
Save up to 74%
Sign up for Kiplinger's Free E-Newsletters
Profit and prosper with the best of expert advice on investing, taxes, retirement, personal finance and more - straight to your e-mail.
Profit and prosper with the best of expert advice - straight to your e-mail.
Question Number 1:
What do you want to be when you grow up again?
I love this question because it injects fun into the process by bringing people back to a time when they were a kid and thinking about what they wanted to be in adulthood. I ask clients to put themselves back in this state of mind and ask themselves, "What was I passionate about in my youth? What did I dream of before anyone or any circumstances told me I can't?" I encourage them to brainstorm — no limits. Now is the time to revisit those dreams. Now could be that second chance they have been waiting for. How would you want to spend your retirement to make it fun?
Question Number 2:
If all your basic needs, goals and desires were properly funded and money were no object, and you had an excess of a BILLION dollars, how would you spend that excess money?
This is a great question, because it removes any financial pressures and allows you to think beyond practical limits. In addition to reconnecting with your childhood dreams, finding ways to help others might also enhance overall satisfaction with how your assets and resources are being put to use. It is very powerful to consider how you can have a meaningful impact on the lives of others as a way to increase your quality of life.
Question Number 3:
Once again, if all your basic needs, goals and desires were properly funded and money were no object, and you had an excess of a BILLION dollars, how would you spend your time?
Another great question that removes practical limits from the exercise of visualizing how you want to spend your time in retirement. Donations of time and money are proven strategies to not only have a meaningful impact on the lives of others, but to also add meaning to your own life. Involvement in philanthropic efforts may be new, so it is OK to start slow and see where the journey leads.
A great way to get started is to identify those causes that have a personal meaning for you. Perhaps you lost a friend or loved one to cancer, so do you to want to get involved with hospice? Maybe you have always wanted to help feed needy children? Perhaps you have a sports background and want to coach athletes in the Special Olympics? There are no limits. Push yourself to find a cause that inspires you to get involved.
Question Number 4:
What would you like to be remembered for?
I ask clients close to retirement what kind of legacy they want to leave behind. How would they like to be remembered? It does not have to be on the grand scale of Dale Carnegie or Bill Gates in order to have a meaningful impact on your family and loved ones. It could range anywhere from contributing to college costs for your grandchildren, starting a support group for widows or widowers, or helping build a library or park. Take off the limits for the sake of the exercise and see what you can come up with. One very powerful exercise is to write your eulogy now — what would you want your closest friends and family to say about you?
Question Number 5:
How many more "last chances" will you get?
This question snaps your focus back to time as one or your most valuable resources — especially later in life. The freedom to choose how you spend your time is hard to put a price tag on. When thinking about how you want to spend your retirement years, how realistic is it to tell yourself, "I will get to that later?" As author Paul Bowles, who wrote The Sheltering Sky, very eloquently reminds us, because we do not know when we will die, time can seem limitless, when in reality it is not:
One last takeaway: Asking yourself these questions does not have to wait for your retirement. Thinking about these questions at any stage of your life can help bring clarity and help to find purpose in how you choose to spend your time and resources. Priorities may change as we experience different milestones in life, but keeping these big questions in mind can help to maintain a meaningful focus, regardless of what our plans are for the future.

Founder & CEO, Reviresco Wealth Advisory
Ian Maxwell is an independent fee-based fiduciary financial adviser and founder and CEO of Reviresco Wealth Advisory. He is passionate about improving quality of life for clients and developing innovative solutions that help people reconsider how to best achieve their financial goals. Maxwell is a graduate of Williams College, a former Officer in the USMC and holds his Series 6, Series 63, Series 65, and CA Life Insurance licenses.

Investment Advisory Services offered through Retirement Wealth Advisors, (RWA) a Registered Investment Advisor. Reviresco Wealth Advisory and RWA are not affiliated. Investing involves risk including the potential loss of principal. No investment strategy can guarantee a profit or protect against loss in periods of declining values. Opinions expressed are subject to change without notice and are not intended as investment advice or to predict future performance. Past performance does not guarantee future results. Consult your financial professional before making any investment decision.