Taking Your First Required Minimum Distribution
You can withdraw the RMD from your traditional IRA anytime during the year that you turn 70½. But the rules are different if you're giving your RMD to charity.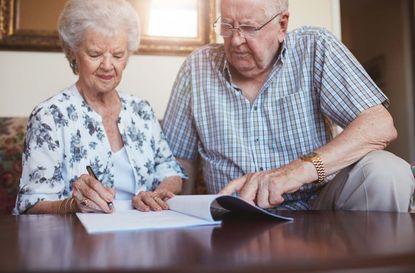 (Image credit: Jacob Ammentorp Lund)
I turned 70 on January 31 and know I have to take my first required minimum distribution this year. I already withdrew the money from my traditional IRA, but I'm worried that I made a mistake because I don't turn 70½ until July 31. Do I need to wait until after I turn 70½ for the distribution to count?
You're okay. As long as you turn 70½ in 2016, any distribution taken from a traditional IRA in 2016 will be considered part of your RMD for the year. You don't need to wait until you actually turn 70½, says Dan Funk, a certified financial planner with T. Rowe Price. You can also take 401(k) RMDs anytime during the calendar year that you turn age 70 1/2 (you generally will not have to take RMDs from your current employer's 401(k) at age 70 ½, however, while you're still working in that job).
If you were born between January 1 and June 30, 1946, you can take your first RMD anytime during 2016, or you have a special extension until April 1, 2017, to take your first required distribution (you'll also need to take your second distribution, for age 71, by December 31, 2017).
Subscribe to Kiplinger's Personal Finance
Be a smarter, better informed investor.
Save up to 74%
Sign up for Kiplinger's Free E-Newsletters
Profit and prosper with the best of expert advice on investing, taxes, retirement, personal finance and more - straight to your e-mail.
Profit and prosper with the best of expert advice - straight to your e-mail.
People who were born between July 1 and December 31, 1946 don't need to do anything yet; because they turn 70½ next year, they can take their first distribution anytime in 2017 or delay their first distribution until April 1, 2018 (but they must also take their second distribution by December 31, 2018).
Keep in mind that taking two RMDs in one year will increase your adjusted gross income and could boost some of your income into a higher tax bracket. Having the extra income in one year could also affect the portion of your Social Security benefits that are taxable or trigger the Medicare high-income surcharge for your Part B and Part D premiums. See How Much Will Your Medicare Part B Premiums Cost in 2016? for more information.
One way to avoid boosting your AGI is to give your RMD from your traditional IRA to charity, but unlike the regular RMD rules, you have to wait until you turn age 70½ to make a qualified charitable distribution. See Donate Your RMD Tax-Free to Charity in 2016 for more information.
For more information about the RMD rules, see 6 Steps to Cutting Your Taxes When You Start Taking RMDs and 10 Things Boomers Must Know About RMDs from IRAs. Also see IRS Publication 590-B, Retirement Arrangements, for more information about the RMD calculations.

Contributing Editor, Kiplinger's Personal Finance
As the "Ask Kim" columnist for Kiplinger's Personal Finance, Lankford receives hundreds of personal finance questions from readers every month. She is the author of Rescue Your Financial Life (McGraw-Hill, 2003), The Insurance Maze: How You Can Save Money on Insurance -- and Still Get the Coverage You Need (Kaplan, 2006), Kiplinger's Ask Kim for Money Smart Solutions (Kaplan, 2007) and The Kiplinger/BBB Personal Finance Guide for Military Families. She is frequently featured as a financial expert on television and radio, including NBC's Today Show, CNN, CNBC and National Public Radio.