What You'll Pay for Medicare in 2015
The premiums and deductible for Part B are the same as in 2014, but you may have to pay more for Part D.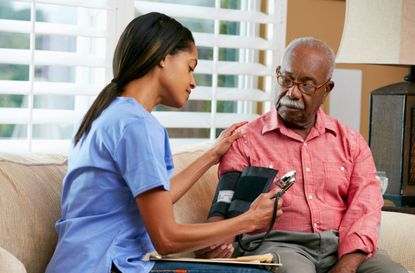 (Image credit: Getty Images/Monkey Business)
I am looking over my budget for next year. How much will Medicare premiums cost in 2015?
Medicare Part B premiums will be $104.90 per month in 2015, which is the same as the 2014 premiums. The Part B deductible will also remain the same for 2015, at $147. The Medicare Part A deductible, which covers the first 60 days of Medicare-covered inpatient hospital care, will rise to $1,260 in 2015, a $44 increase from 2014. The daily coinsurance rate for days 21 through 100 in a skilled nursing facility will also increase slightly, to $157.50 in 2015.
If your annual adjusted gross income (plus tax-exempt interest) is higher than $85,000 on an individual tax return or $170,000 if married filing jointly, you'll have to add a high-income surcharge on top of your Part B premiums. That will boost your monthly cost between $42 and $230.80 (the same as in 2014). The monthly premiums for the highest income level -- single filers earning more than $214,000 for the year or married couples earning more than $428,000 -- total $335.70 per person. For more information about the premiums and the procedures for contesting the surcharge if your income has decreased over the past year because of certain life-changing events, see the Social Security Administration's Medicare Premiums: Rules for Higher-Income Beneficiaries (opens in new tab).
Subscribe to Kiplinger's Personal Finance
Be a smarter, better informed investor.
Save up to 74%
Sign up for Kiplinger's Free E-Newsletters
Profit and prosper with the best of expert advice on investing, taxes, retirement, personal finance and more - straight to your e-mail.
Profit and prosper with the best of expert advice - straight to your e-mail.
Most people fill gaps in Medicare coverage by buying a Medicare supplement policy and a Part D prescription-drug plan, or by buying a Medicare Advantage policy, which provides both medical and drug coverage from a private insurer. You have from October 15 to December 7 to choose a Part D or Medicare Advantage plan for 2015. Medicare supplement policies don't have an annual open-enrollment period; you can buy them anytime. But you usually can be rejected or charged more because of your health if you get the policy more than six months after signing up for Medicare Part B.
On average, Part D premiums are rising by $1 in 2015, to $32 per month. But that average is for all plans. Some of the most popular plans are boosting premiums by more than that, s ays Ross Blair, senior vice-president of eHealthMedicare.com, which includes tools to help people compare policies. When you consider the price increases and the number of people enrolled in each plan, the average increase is 11%, says Blair. And some insurers are cutting back their offerings. The average number of plans in each state is decreasing by 14%, he says. If your plan leaves the business, you'll need to pick a new plan during open enrollment or you will not have prescription-drug coverage in 2015. Your insurer should have notified you if it is leaving your area in the Annual Notice of Change, which must be sent out by late September. Everyone with a Part D plan should receive this document, which includes important information about changes to your plan's coverage and costs.
The average premium for a Medicare Advantage plan is going up by about 9.5%, to $33.90 per month (you're still on the hook for Part B premiums). However, premiums will remain the same for about 61% of people if they elect to stay with the same Medicare Advantage plan. Even so, it's a good idea to check out all of your policy options during open-enrollment period, comparing premiums as well as out-of-pocket costs for your drugs and typical medical expenses. For more information about picking a 2015 Part D or Medicare Advantage plan during open enrollment, see It's Time for Medicare Open Enrollment.
Contributing Editor, Kiplinger's Personal Finance
As the "Ask Kim" columnist for Kiplinger's Personal Finance, Lankford receives hundreds of personal finance questions from readers every month. She is the author of Rescue Your Financial Life (McGraw-Hill, 2003), The Insurance Maze: How You Can Save Money on Insurance -- and Still Get the Coverage You Need (Kaplan, 2006), Kiplinger's Ask Kim for Money Smart Solutions (Kaplan, 2007) and The Kiplinger/BBB Personal Finance Guide for Military Families. She is frequently featured as a financial expert on television and radio, including NBC's Today Show, CNN, CNBC and National Public Radio.