How Much Will You Spend on Health Care in Retirement?
Medicare covers fewer health care expenses in retirement than many people realize, but our strategies will help you save money as you fill in the gaps.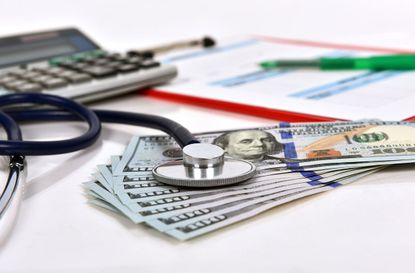 (Image credit: Vitaliy Kytayko)
Question: I thought most of my health care costs would be covered by Medicare after I turn 65, but it looks like I'll still have to pay quite a bit myself. How much can I expect to pay for health care in retirement? What can I do to lower those costs?
Answer: Even though Medicare covers the bulk of your health care costs after you turn 65, you may still have a lot of out-of-pocket expenses. A recent study by Fidelity Investments estimates that the average 65-year-old couple retiring this year will need $275,000 to pay medical expenses during retirement. That includes Medicare premiums, co-payments and deductibles (or a policy to fill any coverage gaps) and Medicare Part D prescription-drug coverage plus out-of-pocket drug costs over the next 20 years for the man and 22 years for the woman.. The Fidelity figure doesn't count the potential costs of long-term care.
You can expect to pay as much as a few thousand dollars each year for Medicare premiums. Medicare Part A, which covers hospitalization, is free for most people. But you'll pay a monthly premium for Part B, which applies to doctors' visits and outpatient care. People who sign up for Medicare in 2017 generally pay $134 per month for Part B. (People who have had Medicare premiums deducted from their Social Security benefits in previous years are currently paying less). And if your adjusted gross income plus tax-exempt interest income is more than $85,000 if you're single or $170,000 if you're married filing jointly, you'll have to pay even more -- with your monthly premiums running from $187.50 to $428.60 per person per month in 2017. See Retirees to Pay More for Medicare in 2017 for more information.
Subscribe to Kiplinger's Personal Finance
Be a smarter, better informed investor.
Save up to 74%
Sign up for Kiplinger's Free E-Newsletters
Profit and prosper with the best of expert advice on investing, taxes, retirement, personal finance and more - straight to your e-mail.
Profit and prosper with the best of expert advice - straight to your e-mail.
Plus, Medicare leaves some gaps. For instance, you'll pay deductibles and co-payments for hospitalization, doctors' visits, procedures and other medical care. And Medicare doesn't cover prescription drugs. Some people fill in these gaps with retiree health care coverage from a former employer, but that is becoming rarer. Otherwise, you'll need to buy a medigap policy to cover these out-of-pocket expenses and a Part D prescription-drug policy to cover drugs. Or you can get a Medicare Advantage plan to pay both medical and drug expenses.
To help reduce these extra costs, consider these strategies:
Shop for a medigap policy when you're first eligible. You have six months after signing up for Medicare Part B to choose any medigap plan. After that, insurers can generally charge more or deny coverage because of preexisting conditions. Each plan with the same letter designation provides the same coverage, but the price can vary a lot by insurer. For example, a 65-year-old man in Tampa, Fla., who buys Plan F, the most popular plan, could pay $2,230 to $3,820 a year, depending on the insurer, according to Weiss Ratings. Many state insurance department Web sites list prices for all of the medigap policies available in their state. Find contact information for your state insurance department at www.naic.org/map (opens in new tab). You can also get prices for many policies at eHealthInsurance.com's Medicare page (opens in new tab). Or order a personalized Weiss Ratings Medigap Report (opens in new tab) ($49 for Kiplinger readers), which lists premiums for the plans in your area plus strategies for saving money. See How to Fill Medicare Coverage Gaps for more information.
Pick the best Part D policy for you. This can vary from year to year, as your prescriptions change and insurers revise their coverage. You can switch Part D prescription-drug policies every year during open enrollment, which runs from October 15 to December 7 for coverage starting on January 1. Use the Medicare Plan Finder (opens in new tab) and type in your drugs and dosages to compare premiums and total out-of-pocket costs. (2018 plans will be listed in early October.) Most plans offer the lowest co-payments if you use a preferred pharmacy. See How to Save With a Medicare Prescription Drug Plan.
Review your Medicare Advantage plans annually. If you choose to get both medical and drug coverage through a Medicare Advantage plan, you can also shop around for a policy every year during open enrollment. Use the Medicare Plan Finder to compare the cost for drugs and health care under each plan in your area. Type in your zip code and your drugs and dosages, then click on "Medicare health plans." Make sure the doctors and hospitals you want to use are covered. Some plans have been switching from PPOs, which charge higher co-payments if you use out-of-network providers, to HMOs, which generally don't cover visits to out-of-network doctors. See What Retirees Must Know About Medicare Advantage Plans.
Challenge the Medicare surcharge. Your premiums for Part B and Part D will be higher if your income is higher -- more than $85,000 if single or $170,000 if married filing jointly. The Social Security Administration uses your most recent tax return on file to calculate the premium. But if your income has decreased since then because of certain life-changing situations, such as divorce, death of a spouse or retirement, then you can submit Form SSA-44 (opens in new tab) and ask Social Security to substitute your more recent income. For more information, see Medicare Premiums: Rules for Higher-Income Beneficiaries (opens in new tab).
Switch to generics or cheaper treatments. Even with Part D prescription-drug coverage, you'll have some out-of-pocket costs for your medications -- and you could pay hundreds or thousands of dollars for your share of the cost of expensive specialty drugs. Ask your doctor whether there are cheaper generic versions of your drugs, or if there are therapeutic alternatives to treat the same condition for less. See if you can save money by using a preferred pharmacy or mail-order pharmacy. For instance, ordering a 90-day supply of maintenance drugs may cost only 2.5 times more than a 30-day supply. See 7 Ways to Save on Prescriptions.
Tap your tax-free health savings account. You can't contribute to an HSA after you enroll in Medicare. But the money you have accumulated in the account can be withdrawn tax-free to pay medical expenses. And after age 65, you can also use the money to pay premiums for Medicare Part B, Part D and Medicare Advantage plans (but not for medigap). See FAQs About Health Savings Accounts.
Contributing Editor, Kiplinger's Personal Finance
As the "Ask Kim" columnist for Kiplinger's Personal Finance, Lankford receives hundreds of personal finance questions from readers every month. She is the author of Rescue Your Financial Life (McGraw-Hill, 2003), The Insurance Maze: How You Can Save Money on Insurance -- and Still Get the Coverage You Need (Kaplan, 2006), Kiplinger's Ask Kim for Money Smart Solutions (Kaplan, 2007) and The Kiplinger/BBB Personal Finance Guide for Military Families. She is frequently featured as a financial expert on television and radio, including NBC's Today Show, CNN, CNBC and National Public Radio.