Medicare Tip: Find the Right Post-Hospital Care
The choice of a post-acute care provider is daunting, even for health-care experts.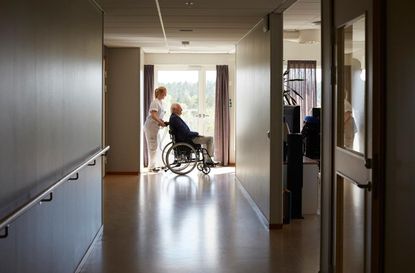 (Image credit: Copyright Maskot . (Copyright Maskot . (Photographer) - [None])
For patients and their families, a hospital stay can be a confusing and stressful time. But for hospitalized Medicare beneficiaries who are very sick or have complex needs, the question of where to go after the hospital may be even more difficult.
Patients who need continued care after a hospital stay are destined for "post–acute care"—skilled nursing or therapy services that may be provided by long-term-care hospitals, nursing homes, inpatient rehab facilities or home health agencies.
When it comes to picking the right post–acute care provider, however, patients and their loved ones are often left largely on their own. They may be under intense deadline pressure, as a hospital discharge can come with less than a day's notice. Asking the doctor or hospital staff for guidance may be of little use. Medicare rules prevent hospitals from making specific post–acute care recommendations. And "there's not a lot of clinical consensus about what setting is right for what patients," says Brian McGarry, a postdoctoral fellow at Harvard Medical School.
Subscribe to Kiplinger's Personal Finance
Be a smarter, better informed investor.
Save up to 74%
Sign up for Kiplinger's Free E-Newsletters
Profit and prosper with the best of expert advice on investing, taxes, retirement, personal finance and more - straight to your e-mail.
Profit and prosper with the best of expert advice - straight to your e-mail.
Recent studies, meanwhile, raise new questions about the cost and quality of care in long-term-care hospitals, where some of the sickest patients are sent for post–acute care. A study published by the National Bureau of Economic Research, for example, called long-term-care hospitals "a case study in waste," finding that patients discharged to these facilities owe more money out of pocket but don't spend less time in institutional care or have better outcomes as a result.
About 40% of Medicare beneficiaries who are discharged from a hospital receive post–acute care, which costs Medicare about $60 billion a year, according to the Medicare Payment Advisory Commission. The quality of that care is critical: A bungled transition to a lower-quality provider could mean more days spent in the facility, deteriorating health and a return trip to the hospital.
Patients with serious health conditions should understand the types of post–acute care providers that operate in their area and plan in advance when possible, researching local facilities' quality of care, special services provided and potential out-of-pocket costs. Here's a look at the issues facing the sickest Medicare patients and tips for navigating post–hospital care.
A Quandary for the Sickest Patients
Some of the most complex patients, including those who have traumatic brain injury or need prolonged mechanical ventilation, may be sent to long-term-care hospitals—inpatient hospitals where the average patient stay exceeds 25 days.
Because of a regulatory quirk, Medicare under certain circumstances pays long-term-care hospitals much higher rates than other post–acute care providers—and recent studies question whether the quality of care is worth the extra cost. In 2014, the average long-term-care hospital stay was 26 days and cost Medicare $36,000—three times as much as the average skilled-nursing-facility stay, which spanned 25 days, according to the NBER paper. Patients discharged to a long-term-care hospital also owe an additional $2,420 out of pocket, but they get no clear benefit, the study found. A long-term-care hospital stay doesn't improve patients' odds of returning home within 90 days or reduce their mortality risk, according to the study.
What's more, nearly half of Medicare patients in long-term-care hospitals suffered harm resulting from their medical care, such as pressure ulcers or infections caused by contaminated equipment, according to a 2018 report by the Department of Health and Human Services' Office of Inspector General. The harm rate was substantially higher than that of hospitals, nursing homes and rehabilitation hospitals—and over half of those events were preventable, according to the report. The higher rate of harm can be partly explained by the fact that patients have longer stays in long-term-care hospitals. The rate of harm per 1,000 days was still higher in long-term-care hospitals than in rehab hospitals or nursing homes, the inspector general found, but lower than in acute-care hospitals.
"It's clear from the study that long-term-care hospitals can do better," and the industry is working to improve performance, says Lane Koenig, policy and research director at the National Association of Long Term Hospitals, an industry group. Given that long-term-care hospitals treat very sick patients, "the risks have to go up," says Dr. John Votto, the association's chief medical officer. But in its own study, the industry found that a long-term-care hospital stay may improve outcomes for some patients, Koenig says. As for the overall cost, he says, patients who wind up in these facilities are also more expensive in the 90 days before they enter post–acute care. "These patients are sick and expensive no matter where they go," he says.
Understand Your Options
The choice of a post–acute care provider can be daunting even for health care experts. Lynn Rogut, director of quality measurement and care transformation at the United Hospital Fund, a New York nonprofit focused on improving health care, was a caregiver for her mother, father and aunt for more than a decade—yet no hospital staff ever had a detailed discussion with her about how to choose post–acute care, she says. At one point, her father was given 24-hour notice of hospital discharge, and she was handed a list of 30 facilities in Palm Beach County, Fla.—an area unfamiliar to her. "I'm sitting there paralyzed in the hospital room," she says, "thinking, 'Now what am I going to do?' "
While hospital staff may provide some information on your post–acute care options, don't assume you can rely on their guidance entirely. Under Medicare regulations, hospitals are required to provide beneficiaries a list of nearby post–acute care providers, but they generally can't recommend specific providers.
When hospitals do provide guidance, patients and families need to weigh that against their own preferences, research on local facilities and the advice of doctors. Hospitals may have a financial incentive to discharge patients to a long-term-care hospital when that's an option, researchers say. Hospitals typically receive a lump-sum payment, regardless of how long a traditional Medicare patient stays—and patients with complex needs can be discharged relatively quickly to a long-term-care hospital. In some cases, a long-term-care hospital is simply a separate wing or floor of an acute-care hospital, so "you're rolling the patient to this different facility that is in the same building, and suddenly Medicare is making much larger payments," says Neale Mahoney, an economics professor at the University of Chicago Booth School of Business and co-author of the NBER paper.
The hospital industry says it's focused on treating patients in the right setting at the right time. "We support a patient-centered approach regarding the timing of discharges," says Rochelle Archuleta, policy director at the American Hospital Association.
In recent years, many hospitals have established networks of preferred post–acute care providers. Patients and families should ask "What criteria do you use to make this preferred provider list?," Koenig says.
No matter what guidance you receive from the hospital, understand your rights. If you have traditional Medicare, you have the freedom to choose any post–acute care provider that participates in Medicare—theoretically. In reality, your options may be limited by the availability of beds and the fact that providers don't have an obligation to accept every patient that's referred to them. If you have a Medicare Advantage plan, you'll want to choose a provider that's within your plan's network to control your out-of-pocket costs.
When possible, start planning early. "Do some research on post–acute care providers while you're well," Rogut says. Medicare.gov offers comparison tools for long-term-care hospitals, nursing homes, inpatient rehab facilities and home health agencies.
Recent changes to Medicare's Nursing Home Compare tool make it more useful for people researching post–acute care providers. In April, the Centers for Medicare and Medicaid Services created a separate quality rating for short-stay nursing-home residents. Rather than focusing on a nursing home's overall star rating, people shopping for post–acute care should pay particular attention to the short-stay rating and some of the quality measures that comprise it, McGarry says, such as the percentage of short-stay residents who were rehospitalized.
QUIZ: Does Medicare Cover That?
Ask whether the facilities on your short list provide any specialized services you might need, such as on-site dialysis or dementia care, says Kristina Ramos-Callan, program manager at the United Hospital Fund. If there's no dialysis available for a patient who needs it, she says, "a family member is going to have to do a lot of coordination of transport between the facility and a dialysis center and back again."
Senior Editor, Kiplinger's Retirement Report
Laise covers retirement issues ranging from income investing and pension plans to long-term care and estate planning. She joined Kiplinger in 2011 from the Wall Street Journal, where as a staff reporter she covered mutual funds, retirement plans and other personal finance topics. Laise was previously a senior writer at SmartMoney magazine. She started her journalism career at Bloomberg Personal Finance magazine and holds a BA in English from Columbia University.