Medicare Premiums Snafu Affects 250,000 Social Security Recipients
A software glitch could mean surprise bills for some seniors who owe unpaid Medicare Advantage and Part D plan premiums.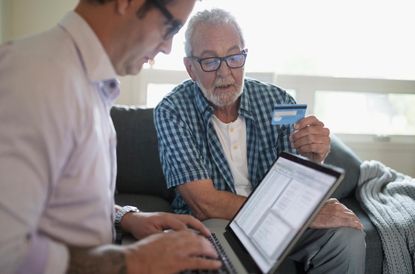 It seems like the simple, hassle-free way to pay your Medicare premiums: Have them withheld from your Social Security benefits.
But now, about 250,000 seniors who opted to have their Medicare premiums taken out of their Social Security checks are getting bills for as much as five months of unpaid premiums.
Because of an "isolated software issue," the Social Security Administration says it failed to withhold Medicare Advantage and Part D prescription-drug plan premiums from some beneficiaries' checks starting with January 2019 benefits, which were paid in February. So the plans didn't get their money—in some cases, from February through June—and will bill enrollees directly instead. People who enrolled in an Advantage or Part D plan for 2019 and asked to have their premiums deducted from their Social Security payments may be affected.
Subscribe to Kiplinger's Personal Finance
Be a smarter, better informed investor.
Save up to 74%
Sign up for Kiplinger's Free E-Newsletters
Profit and prosper with the best of Kiplinger's expert advice on investing, taxes, retirement, personal finance and more - straight to your e-mail.
Profit and prosper with the best of Kiplinger's expert advice - straight to your e-mail.
The glitch may sow confusion, financial stress and, in some cases, even coverage lapses among affected seniors, consumer advocates say.
"The systems issue has been corrected," a spokesperson for the Centers for Medicare and Medicaid Services said, and the agency is working with plans to reach out to affected enrollees. Premiums should be properly deducted from beneficiaries' Social Security payments as of June or July.
If you're not certain whether you've been affected, "call the plan proactively" to find out, says Lindsey Copeland, federal policy director at the Medicare Rights Center. If you get a bill that you can't afford to pay, be aware that plans must allow enrollees to stretch past-due premium payments over a period at least as long as the delay in billing. Plans must also offer a grace period of at least two months before disenrolling members for failure to pay.
Some affected beneficiaries lost coverage but resolved the issue through their state health insurance assistance program, says Leslie Fried, senior director of the Center for Benefits Access at the National Council on Aging. To find your local SHIP, go to shiptacenter.org (opens in new tab) or call 877-839-2675. Seniors who need help can also call Medicare at 800-633-4227 or the Medicare Rights Center at 800-333-4114.
Senior Editor, Kiplinger's Retirement Report
Laise covers retirement issues ranging from income investing and pension plans to long-term care and estate planning. She joined Kiplinger in 2011 from the Wall Street Journal, where as a staff reporter she covered mutual funds, retirement plans and other personal finance topics. Laise was previously a senior writer at SmartMoney magazine. She started her journalism career at Bloomberg Personal Finance magazine and holds a BA in English from Columbia University.