Retirees, Beware Dangers of Multiple Medications
Be smart: 15% of older adults are at risk of major drug interactions.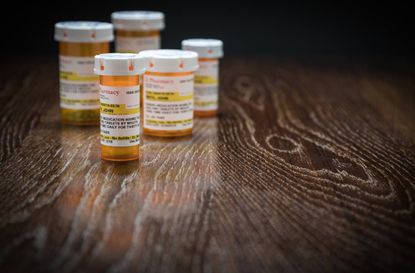 (Image credit: Andy Dean Photography)
Older Americans have a drug problem. They are taking too many medications, studies show—including prescription drugs that are redundant, ineffective or no longer necessary—raising their risk of dangerous side effects and drug interactions.
As many aging patients develop multiple chronic conditions, the problem is growing worse. A 2016 study published in JAMA Internal Medicine found that 36% of people age 62 to 85 were taking five or more prescription drugs in 2011, up from 31% five years earlier. About 15% of older adults are at risk of major drug interactions, up from 8% in 2006, the study found.
Even when older patients are taking only necessary and effective drugs, the dosages may need a second look. As patients age, they tend to metabolize drugs more slowly, meaning the dose that was perfect five years ago may now be too high—perhaps causing dizziness and falls. "Doses need to be continually adjusted with age, and most of the time that doesn't happen," says Kathleen Cameron, senior director of the National Council on Aging's Center for Healthy Aging.
Subscribe to Kiplinger's Personal Finance
Be a smarter, better informed investor.
Save up to 74%
Sign up for Kiplinger's Free E-Newsletters
Profit and prosper with the best of expert advice on investing, taxes, retirement, personal finance and more - straight to your e-mail.
Profit and prosper with the best of expert advice - straight to your e-mail.
A growing number of U.S. doctors are seeking to combat the problem by "deprescribing"—cutting back dosages or stopping unnecessary medications altogether. Patients have an important role to play in the process, doctors say, including educating themselves about what drugs they're taking and why.
The benefits of deprescribing can include not only fewer side effects and drug interactions, research shows, but also fewer falls, cognitive improvement, higher patient satisfaction and reduced costs.
But the process is not quick or simple. You shouldn't stop any medication without consulting your physician. A doctor should assess which medications may be safely cut back and trim one at a time, monitoring for withdrawal symptoms and the return of any conditions the drug was meant to treat.
"Polypharmacy"—the use of multiple medications—can be an issue not just when your pillbox is overflowing but "anytime you're on something you shouldn't be on," says Dr. Ranit Mishori, professor of family medicine at Georgetown University School of Medicine. Perhaps you went to your doctor with a problem that was actually a medication side effect—but your doctor thought it was a new medical problem and prescribed yet another drug to treat it. "It's a domino effect," says Dr. Chris Hwang, clinical instructor in geriatrics at Crozer-Keystone Health System in Pennsylvania.
Steps You Can Take to Manage Medications
Keep an up-to-date list of all your medications, including over-the-counter drugs and supplements, in your wallet or on your smartphone so it can be easily shared with doctors, Cameron suggests. Try to use a single pharmacy to fill all your prescriptions, she says, so the pharmacist can look for interactions among your drugs.
When your doctor is reaching for the prescription pad, ask if there might be any non-drug treatment options, such as stretching or acupuncture for chronic pain. When you do get a new prescription, ask how long you're supposed to take the drug. If you've been taking a certain drug for a long time, ask your doctor whether it's still beneficial to take it.
If you have a Medicare Part D prescription-drug plan or Medicare Advantage, you may be eligible for a free program that can help streamline your list of medications. Medicare beneficiaries with multiple chronic conditions and total annual drug costs of about $4,000 or more may be automatically enrolled in a Medication Therapy Management program. A pharmacist will review all of your drugs, assessing their effectiveness, potential side effects and interactions, and give you an action plan to discuss with your doctor. If you're not eligible for the program, Cameron says, ask your pharmacist for a comprehensive medication review at least once a year.

Senior Editor, Kiplinger's Retirement Report
Laise covers retirement issues ranging from income investing and pension plans to long-term care and estate planning. She joined Kiplinger in 2011 from the Wall Street Journal, where as a staff reporter she covered mutual funds, retirement plans and other personal finance topics. Laise was previously a senior writer at SmartMoney magazine. She started her journalism career at Bloomberg Personal Finance magazine and holds a BA in English from Columbia University.