Medicare Doesn't Cover Hearing Aids but Retirees Have Options
Medicare and most health insurance don't cover hearing aids, but alternatives including over-the-counter devices can be less expensive.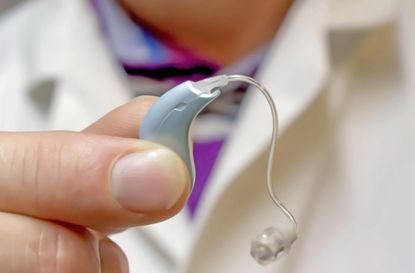 (Image credit: MARK OSBORN-WICKENDEN)
Stephen Moore began to realize he had hearing problems more than a decade ago, when people seemed to mumble in conversations. He asked his wife to repeat lines at the movies. "It drove her crazy," he says. He turned the TV volume up so high that family members complained.
Finally, when he felt he was missing out on hearing important details during meetings at work, he got his hearing tested and was then fitted for hearing aids.
"Hearing loss is so gradual you don't really recognize it until your hearing is impaired, and it gets really bad," says Moore, 57, an economist for the Heritage Foundation, a conservative think tank, who also works as a TV analyst. "And there's still a little bit of a stigma about wearing hearing aids."
Subscribe to Kiplinger's Personal Finance
Be a smarter, better informed investor.
Save up to 74%
Sign up for Kiplinger's Free E-Newsletters
Profit and prosper with the best of expert advice on investing, taxes, retirement, personal finance and more - straight to your e-mail.
Profit and prosper with the best of expert advice - straight to your e-mail.
As people age, they often don't immediately recognize hearing decline or seek treatment for it, says Barbara Kelley, executive director of the Hearing Loss Association of America. It takes an average of seven to 10 years from the time someone recognizes he or she has a hearing loss until getting help for it, she says. And about 80% of adults who could benefit from a hearing aid don't get one, according to a report by the National Academies of Sciences, Engineering and Medicine.
Does Medicare Cover Hearing Aids?
Baby boomers are sometimes reluctant to take even the first step of getting a hearing test, seeing it as a sign of aging and fearing having to wear "that brown plastic thing behind your ear," Kelley says. Not to mention that hearing aids can be expensive, as much as $3,000 per ear, and aren't covered by Medicare and only sometimes by other insurance.
So it was good news for people with hearing loss when Congress last August authorized the Food and Drug Administration to create a new class of hearing devices, which will be available over the counter and expected to cost far less than what you pay for a device from the audiologist's office. The over-the-counter hearing aids are for adults with mild to moderate hearing loss and will be FDA-regulated. The only way now to purchase a hearing aid is through an audiologist or hearing instrument specialist. In the future, certain hearing aids and other hearing wearable devices will be available in pharmacies and electronics retailers.
What's often confusing, though, is that some over-the-counter alternatives, sometimes called personal sound amplification products, are available in stores now. Moore, for example, once grabbed a cheap pair when he lost his regular hearing aids on a trip. Quality and prices for the devices vary widely; some disposables sell for $20 to $30 per pair while high-tech sound amplifiers cost several hundred dollars.
But these devices aren't considered medical devices or regulated by the FDA, and they can't be marketed as hearing aids or as a product to improve hearing loss, even with the new law. The FDA has up to three years to write regulations and set safety and labeling standards for the authorized OTC devices. An FDA spokesperson said the agency won't speculate on a time frame for the process. Once regulations are in place, expect lower prices for FDA-approved aids and more choices.
Getting Your Hearing Tested
Don't wait to address your hearing health as the guidance is sorted out. Get tested by an audiologist, take an online screening test, or visit a hearing center that has licensed hearing health providers. Find a hearing aids guide at hearingloss.org.
Take advantage of hearing aid discounts. Costco offers its own brand of hearing aids and other hearing services. Drugstore chain CVS has opened 32 hearing centers in seven states, with plans to expand this year, a company spokesperson says. Single device costs range from about $400 to $2,500. Try a high-tech device that's not a hearing aid. Hearing technology company Nuheara sells wireless earbuds that work with a smartphone app for about $300 a pair. Wearers can tune out background noise at restaurants, offices or outside and "control how they hear the world around them,' says company co-founder David Cannington.
Do You Need a Hearing Aid?
The following are some signs of when to consider having your hearing tested, according to the Food & Drug Administration:
You hear better out of one ear than the other.
People say you are shouting when you talk.
You often ask people to repeat themselves.
You can't hear a dripping faucet or high-pitched musical notes.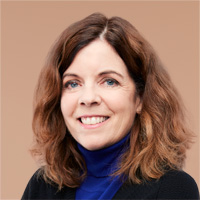 Associate Editor, Kiplinger's Retirement Report
Mary Kane is a financial writer and editor who has specialized in covering fringe financial services, such as payday loans and prepaid debit cards. She has written or edited for Reuters, the Washington Post, BillMoyers.com, MSNBC, Scripps Media Center, and more. She also was an Alicia Patterson Fellow, focusing on consumer finance and financial literacy, and a national correspondent for Newhouse Newspapers in Washington, DC. She covered the subprime mortgage crisis for the pathbreaking online site The Washington Independent, and later served as its editor. She is a two-time winner of the Excellence in Financial Journalism Awards sponsored by the New York State Society of Certified Public Accountants. She also is an adjunct professor at Johns Hopkins University, where she teaches a course on journalism and publishing in the digital age. She came to Kiplinger in March 2017.