Winning the Breadwinner-vs.-Homemaker Battle
The waters are not always smooth for couples where one works and the other doesn't, or where incomes are vastly different. And when the breadwinner is the woman, that could create some extra ripples. How to smooth things down.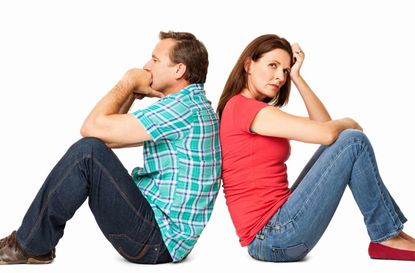 (Image credit: londoneye)
Earlier this summer, I wrote about "The Hidden Struggle for Men Who Marry into Money" — which led me to think deeper about the intricacies that go into marriages where one partner earns more than the other. There are certain relationship dynamics that come with inherited wealth, but I believe that being a couple who have made "something out of nothing" comes with an entirely different set of relationship challenges.
As the definition of "breadwinner" shifts, we have also seen a massive change in the definition of "homemaker." More and more frequently, there has been an increase in wives making most of the living income, while the husband adopts the homemaker role, taking on the responsibility of raising children. However, it is important to acknowledge the mothers who manage to do both. About 40% of all households (opens in new tab) with children under the age of 18 have mothers who are either the sole or primary source of income for the family. While gender norms are changing, women still typically carry the brunt of the unpaid aspects of family life, including caring for children and preforming household labor. I have the deepest respect for women who spend their days working and their nights caring, and the men who help to support them in these efforts.
Gender Stereotypes Play into the Problem
However, with the changing of gender roles I have seen a few issues that eat away at relationships. Typically, these issues are less about a lack of communication (as I have seen in couples who have inherited wealth), and more about the ongoing dialogue around gender stereotypes and the unspoken insecurities that come with a husband earning less than his wife. I would like readers to understand the unique difficulties that go into swapping the typical idea of an earner, how couples who have worked so hard to make their own way can avoid relationship pitfalls, and how looping in a financial planner early can help keep everyone aligned on earning potential and spending priorities.
Subscribe to Kiplinger's Personal Finance
Be a smarter, better informed investor.
Save up to 74%
Sign up for Kiplinger's Free E-Newsletters
Profit and prosper with the best of Kiplinger's expert advice on investing, taxes, retirement, personal finance and more - straight to your e-mail.
Profit and prosper with the best of Kiplinger's expert advice - straight to your e-mail.
We can all admit that achieving the American dream is the goal for most people, but, in actuality, it is a very hard standard to meet. Individuals who have achieved this by working their way up the career ladder should receive acknowledgement and high praise. However, one spouse's success may come at the expense of the other's career — and despite how far we've come as a society, it can be a difficult pill for couples to swallow when a husband is not the primary earner.
Relationship Challenges That I've Come Across
Some unique challenges that I have seen arise from this situation are:
Differences of opinion on how to spend the money. Typically, the couple runs into arguments on how to allocate the money – particularly when one party feels as if they earned more of it.
Judgment over not working. There also seems to be a lack of respect when one party is working very hard, and the other seemingly lives the good life by being at home or having a flexible job.
In my personal experience, communication is key. I have worked with clients who have been in both of the above scenarios. The issue is not so much that the money is being spent — but the lack of consideration for the other party. For example, I worked with one couple where the wife was in a high-stress work environment, working 60+ hours a week, and the husband liked to play golf on the weekends.
The issue was not that the husband was taking out potential clients or how much he was spending on golf trips, but that she was left with the added stress of watching the children every weekend, instead of being able to do her preferred relaxing activity. The solution was to sit down and create a schedule that allowed for both parties to be able to enjoy their alone time. So, the majority of these issues bubble down to a lack of communication.
Some Ideas That Could Possibly Help
There is never a one-size fits all when it comes to solving relationship problems, but there are a few tips that can help smooth rocky seas.
Focus on the children. One of the saving graces in this dynamic are the children. Each spouse is typically dedicated to providing a better life for their children than they themselves once had.
Keep communicating. The key is to keep an open line of communication and remember to remain respectful of each other.
Put yourself in the other's shoes. It is easy to develop the mindset of "I am making money; I am out working hard every day." It is important for both parties to be cognizant of how the other is feeling — whether that be one party acknowledging the other's workload or acknowledging how much work goes into keeping up with an active household.
Take advantage of a neutral third party. The best piece of advice I can give is have the homemaker-versus-breadwinner conversation early on in your career and utilize the advice of a financial planner as soon as you can. They will help you to come together and ensure the finances are planned out in a way that respects each party's wishes and needs. By making long-term financial decisions together and having an adviser to keep you on track, it will be easier for the couple to be more dedicated to achieving and sticking to those goals together.
Analyze strengths and opportunities. Sit down with your financial planner and realistically examine the earning potential of each party — as well as whose job is more flexible. For example, is one spouse a soon-to-be doctor, and the other a high school coach? Is there the ability for coaching to be conducted around the kids' school schedule? Is there the ability to bring the child to work? These are questions that couples should be asked when determining who should be considered the long-term provider at the end of the day.
Finally, here are a few things to keep in mind as careers develop and the couple enter a new tax bracket:
Loop in a financial planner as soon as you are able. They will help to ensure spending priorities remain aligned.
As one party builds a career, remain in communication about how career, savings or retirement goals have changed.
Remember, you entered into the marriage as a partnership. Be cognizant of cutting one party out of financial conversations because they are not technically making the money.
Be aware that going to work every day is not the only thing considered a job. Raising children in a loving and attentive home is essential for their well-being (and the future of your legacy).
While there will always be uncomfortable conversations when money is involved, not all hope is gone for couples who are experiencing these struggles. The key is to be respectful of each other's efforts, reasonable when it comes to making family decisions, and remain in communication about financial planning.
Executive Chairman, Keel Point
Dave Parks serves as the Executive Chairman of Keel Point (opens in new tab). He founded Keel Point in 1998 as a unique multi-family office and investment firm for ultra-high net worth families. Parks received his Bachelor of Science degree in Management Sciences from Duke University and is a CERTIFIED FINANCIAL PLANNER™. He is a Registered Representative of Keel Point Capital, LLC. Prior to starting Keel Point, Parks led a financial planning practice for nine years with the Mason Companies.