Stop Fighting, Start Planning: How to Build a Retirement That Satisfies Both Spouses
Conflict between couples is natural, especially when it comes to something as important as your financial future. Don't let it keep you from coming to a consensus and taking action.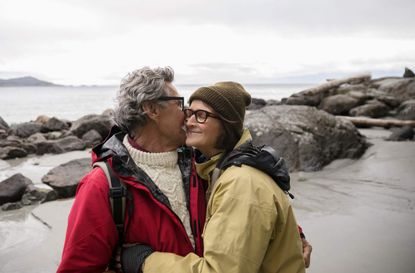 "We're fine."
"I've got it covered."
"We have plenty of money."
Subscribe to Kiplinger's Personal Finance
Be a smarter, better informed investor.
Save up to 74%
Sign up for Kiplinger's Free E-Newsletters
Profit and prosper with the best of Kiplinger's expert advice on investing, taxes, retirement, personal finance and more - straight to your e-mail.
Profit and prosper with the best of Kiplinger's expert advice - straight to your e-mail.
"You don't have to worry; I left the password to the accounts by the computer."
I hear these comments all the time from the husbands who come to my office.
And then, in the same meeting, I'll hear from the wife:
"I'm afraid of losing money."
"We can't handle another 2008."
"We aren't good planners; we made so much money but didn't save enough."
And, "What does 'We have plenty' mean, exactly, if I'm the surviving spouse?"
These couples have been married 20, 30, even 40 years or more. How can they be so at odds after decades of navigating life together?
In retirement, clients should be enjoying their lives — taking on new hobbies, volunteering, spending time with grandchildren and vacationing. Instead, I frequently see the battle of the sexes play out in couples' financial plans, with three common results:
They do nothing. They're so far apart on what they want to do that they don't do anything. They're paralyzed.
They divide and conquer. Kind of. He invests what's his, and she invests what's hers. But there's no real plan for how those separate investments and strategies will come together and get them to their common goals.
They compromise. They work together to create a true retirement plan that addresses both of their needs — and puts them both (even the wife) more at ease about their financial future.
How can a couple get to result No. 3 and a successful retirement plan? In my experience, it takes a few key steps:
Education
The first thing I do with quarrelsome married clients is to encourage them to study up on the basics.
Many of my clients attend a six-hour retirement planning workshop during which I introduce the topics of tax risk, market risk, maximizing Social Security, longevity risk and sequence of returns risk. It can be a lot to digest at one time, but couples often leave the class with a better appreciation for the importance of a comprehensive plan … and that they may need help.
Taxation is one of most overlooked topics, so I frequently send clients home with a book, usually The Power of Zero by David McKnight. That's typically just a start, though; as we go through the retirement planning process, I suggest other titles. If they take the time to read them, it tells me they really are serious about building a comprehensive plan. It helps them understand why I make certain recommendations, and they ask better questions. And they have more confidence in the plan when they see how all the pieces work together.
Participation
I get it that numbers are not exciting, and sometimes one spouse (usually the wife, but not always) doesn't want to be involved in managing the couple's portfolio. But I encourage that person to come to a session at least once a year — more often if needed — so that both spouses are up to speed on the design and management of their retirement plan.
This is an opportunity to come in with questions and concerns — and to let their adviser serve as a neutral third party when they have differing opinions.
A Comprehensive Written Plan
When I meet with a couple, I can quickly tell if they are on the same page with their retirement goals.
I'm not a trained couples therapist, but sometimes I feel like one. I can sense when one spouse is more anxious than the other, and I'll ask, "What do you think would make your worry go away? What would you need to see to make you feel more comfortable with your retirement future?"
I explain to both parties that unless positive actions steps are taken, the tears, fears and arguments won't go away.
For example, one couple who came to see me lost a lot of money when the market dropped in 2008. The husband's solution was to work six days a week to rebuild his retirement accounts. He made accumulation his mission. But though his wife (and I) respected his efforts, she clearly needed more. She wanted to see how their investments and other income sources were going to come together in retirement, and she wanted to know that this time around, their investments wouldn't be as vulnerable to market risk.
She agreed that a written comprehensive plan could go a long way toward easing her concerns.
I've found that sitting down and working together on a plan can help bring couples together on any issues that separate them. Both spouses get a chance to talk about what they want out of retirement — whether it's to travel the world, play golf and tennis, relocate to another state, or stay put and spend time with the grandkids.
The plan doesn't just tell us what they want to do, though. It also tells us what they can do — and how they'll make it work with the resources they have or are growing.
Bank statements, brokerage statements and other documents (online or on paper) don't tell a complete story about a couple's financial wellness. A clear, written plan will show:
How annual income needs are being met through different sources, such as Social Security and pension benefits, annuities and investment accounts.
How to draw down on investment accounts to maximize income and make each year as tax efficient as possible.
How to protect their principal and set up a reliable income stream in retirement.
How growth strategies can mitigate inflation and ensure they don't outlive their money.
How a long-term care plan will provide money to cover costs should one or both spouses require extra care for a chronic or terminal illness.
How a legacy plan can allow them to leave behind something for their beneficiaries or a chosen charity.
Education and conversation truly can help reduce the fear of running out of money.
When both spouses work on the plan, understand the plan and help each year to tweak the plan, there's a better chance they'll find a happy balance that feels comfortable and is built to last. Then couples can put a stop to their marital discord (regarding their retirement, at least) once and for all.
Kim Franke-Folstad contributed to this article.
Investment advisory services offered only by duly registered individuals through AE Wealth Management, LLC (AEWM). AEWM and Vitality Investments are not affiliated companies.
Investing involves risk, including the potential loss of principal. Any references to protection of benefits, or lifetime income generally refer to fixed insurance products, never securities or investment products. Insurance and annuity product guarantees are backed by the financial strength and claims-paying ability of the issuing insurance company. Neither the firm nor its agents or representatives may give tax or legal advice. Individuals should consult with a qualified professional for guidance before making any purchasing decisions. 226083
CEO, Vitality Investments
Victoria Larson is the CEO of Vitality Investments (www.vitalityinvestments.org (opens in new tab)), where she focuses on tax-efficient retirement income planning, retirement strategies for small-business owners, wealth management and long-term care planning.