Be as Picky with Your Financial Pro as You'd be with a Date
Don't settle for the first one who asks for your number. Do some checking to know the type of person you're dealing with.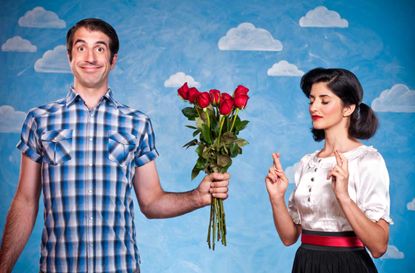 (Image credit: Spiderstock)
It seems to me that people too often take the path of least resistance in finding a financial professional. And that's probably at least partially the industry's fault.
The lines have blurred between agents and brokers and planners and advisers, with all kinds of letters behind our names that mean something to us, but likely not much to the people who need our help.
So you might have ended up with the guy you saw all the time at your local bank branch, and he seemed nice.
Subscribe to Kiplinger's Personal Finance
Be a smarter, better informed investor.
Save up to 74%
Sign up for Kiplinger's Free E-Newsletters
Profit and prosper with the best of Kiplinger's expert advice on investing, taxes, retirement, personal finance and more - straight to your e-mail.
Profit and prosper with the best of Kiplinger's expert advice - straight to your e-mail.
Or maybe you settled down with somebody your best friend set you up with.
Or it could be that you hit it off with the woman who handed you her number at the last networking event you attended.
And there's absolutely nothing wrong with that — as long as you looked around a bit and didn't just settle for the first person who asked.
People will Google a potential suitor before going out on a first date, or even ask a private investigator to do a background search. But when it comes to hiring someone to manage their money, it appears they tend to say yes without doing much research. And, sadly, that means they may not be finding financial professionals who match their needs.
Before you start your search for "the one," why not take a look at the different types of financial professionals out there?
The traditional full-service stockbroker is becoming rarer these days, but there are still some financial professionals who prefer to wear the buying and selling hat. A broker usually begins by doing a financial assessment to determine your needs and the suitability of various investments based on factors including income, financial situation, risk tolerance and investment objectives. Or you can use a discount/online broker, which is more of a do-it-yourself approach. A broker is paid by commission, so whether you do well on an investment or not, he is compensated. And you should know that the products he sells may be limited by his employer — so you may not be seeing every option available. A broker isn't licensed to give you the same kind of advice some other financial professionals can, but if you're just looking to buy and sell securities, this may be the way to go. To obtain background information on a broker you can use FINRA's BrokerCheck (opens in new tab) service.
An insurance-only agent specializes in selling insurance policies that pay beneficiaries when a policyholder dies. He also may sell annuities that offer retirement income or long-term care insurance. He receives a commission from the insurance companies whose policies he sells, so you don't pay him directly. A "captive" agent sells products for just one company; an independent or "noncaptive" agent can show you policies from several insurers. Each state has an insurance commission that license and regulate agents.
An Investment Adviser Representative (IAR) can give more specific, tailored investment advice on a wide range of options, including some products you wouldn't have access to through a traditional broker. He works for a Registered Investment Adviser firm that manages clients' assets and receives a fee for giving investing advice. An IAR may be licensed as an insurance agent as well and can discuss how to use annuities within a financial plan to help clients reach their goals. He must pass appropriate securities exams for the topics on which he wishes to offer advice, and he must be registered with the proper state authorities in which he plans to conduct business. Unlike a broker or insurance agent, an IAR is held to the fiduciary standard, which means he is legally bound to act in the client's best interest; the adviser's loyalty is to his client, not to his employer. He must disclose all the information a client needs in order to make an informed decision about a specific transaction. Compensation is fee-based — usually a percentage of assets under management — so if your portfolio does well, your adviser does well. You can get background information on IARs by going to https://adviserinfo.sec.gov/iapd/default.aspx (opens in new tab).
A financial planner does just what the name implies: He prepares financial plans for clients. That plan may cover cash-flow management, retirement, investments, financial-risk management, insurance, taxes, college savings, your estate and more, depending on your needs. You set the goal, and this professional creates the plan to get you there. Some advisers offer similar services, then implement the plan as well. Typically, a financial planner is paid a fee for the plan he builds, and then someone else takes it from there. Some financial planners will obtain the Certified Financial Planner® (CFP®) designation. If a person is a CFP® they are held to the fiduciary standard. You can verify a CFP® professional by going to http://www.cfp.net/ (opens in new tab).
Every person out there is looking for something different when it comes to financial services, so your ideal "Mr. or Ms. Right" won't necessarily be the same as for your neighbors, your friends or your co-workers. Think about what your needs are, and do your homework: Check on licensing, any credentials listed and the person's experience before you have your first meeting.
And do a little "dating" before you settle down. Find a relationship that's comfortable — one with good communication and in which you feel confident.
After that first get-together, if you get into your car with more questions than answers, or you feel the presentation was all style and no substance, move on. Remember: You're putting your financial future in this person's hands. Be patient, and be picky./p>
Kim Franke-Folstad contributed to this article.
Founder, Presley Wealth Management LLC
Christy Smith, an Investment Adviser Representative and insurance professional, is the founder of Presley Wealth Management (opens in new tab), which focuses on retirement planning and insurance. She co-hosts a weekly radio show. She is married and has three children.

Investment advisory services offered through AE Wealth Management, LLC (AEWM). AEWM and Presley Group and Presley Wealth Management are not affiliated entities. Investing involves risk, including the potential loss of principal. Insurance and annuity product guarantees are backed by the financial strength and claims-paying ability of the issuing insurance company.