Celebrating Life When Death Draws Near
A 'living funeral' provides an opportunity for the terminally ill to gather with close friends and relatives to share memories and stories.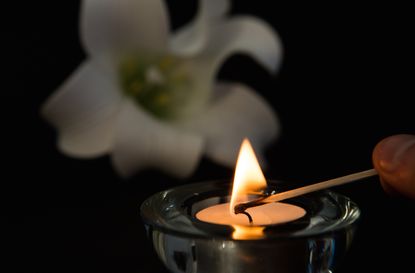 (Image credit: Getty Images/Wavebreak Media)
Beverly Hills interior designer Bernardo Puccio loves to throw a fabulous party. So a decade ago, when his doctors told him that without a liver transplant he would die in a few months, he spared no expense to throw himself an end-of-life celebration. Puccio had decided against the transplant because he didn't think he would survive it.
Puccio hired a caterer, a florist, an opera singer and a videographer to produce a documentary about his life with his longtime partner. He arranged for valet parking for his 100 guests at the Sunday afternoon garden party. "It was awesome," says Puccio, 71, who's healthy after eventually opting for the liver transplant. "I outdid myself. It was so touching and real."
So-called living funerals are "on the rise," says Denise Carson, author of Parting Ways (University of California Press, $35), which explores alternatives to traditional end-of-life mourning rituals. "Some look like a cross between a wedding and a funeral," she says.
Subscribe to Kiplinger's Personal Finance
Be a smarter, better informed investor.
Save up to 74%
Sign up for Kiplinger's Free E-Newsletters
Profit and prosper with the best of expert advice on investing, taxes, retirement, personal finance and more - straight to your e-mail.
Profit and prosper with the best of expert advice - straight to your e-mail.
These celebrations provide an opportunity for someone who is near death to gather close friends and relatives and share memories. No rules or customs govern these get-togethers. They can take place anywhere, from a community center to a church or synagogue to a funeral home. "I've seen the honoree dressed in everything from a hospital gown to a tuxedo," Carson says. "Others are more somber, with prayers, psalms, anointing and last rites by clergy."
Some attendees bring mementos, such as photos from a family vacation, or poems to recite. In the 1997 bestseller Tuesdays With Morrie by Mitch Albom, the book's subject, Morrie Schwartz, who knows his death is imminent, holds a living funeral in his home because he doesn't want to miss out on tributes to himself.
Carson watched both her parents die young. Her father died at 37, before she could fully learn about his life story. When her mother was diagnosed with cancer 12 years later, Carson was determined to do things differently. She interviewed her mother to learn everything possible about her. A few days before her mother's death in 2002, Carson assembled 30 friends and relatives in her mother's house. As her mother sat on a hospital bed in the center of the living room, attendees shared stories and looked through photo albums. "There were tears, but my mother was able to talk and respond," Carson says. "Why wait if you know someone is dying? Saying how that person changed your life is transforming."
Some people may feel it's disrespectful to throw a party while a person is dying. "But the reason to have it when the person is alive is so the person can attend," says Sharon Mace, owner of A Special Touch Funeral & Cremation Service, in Dublin, Cal. Mace organized her first living funeral for a client 12 years ago. "It was sad, yet it wasn't," she says. "It's a good way to control what happens to you."
Bringing some control to life's most uncontrollable event can be a great comfort to the dying person and loved ones. A living funeral shares some characteristics with "dignity therapy," which was developed by Dr. Harvey Max Chochinov, a professor of psychiatry at the University of Manitoba.
Dignity therapy is a brief psychological intervention that addresses the dying patient's need to feel that life has meaning. During a 30- to 60-minute session, the therapist asks questions that encourage the patient to talk about what matters most. The conversation is recorded, transcribed, edited and then returned to the patient. Many choose to share the document with family and friends. "People want to make sure that who they are gets transmitted to the next generation," says Chochinov, author of Dignity Therapy (Oxford University Press, $56).
For both the dying person and the bereaved, a living funeral offers a special opportunity during a time of grief. "Morbid? For some it might be," Carson says. "But when is the right time to say goodbye, or the last 'I love you' or 'I'm sorry'? My mom was grateful for it, and I'm glad I wasn't alone."