Lower Your Expectations on Pension-Plan Promises
Most workers hoping for pensions are out of luck. And even those few who do have them may not be as lucky as they thought if their company is among those faltering. Here are some ideas to create a financial fallback plan.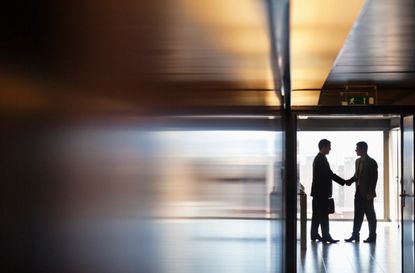 (Image credit: This content is subject to copyright.)
Some financial experts call it "pension envy."
It's a green-eyed monster that frequently appears when younger workers talk about the income benefits their parents and grandparents could count on when they retired.
Many employers that once offered pensions are backing away these days — freezing their plans, closing them to new hires and/or offering lump-sum payouts. And those workers who have been left with only two income streams in retirement — their investment savings and Social Security — tend to look wistfully at people who still have that third predictable source of money to count upon.
Subscribe to Kiplinger's Personal Finance
Be a smarter, better informed investor.
Save up to 74%
Sign up for Kiplinger's Free E-Newsletters
Profit and prosper with the best of expert advice on investing, taxes, retirement, personal finance and more - straight to your e-mail.
Profit and prosper with the best of expert advice - straight to your e-mail.
And they should. A robust and reliable pension plan is a beautiful thing. Unfortunately, even those whose workplace plans still exist can't always be sure they'll deliver on all that's been promised. The dollar amounts pre-retirees expect could be reduced if a plan experiences a serious shortfall.
Pension problems on the horizon
Both private and public pensions are struggling. A few examples: The Central States Pension Fund, which provides benefits to Teamsters drivers, proposed cuts of 50% or more for some beneficiaries to make up for its shortfall. (The Treasury Department turned down the request last year.) Despite legislative changes meant to stabilize five Illinois public retirement systems, they are still severely underfunded. And Illinois isn't alone: In June, Bloomberg reported that pension problems were worsening in 42 other states.
According to the Pension Benefit Guaranty Corporation's 2016 Projections Report, issued in August, its Single-Employer Program (plans created and maintained by one company or closely affiliated companies) is improving, but its Multiemployer Program (plans created and maintained by two or more unrelated companies through collective bargaining) is getting closer to insolvency and is likely to run out of money by the end of 2025.
What's happening?
Well, for one thing, we're living longer than past generations — and many plans haven't adjusted. They were built with the assumption that most people would receive payouts into their 70s — not their 80s, 90s and even 100s. According to the Social Security Administration, about one out of every four 65-year-olds today will live past age 90, and one out of 10 will live past age 95.
Another factor: If you're a Baby Boomer, interest rates are also much lower than when your parents retired. In the past, a pension-plan manager could rely on some fairly conservative investments, such as government and fixed-income bonds, and still make enough money for members. But years of declining bond yields have made it increasingly difficult. And managers typically don't — and shouldn't — invest in the kinds of stocks that are bringing in high yields today. They're supposed to act prudently, which makes it almost impossible to get the required returns.
So what can you do?
Hope for the best, but plan for the worst. Always.
You need for a solid income strategy and a good Plan B, just in case the dire warnings about Social Security's shaky future come true and retirees' checks are reduced someday. The same holds true for pensions. If that income stream is an important part of your overall retirement plan, you need a backup — and you should be working on it now. Here are some things to consider:
We have to look at the world the way it is, not the way it used to be or the way we wish it was. Going forward, this generation of retirees — and those who follow — will likely have fewer guaranteed benefits but more control over their own money. Instead of wallowing in "if only," get to work now planning for a more secure future.
Kim Franke-Folstad contributed to this article.
This article was written by and presents the views of our contributing adviser, not the Kiplinger editorial staff. You can check adviser records with the SEC or with FINRA.
Financial Advisor and President, Ronald Gelok and Associates
Ronald Gelok is the founder of Ronald Gelok and Associates, a Registered Investment Adviser firm. His clients find that, after working with him, they have moved significantly forward in their planning, simplifying their finances and obtaining greater confidence about their financial future. Ron's radio show, the "Ronald Gelok Retirement Power Hour," is the home for New Jersey's financial talk radio, and he co-authored the book "Successonomics" with the renowned Steve Forbes.