Getting Your Financial House in Order for a Cross-Country Move
Anytime you make a move is a great time to re-evaluate your financial situation, including transitioning your employee benefits and taking a fresh look at your insurance needs, your new tax picture, savings plan and even your financial adviser.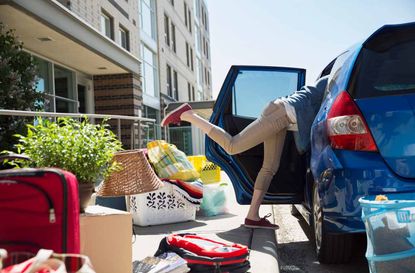 (Image credit: ?2013 Hero Images Inc. All rights reserved. (?2013 Hero Images Inc. All rights reserved. (Photographer) - [None])
Americans are often on the go, with work, family and housing all driving millions to relocate — in fact, according to Move.org's State of the American Mover report from 2017, roughly 35.5 million Americans are expected to move annually.
This year, I'm one of them. I'm in the process of relocating from Seattle to New York City for a new role with my longtime employer. Although moving is easier than ever before, thanks to the Internet allowing you to browse real estate listings, book a moving company and even lock down renters or homeowners insurance with the click of a button, there are still a few things that require hands-on attention before moving day arrives.
Throughout this process, my family and I have made several decisions in preparation for this lifestyle change, many of which focus on our finances. The first and most obvious smart financial move we made was to anticipate potential unexpected costs to help alleviate the stress of pinching pennies and avoid starting our new chapter with credit card debt.
Subscribe to Kiplinger's Personal Finance
Be a smarter, better informed investor.
Save up to 74%
Sign up for Kiplinger's Free E-Newsletters
Profit and prosper with the best of Kiplinger's expert advice on investing, taxes, retirement, personal finance and more - straight to your e-mail.
Profit and prosper with the best of Kiplinger's expert advice - straight to your e-mail.
There are many other financial considerations on our "protection-first planning" checklist that anyone preparing for a big move and job change should think about before starting to pack boxes:
Consider your employee benefits
It's easy to add your 401(k) and benefits changes to the "figure out soon" section of your to-do list, but these are two vitally important items for your family's well-being, both now and in the future. Luckily for my family, I'm staying with the same employer — but for families facing a relocation and a job change, it can be more complicated.
Prior to your move, connect with both your current and future human resources departments and your retirement plan administrator to determine when your benefits will end and what options you have to bridge any potential gaps in coverage, as well as to understand the options you have for any retirement assets, such as a 401(k) with your current employer.
As you're evaluating your 401(k) situation, consider whether you may need to adjust your retirement contributions. Depending on the change in cost of living, you may be able to contribute more to retirement, or you may have to dial back to accommodate everyday expenses in your budget.
Review your tax and insurance needs
A location change can have a huge impact on both your insurance needs and your tax liabilities.
Employer life insurance benefits don't stay with you once you leave the company, so this is a good opportunity to consider an individual life insurance policy to help ensure your family is covered should the worst happen. If you're navigating this change with a young family, a term insurance policy may be the right fit, as you can transition it into a permanent policy once you're settled in. You might also re-evaluate your general insurance needs — in my situation, I won't be bringing a car to New York and expect to rent an apartment. This means we can lose the car insurance while adding renters insurance to our broader insurance portfolio.
The tax implications in your new area may also differ from where you currently reside and can have a significant impact on your budget. I'm moving from a state with no state income taxes to one that has both state and city taxes, so part of this transition requires taking a look at how that will impact my cash flow. This is an area where a tax adviser will be particularly helpful.
Look to the longer term
Your family will face some adjustments during the moving period that can impact your family's lifestyle, budget and long-term plan. Here are just a few examples:
Make sure you update your financial institutions and insurers with your new address.
If one spouse is leaving a job to support the move, there may be a time lag between new employment, thus affecting your family's overall income and savings.
The housing market may dictate whether you rent or buy your home (or rent while you search for something more permanent), as well as the community you ultimately settle in. Considerations like schools, walkability, health care facilities, grocery stores and more can all play into this decision.
Any number of differences between your old and new location can affect your long-term will and estate plan. For example, I am moving from a community property state to a separate property state, so I'll be reviewing our current estate plan to understand what we need to update or change. If you have children who are minors or if you're moving away from family, it's a particularly good idea to define exactly how you want your children cared for should the unexpected happen.
Your full financial portfolio could be affected. Does your local bank have a branch nearby? Or should you be considering changing checking and savings accounts?
Time to switch financial professionals?
As you anticipate the various financial decisions related to your move, don't forget to have a conversation with your current financial professional about how to handle the change. He or she may already have, or be able to obtain, the necessary licenses to support you in your new state and can help you potentially avoid having to build a relationship with someone new. You may also want to consider the trade-off of whether digital tools like video chat, text and email will suffice in exchange for maintaining a relationship with someone you already know and trust. If not, ask your current financial professional for recommendations in your new state.
A move creates new opportunities to re-evaluate day-to-day spending, saving, retirement planning and insurance needs. It seems tedious but being aware of and in control of all your assets — grounded in protection — can help make for a less stressful relocation. If you're not sure that you have all the bases covered, a conversation with your existing financial professional can help to ensure the next chapter is the best it can be.
Head of Consumer Education, New York Life
Brian G. Madgett, CLU®, ChFC®, is Head of Consumer Education at New York Life. In this role, Brian helps families across the country learn how to build better futures, rooted in a protection-first financial plan, for themselves and those they love. Brian began his nearly 30-year career as a New York Life financial specialist and has since held several leadership roles within the company. He earned his Bachelor of Science degree from John Jay College.